eSET Lighting and Electrics
The eSET Lighting and Electrics Exam consists of two parts, the Online Exam and the Practical Exam.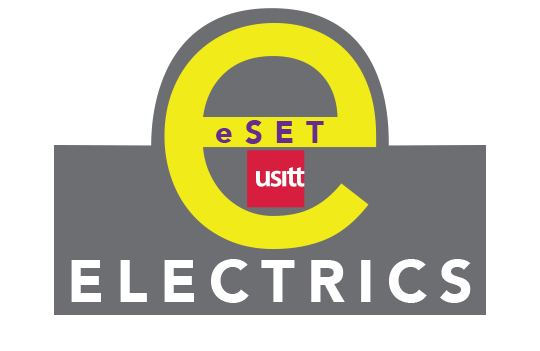 The Online Exam (with its prerequisite Basic Terms & Safety Exam) may be taken at any time. To do so follow these steps:
Register in the online testing portal. (remember the user name and password you create)
Take and pass the Basic Terms & Safety Exam, completion of this is required for all eSET exams.
Choose the Lighting and Electrics Exam from the menu on the testing portal.
Successfully complete the exam in the 40-minute allotted time period.
What is covered on the online exam? The online exam is a set of 100 questions randomly chosen by the system from a larger pool. The questions are multiple-choice and true/false questions covering topics such as:
Name the Equipment Illustrated
Knowledge of Conventional and Automated Fixture General Usage
Basic Lighting and Electrics Math
Knowledge of LIght Plot Symbols
Digital Control and Common Communication Protocols
Knowledge of Hardware, Tools, & Safety
When an online exam has been successfully completed, you will receive a certificate via email. This email and certificate are your admission to the practical exam. Do not register for the practical exam until you have this certificate.
The Practical Exam is given at various times throughout the year including the USITT Annual Conference & Stage Expo.
ALL PRACTICAL EXAMS HAVE BEEN PLACED ON AN INDEFINITE HIATUS WHILE WE REEXAMINE THE SCOPE OF THEIR CONTENT.
What is covered on the practical exam? The practical exam is supervised by an authorized proctor. The proctor will follow the rubric sheet and guide you through the stations. 
Hang and Focus
Read a Light Plot
DMX Fixture Addressing
Lamp Replacement
Troubleshooting
Wiring Plugs
Successful completion of the practical exam is the highest level of eSET skills proof. To show your completion you will be mailed a second certificate noting both online and practical completion and a pin which you should wear as proof of your skill set.
The Online and Practical Lighting and Electrics Exams were created by a group of working professionals from a variety of Lighting and Electrics organizations. 
The skills working group consists of:
Chris Collins
Darren E. Levin
Andi Lyons
Sean Savoie
Dana Taylor
Mark Thomason