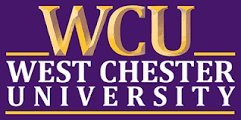 23-42 Tenure-Track Assistant Professor of Theatre and Dance, Production Management
Job #3900
Apply
Location
West Chester , Pennsylvania
Summary
Position Summary
Join a vibrant campus community whose excellence is reflected in its diversity and student success. West Chester University of Pennsylvania's Department of Theatre and Dance invites applicants for the full-time, Tenure Track Assistant Professor of Theatre and Dance, Production Management position to begin in Spring 2023.
West Chester University, a member of the Pennsylvania State System of Higher Education, is a public, comprehensive institution committed to offering high-quality undergraduate education, selected post-baccalaureate and graduate programs, and a variety of educational and cultural resources for its students, alumni, and citizens of southeastern Pennsylvania. The University offers more than 100 graduate and undergraduate programs in the sciences and mathematics, business and public management, arts and humanities, health sciences, education and social work, music, and interdisciplinary studies. We are a community of educators dedicated to developing graduates who succeed personally and professionally and contribute to the common good.
The Department of Theatre and Dance, an accredited institution of the National Association of Schools of Theatre, is dedicated to the educational development of its students preparing them to meet the challenges of our contemporary world. This is achieved by creating an atmosphere that fosters creativity, curiosity, civic engagement, and social responsibility. The department's faculty are active scholars and professionals who love teaching and are committed to student success, diversity, and ethical communication.
The faculty member will work hands on in-person on-campus with students and other faculty in Production Management. The ideal candidate is an organized, self-motivated, and visionary person who thrives in a fast-paced collaborative environment which produces 4-5 theatre productions and 2 dance productions each semester. The faculty member's experience, expertise, and training will serve to strengthen the department's mission and vision. The incumbent will typically work irregular hours to include nights and weekends.
Developing and sustaining a diverse faculty and staff advances West Chester University's educational mission and strategic Plan for Excellence. West Chester University is an Affirmative Action – Equal Opportunity Employer. Women, minorities, veterans, and individuals with disabilities are encouraged to apply.
Quicklink to apply: https://www.schooljobs.com/careers/wcupa/jobs/3716290/23-42-tenure-trac…
Apply