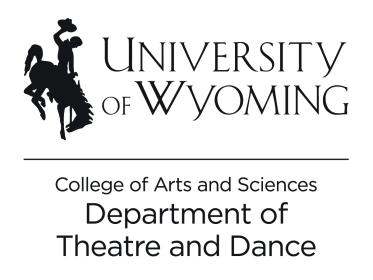 Assistant Professor - Costume Design
Job #352
Apply
Location
Laramie, Wyoming
Field
Costume Design and Technology
Post Date
21 October 2019
Summary
The Department of Theatre and Dance at the University of Wyoming is seeking qualified candidates for a tenure-track Assistant Professor in Costume Design, to begin August, 2020, with a strong design background and commitment to undergraduate teaching at both the BA and BFA level. Located in Laramie, WY (pop: 30,000) and sitting 126 miles north of Denver, CO, this land-grant University sits at an elevation of 7,220 feet above sea level and comprises approximately 14,000 students. The Theatre and Dance program has between 100-120 majors at any given time. The successful candidate will demonstrate a commitment to both the liberal arts and pre-professional training. Minimum qualifications include an MFA/PhD or comparable professional experience via department-approved tested experience in the field; the ability to work/teach in a liberal arts environment; ability to design for both theatre and dance productions; expertise in teaching all levels of costume design, and in one or more of the following additional areas: 1) stage make-up, 2) drawing and painting for the theatre, 3) design tech seminar. Preferred qualifications include professional theatre and dance costume design experience at the regional or national level and/or experience in teaching costume design in higher education. Teaching responsibilities (2 courses per semester) may also include courses from the following: costume construction, patterning, dyeing, millinery, wigs, property design, or courses in the candidates secondary area of specialty. This position is responsible for the costume design and construction for a six show season (four theatre, two dance), and oversees student costume shop workers, (comprising BFA design students, paid student workers, and work-study positions). Strong collaboration skills with the directors, choreographers, and other members of the design team a must. Serve as advisor on student costume design projects.
Additional duties include, recruitment outreach, advising, student mentoring, and service to the department, college, university and the state. Potential for annual summer employment with Snowy Range Summer Theatre company and the Snowy Range Summer Dance Festival.
Additional departmental information can be found at: http://www.uwyo.edu/thd/.
Review of materials begins Nov 15th, 2019.
HIRING STATEMENT:
 
UW is an Affirmative Action/Equal Opportunity Educator and Employer. We are committed to a multicultural environment and strongly encourage applications from women, minorities, veterans and persons with disabilities.
 
In compliance with the ADA Amendments Act (ADAAA), if you have a disability and would like to request an accommodation to apply for a position, please call 307-766-2377 or email jobapps@uwyo.edu.
Requirements
Minimum qualifications:
• MFA or PhD in the field; or department-approved tested experience in the field
• The ability to work/teach/collaborate in a liberal arts environment; ability to design costumes for both theatre and dance; expertise in teaching all levels of costume design, and in one or more of the following additional areas: 1) stage make-up, 2) drawing and painting for the theatre, 3) design tech seminar
Preferred qualifications:
• University teaching experience
• Professional theatre and dance costume design experience at the regional or national level
• Ability to teach courses from the following: costume construction, patterning, dyeing, millinery, wigs, property design, or courses in a secondary area of specialty
• Ability to participate in student advisement and mentoring, recruitment and outreach
Upload the following required materials as one document using the application link:
• a cover letter detailing interest in the position
• a teaching philosophy and artistic statement (one page)
• a curriculum vitae, with a link to an on-line portfolio or samples of work
• and the names of five references with daytime contact information (phone and email)
Apply