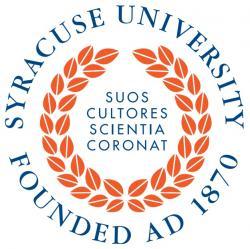 Assistant Professor, DRAMA/Theatre Design and Technology
Job #2519
Apply
Location
Syracuse, New York
Salary
$64,000 commensurate with experience.
Summary
SYRACUSE UNIVERSITY Assistant Professor - Theater Design and Technology Program (Tenure- Track)
The Syracuse University Department of Drama seeks to hire a Tenure-Track Assistant Professor for its Theater Design and Technology Program. Primary expertise should be in lighting design, with additional expertise in at least one other area of theatrical design (preferably projections and sound design). Design experience/expertise in other areas (film, television, events, concerts, etc.) is highly desirable. The department seeks candidates whose personal and professional experience, teaching, and creative activity contribute to the advancement of equity, diversity, and cultural wealth. Successful candidates will enhance the department's capacity both to honor and to cultivate the contributions of those communities that have historically been under-represented or underserved in theater training and/or the theatrical profession. The Department offers conservatory-style training and an unparalleled level of integration with a professional theater: Syracuse Stage, the leading professional theater company of central New York. This position begins in Fall 2022. For further information and full job description, visit https://www.sujobopps.com/postings/89351, or contact Professor Alex Koziara apkoziar@syr.edu, Search Committee Chair.
Syracuse University is an equal-opportunity, affirmative-action institution. The University prohibits discrimination and harassment based on race, color, creed, religion, sex, gender, national origin, citizenship, ethnicity, marital status, age, disability, sexual orientation, gender identity and gender expression, veteran status, or any other status protected by applicable law to the extent prohibited by law. This nondiscrimination policy covers admissions, employment, and access to and treatment in University programs, services, and activities.
Requirements
• Bachelor's degree plus additional preparation, as demonstrated by either significant professional experience and/or relevant advanced degree, are required.
Apply