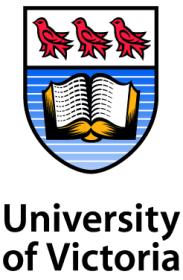 Assistant Professor in Performance Design (Costume & Set)
Job #2503
Apply
Location
Victoria, BC Canada,
Summary
The Department of Theatre invites applications from talented artist-scholars for a tenure-track position in Performance Design (Costume & Set) at the rank of Assistant Professor to commence July 1, 2022.
Qualified candidates will have:
• A terminal degree in design for performance (e.g. MFA).
• Documented success teaching Performance Design and related courses at a post-secondary institution and/or mentoring design students and emerging designers.
• Significant professional theatre experience as a Costume and Set Designer (5 years minimum).
The appointee will be responsible for teaching costume design (primary area) and set design (secondary area) at the undergraduate and graduate levels. The appointee will be expected to supervise graduate students in the M.F.A. (Design and Production) program as well as serve on supervisory committees as a member. The new faculty member will mentor both graduate and undergraduate students as well as teach a mix of design foundation, history, and design genres/forms as according to the Department's evolving program and course offerings. In addition, the new faculty member will be responsible for designing a number of the Department of Theatre's "Mainstage" productions, and/or supervising student designers working on department productions per the Department of Theatre Unit Standard. Proficiency in the elements and principles of design, script and spatial analysis for performance, scenographic and costuming techniques, design for new work and/or devised performance, as well as fluency in new and emerging design-related technologies is desired. Experience in opera, musical theatre, film, television, multimedia, exhibition/event design, decolonial approaches to design, or green (eco) design would be considered an asset. Another design area, such as sound, lighting and/or projection design would also be considered an asset.
The successful candidate will also demonstrate the potential to meet tenure expectations for Research, Scholarship and Creative Activity, Teaching, and Service as defined in the Collective Agreement, Faculty Evaluation Policy, Fine Arts and Department of Theatre Unit Standard. Maintaining professional engagement – locally, nationally and internationally – will be encouraged.
In accordance with the University's Equity Plan and pursuant to Section 42 of the BC Human Rights Code, preference will be given to members of the following groups: Indigenous peoples, members of visible minorities. Candidates from these groups who wish to qualify for preferential consideration are asked to self-identify in their cover letters.
Requirements
To be considered, please send
• Cover letter that addresses the full scope of the job requirements.
• Curriculum vitae.
• Evidence of Research, Scholarship and Creative Activity:
o Portfolio of performance design work including work in progress;
o If relevant to applicant's experience, publications, including work in progress; and,
o Statement of creative activity/research interests.
• Evidence of Teaching:
o Statement of teaching philosophy;
o Evidence of engagement with experiential learning methods (e.g. mentorship of student designers, application of academic theory in practice, supervising student designers mounting productions);
o Course syllabi; and,
o Evaluation data (if available).
• Evidence of Service:
o Statement of service activities (post-secondary institutions, professional organizations or equivalent); and,
o Statement of diversity knowledge, experience and skills.
Dr. Anthony Vickery, Chair
Department of Theatre
University of Victoria
PO Box 1700 STN CSC
Victoria, BC V8W 2Y2
Email: Theatrechair@uvic.ca Telephone: 250-721-7991
In order to be considered, application packages must be received by December 31, 2021. Short-listed candidates will be asked to provide three reference letters.
Please note that reference and background checks, including credential and degree verification, may be undertaken as part of this recruitment process.
UVic is committed to upholding the values of equity, diversity, and inclusion in our living, learning and work environments. In pursuit of our values, we seek members who will work respectfully and constructively with differences and across levels of power. We actively encourage applications from members of groups experiencing barriers to equity and for this particular search, preference will be given to applicants who self-identify as Indigenous or Visible Minority scholars. Read our full equity statement here: www.uvic.ca/equitystatement .
The University acknowledges the potential impact that career interruptions can have on a candidate's record of research achievement. We encourage applicants to explain in their application the impact that career interruptions have had on their record.
Persons with disabilities, who anticipate needing accommodation for any part of the application and hiring process, may contact Faculty Relations and Academic Administration in the Office of the VP Academic and Provost at FRrecruit@uvic.ca . Any personal information provided will be maintained in confidence.
Faculty and Librarians at the University of Victoria are governed by the provisions of the Collective Agreement. Members are represented by the University of Victoria Faculty Association (www.uvicfa.ca).
All qualified candidates are encouraged to apply; in accordance with Canadian Immigration requirements, Canadians and permanent residents will be given priority. Please indicate in your application package if you are a Canadian citizen or permanent resident.
Apply