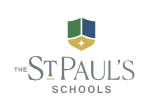 Assistant Technical Director and Theatre Manager
Job #4642
Apply
Location
Brooklandville, Maryland
Field
Lighting Design & Technology
Salary
$50,000-$60,000 annually
Summary
The St. Paul's Schools is pleased to announce an opening for a full-time Assistant Technical Director and Lighting & Sound Coordinator for the 2023-2024 school year.
The St. Paul's Schools is a family of independent schools located in Brooklandville, Maryland. With more than 1,400 students from ages 6 months to grade 12, St. Paul's Pre and Lower School (coed), St. Paul's School for Girls, and St. Paul's School for Boys share a 120-acre campus, an Episcopal affiliation, and a focus on developing confident, well-balanced students who will use their education and ethics to improve the world. In July 2018, the schools unified under the umbrella of The St. Paul's Schools, with a single board of trustees and one president, but each school retains its individual traditions and its gender-specific programs. A coordinated structure allows The St. Paul's Schools to preserve the small-school feel within each school while sharing resources and certain programs to maximize opportunities for students. With St. Paul's unique model, boys and girls are taught together and separately at just the right times in their development.
Our robust arts program serves grades preschool through 12th grade, including programming for our St. Paul's Pre and Lower School, St. Paul's School for Boys and St. Paul's School for Girls, as well as auxiliary Dance, Music, Visual Arts, and Theatre offerings during the regular school year and summer.
The primary responsibility of the Assistant Technical Director position is to complete lighting and sound designs for all performing arts productions on campus including our robust Theater and Dance seasons, both curricular and extra-curricular. This position will oversee all community events in the Ward Center Theater including assemblies and guest speakers. Additionally, the Assistant Technical Director will teach up to two Upper School Technical Theatre classes per semester and assist the Technical Director in supervising our after-school stage crew. The Assistant Technical Director will work as a member of the production team, collaborating closely with production directors for all Ward Center and other campus performances and exhibitions, including theatre, dance, music, visual arts, and community events.
Apply