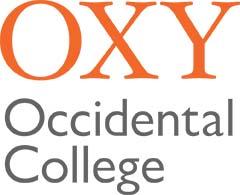 Full-time Non-tenure Track Position: Costume Designer/Instructor/Shop Manager
Job #1563
Apply
Location
Los Angeles, California
Summary
The Theater Department at Occidental College seeks a highly collaborative costume designer, instructor, and shop manager for a full-time, non tenure-track position to support and strengthen our productions and current offerings in theater and performance scholarship. They will teach 8-12 units of courses per academic year including costume design, costume construction, stage make-up, period styles and other design courses as needed. The will design for three mainstage productions and/or supervise designs by students or guest designers. Position also includes training and supervising students completing lab hours, student and professional staff and managing the costume shop.
This is a 9-month position beginning August 16, 2021. The initial contract is for one year but may be extended to renewable 3-year terms upon review, subject to Union contract guidelines.
The ideal candidate is a practicing designer with professional credits and collegiate teaching experience. This candidate should demonstrate expertise in designing, building, and sourcing costumes for theatrical productions; teaching costume design, technology, and construction; managing a costume shop; supervising students and professional staff; and working with budgeting time, money and labor.
The complete job description is available at https://www.oxy.edu/offices-services/human-resources/working-oxy/facult….
Requirements
MFA in costume design/technology preferred accompanied by a record of successful teaching at the college level and a portfolio of produced design work.
Demonstrated ability to: teach costume technology and design classes; supervise student and professional staff; work with budgets of time, money, and labor; Design and realize costumes for a range of historical periods and production styles. Additional expertise in other areas of theater or film design and technology will enhance the application.
Please submit a cover letter, CV, teaching statement, 3 letters of recommendation and a link to portfolio materials by March 1, 2021.
Apply