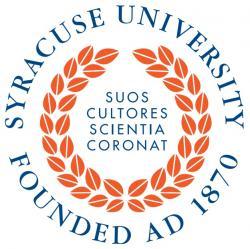 LIGHTING DESIGN (One-year, non-Tenure-Track), SYRACUSE UNIVERSITY
Job #4161
Apply
Location
Syracuse, New York
Field
Lighting Design & Technology
Summary
LIGHTING DESIGN (One-year, non-Tenure-Track), SYRACUSE UNIVERSITY
SYRACUSE UNIVERSITY – The Department of Drama, within the College of Visual and Performing Arts, a highly ranked BFA program uniquely integrated with a major regional theater, seeks to hire an assistant teaching professor (non-Tenure-Track) with specialty in lighting design. The department is actively seeking candidates who value equity and inclusion, who incorporate marginalized voices and perspectives into their pedagogy, and who have experience mentoring students and/or performers of diverse identities. We are looking for collaborative colleagues who will participate in the life of a vibrant department, including ongoing engagement with emerging best professional practices. The selected candidate will teach courses at all levels within the design curriculum, will serve as design advisor to student lighting designers, and may design one departmental production. This is a one-year, non-Tenure-Track appointment with the possibility of renewal.
For further information contact Professor Carmen Martinez, Search Committee Chair cmarti46@syr.eduor visit https://www.sujobopps.com/postings/96701
Syracuse University is an equal-opportunity, affirmative-action institution.
Apply