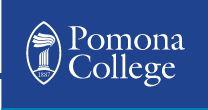 Post-MFA Fellowship in Design
Job #4541
Apply
Location
CLAREMONT, California
Summary
Responsibilities will include teaching two academic design/tech courses per year plus designing for one of the mainstage shows each semester. Ongoing mentoring of students is an important component of this design work.
As part of our drive towards inclusive excellence in the classroom, the department seeks to create a supportive community for all students. We are particularly interested in candidates who have experience working with students from diverse backgrounds and a demonstrated commitment to improving access to and success in higher education.
Requirements
Successful candidate has an MFA degree in Design with an emphasis in Set, Sound, Lighting or Projection Design. Some professional design experience is preferred but not required.
Please submit dossier, including: (a) letter of application, (b) resume or curriculum vitae, (c) transcripts, (d) three recommendation letters, (e) brief statement addressing candidate's experience in working with students from diverse backgrounds.
Email to:
Carolyn Ratteray, co-chair of the Pomona College Theatre Department Carolyn.ratteray@pomona.edu
Cc: Mary Rosier, Academic Coordinator Mary.Rosier@pomona.edu
Apply