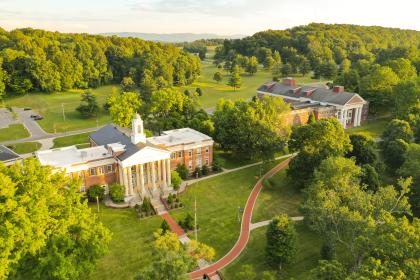 Technical and Production Manager
Job #5651
Apply
Field
Technical Production
Salary
Starting at $50,000
Summary
The Technical and Production Director at The McGlothlin Center for the Arts, serves a member of a collaborative professional team of art program planners and educators as well as marketing and external affairs, charged with creating dynamic and distinctly diverse content that enhances the Emory & Henry College liberal arts curriculum with quality performances and exhibitions. In addition, the role supports external and revenue-generating events to support the use of the building and attracting more community members and future students to engagements.
The Technical and Program Director provides critical assistance in building maintenance and backstage management and other supervisory duties outlined in the job description for events in the McGlothlin Center for the Arts which houses a 473-seat proscenium theater, 120-seat black box theater, 1200 sq. ft. visual art gallery, 60 seat amphitheater, and the WEHC radio station. The $25 million facility is less than 10 years old and situation along the 1-81 Cooridor in Southwest, Va.
Requirements
M.A. or M.F.A. in Technical Theatre with 3-4 years experience in a similar type of facility. Ability to take direction from multiple sources and prioritize needs and assignments. Work collaboratively at all times. Can work in a deadline driven environment. Excellent time management. Ability to problem solve and make independent decisions. Collaborative with attention to detail.
Apply