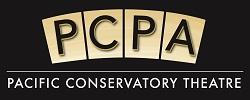 Technical Director
Job #1934
Apply
Location
Santa Maria, California
Field
Technical Production
Summary
Technical Director – PCPA – Pacific Conservatory Theatre seeks a highly skilled team leader for its Technical Director position.
The TD is responsible for the overall operation of the scene shop, including; season planning, working drawings, budgeting labor and materials, and construction of all scenic elements. As a member of the conservatory faculty; teaching aspects of scenic construction competencies and supervising students in production labs.
The TD assists in long-range planning, ensure safety standards, supervises professional staff and students, and attends tech/dress rehearsals and production meetings.
Requirements
Master's Degree preferred or; Bachelor's Degree with 2 years of professional experience in a similar position, or the equivalent. C.A.D. (VectorWorks and/or AutoCAD) proficiency required.
PCPA produces 10 shows per year in three theatres. Full-time, year-round position with benefits. Position open until filled. Salary starts at $62,400 per year.
Email a cover letter, resume, and 3 references to Jeff Allen, Production Manager, productionmanager@pcpa.org. In your cover letter please include your date of availability.
Additional information and job description can be found on our website. http://pcpa.org/join/page96/
Apply