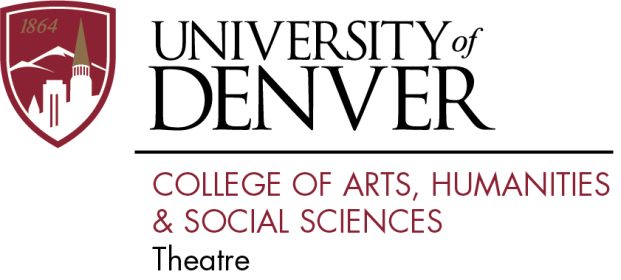 Visiting Teaching Assistant Professor of Theatre
Job #877
Apply
Location
Denver, Colorado
Salary
Salary will be determined by the qualifications of the selected candidate balanced with departmental budget availability, internal salary equity considerations, and available market information.
Summary
The Department of Theatre in the College of Arts, Humanities, and Social Sciences at the University of Denver invites applications for a one-year Visiting Teaching Assistant Professor position for the 2020-2021 academic year beginning Fall 2020. This is a non-tenure track position, with full benefits and a nine-month contract.
The department is looking for growth in the following areas- dramaturgy, tech, design, management, and classes that can increase our diverse offerings, including studies of drama in Indigenous, Latin American, Asian, African, LGBTQ, and other non-western canons. We are not looking for classes in acting, directing, or movement.
This position may have the unique opportunity to exchange courses for work with the Prison Arts Initiative (www.du.edu/ahss/prisonarts/), and may include either administrative support and/or work in the prisons, depending on qualifications and desire. Work with incarcerated people may include acting/performance, and/or tech/design, based on program need.
Essential Functions
The successful candidate will teach four sections of lecture-based Page to Stage, designed to introduce non-majors to theatre concepts. This course is part of the university's common curriculum.
The remaining classes will be chosen to match departmental goals and the candidates particular scholarly and creative expertise, for a total of eight courses over three quarters.
Knowledge, Skills, and Abilities
Demonstrated experience interacting with diverse communities or evidence of a commitment to incorporate inclusive teaching methods and/or pedagogies to effectively engage broadly diverse student populations.
Application Deadline
For best consideration, please submit your application materials by 4:00 p.m. (MST) on Friday, May 22, 2020. Applications will continue to be reviewed until the position is filled.
Special Instructions
Candidates must apply online through jobs.du.edu to be considered. Only applications submitted online will be accepted.
The University of Denver is committed to enhancing the diversity of its faculty and staff. We are an Equal Opportunity/Affirmative Action Employer. All qualified applicants will receive consideration for employment regardless of age, race, color, national origin, religion, sex, sexual orientation, gender identity, disability, military/ veteran status or any other status protected by law.
All offers of employment are based upon satisfactory completion of a criminal history background check.
Requirements
Required Qualifications
ABD or M.F.A. in Theatre.
University-level teaching experience in Theatre
Preferred Qualifications
PhD in Theatre at time of application
Apply