ESA's Crowd Safety Symposium Returns to Los Angeles in January 2022
November 29, 2021
Festivals, concerts, conferences, graduations, and athletic events all share one common characteristic – they all feature crowds. If your work involves planning to accommodate large groups of people, you must know how to plan to mitigate risks and keep your crowds safe. The Event Safety Alliance (ESA) would like to invite you to their next Crowd Safety Symposium taking place on January 17-18, 2022 in the Los Angeles area.
More details from ESA can be found here. 
This course aims to provide an understanding of the four aspects of basic crowd safety and to provide techniques to plan and manage safe pedestrian flows in crowded places during all phases of an event including emergencies. Due to the interactive nature of this training capacity for this course is extremely limited, so they recommend registering early. Click on the link below to learn more.
ESA Resource: ANSI ES1.9-2020 Crowd Management Standard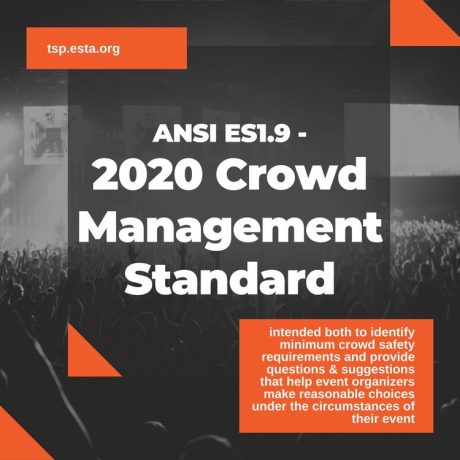 In light of the tragic events at AstroWorld, the ESA would like to direct event organizers to the recently-released ANSI ES1.9 – 2020 Crowd Management Standard, developed in conjunction with ESTA. This standard is intended both to identify minimum crowd safety requirements and provide questions and suggestions that help event organizers make reasonable choices under the circumstances of their event. You can download the standard for free at the link below: