Roundabout's Theatrical Workforce Development Program Received Mayoral Citation; Now Accepting Applications
June 9, 2023
Photos courtesy of Roundabout Theatre Company
Roundabout Theatre Company and Education at Roundabout announced a Mayoral Citation honoring the Theatrical Workforce Development Program (TWDP), the theatre industry's first workforce development program to train and place young adults in professional technical theatre careers.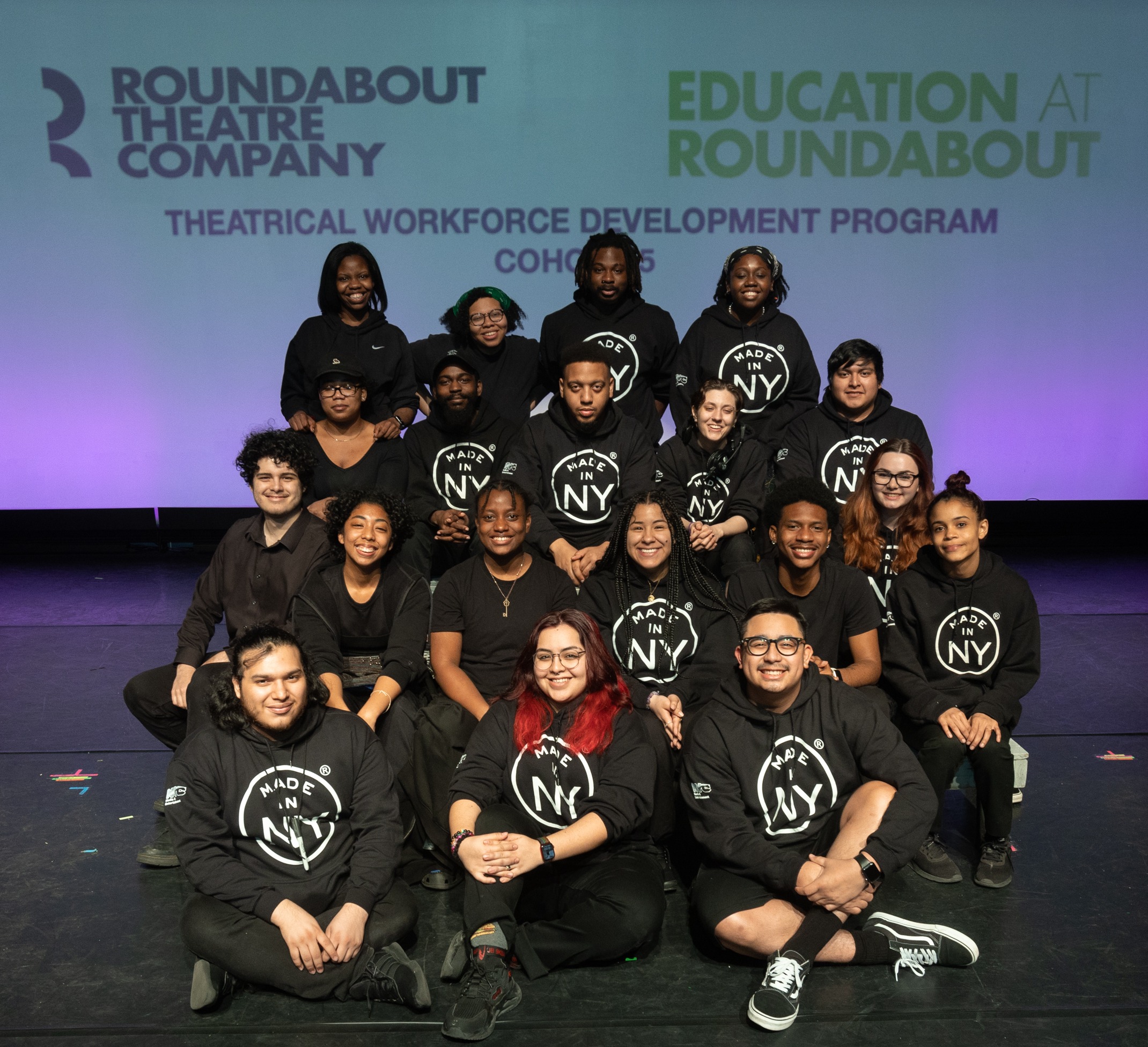 Following a recent "Final Share Out," showcasing what TWDP's fifth cohort has learned during training this past year, Mayor Eric Adams praised the program: "I applaud everyone associated with TWDP for their efforts to connect young New Yorkers to long term careers, build a more diverse talent pipeline, and strengthen the technical workforce that powers our theater community. I look forward to the many ways Roundabout and TWDP will continue to make a positive difference as we take bold steps to #GetStuffDone, revitalize our cultural and economic vibrancy, and forge a brighter, fairer, more prosperous future for all."
"Culture is the heart of New York City, and we know that nothing happens in New York City without art and culture. As the Commissioner of Cultural Affairs, I know that our cultural institutions have the experience and deep community relationships to continue to create a workforce that is more reflective of the City of New York. I really want to celebrate Roundabout, and I want to thank all of the TWDP fellows. You persevered and now you are here today making it all happen backstage," added NYC Cultural Affairs Commissioner Laurie Cumbo.
"As a founding partner of the Theatrical Workforce Development Program, the Mayor's Office of Media and Entertainment is proud to join the Roundabout Theatre Company in celebrating the success of the program," said Commissioner of the Mayor's Office of Media and Entertainment, Anne del Castillo. "The 'Made in NY' Stagecraft Bootcamp is one of our signature training initiatives which works to diversify NYC's theatre workforce and develop a strong local talent pipeline to support the industry's present and future."
As we celebrate the 100% retention rate of Cohort 5, with all 20 fellows advancing from training onto summer internships across the City, we also acknowledge the six TWDP alumni that have successfully joined the International Alliance of Theatrical Stage Employees (IATSE) union and the 60 more maintaining their careers backstage on and off Broadway.
Founded in 2016, the Theatrical Workforce Development Program aims to break down the barriers that prevent young adults from joining the industry and empower a diverse new generation of theatre professionals. Roundabout's Theatrical Workforce Development Program is the first collaboration between a theatrical employer and the union that represents backstage workers to train and place young adults in professional careers as Stagehands, Electricians, Sound Engineers, Carpenters, and Wardrobe Workers.
Recruitment is now open for the next group of participants, Cohort 6, who will begin their training in September 2023. Application is contingent on attending either of the remaining information sessions at The Harold and Miriam Steinberg Center (111 West 46th Street) on Friday, May 26 or Thursday, June 8. Additional information is available at roundabouttheatre.org/twdp.
TWDP includes three years of training, job placement, and one-on-one mentorship with top industry professionals to ensure a smooth and successful transition to professional theatre work. Each year, the program will provide a group of up to 20 fellows with hourly wages, relevant skills and industry knowledge, work experience, access to world-class venues, and resources and support services to navigate this environment.
Roundabout employs more than 400 technical theatre professionals annually and its education programs reach more than 30,000 people each year. For more than twenty years, Roundabout has trained teachers, teaching artists, and high school students in technical theatre skills. In addition to lead partners The International Alliance of Theatrical Stage Employees (IATSE), The Door, and National Black Theatre, additional partners include: Atlantic Theatre Company, New Victory Theater, New 42 Studios, The Public Theater, Dixon Place, Abrons Arts Center, Irish Arts Center, Idaho Shakespeare Festival, Lake Tahoe Shakespeare Festival, City Lyric Opera, Signature Theatre, Gala Productions, Peterborough Players, and Emursive Productions.
COMPONENTS OF THE PROGRAM
Recruitment
The Theatrical Workforce Development Program accepts applications from young adults from New York City who have a high school diploma or HSE. This includes alumni from the existing Roundabout partner schools and on-site after school programs.
Training
In the first year, fellows kick off their training at Roundabout Theatre Company with an intensive six-week "Made in NY" Stagecraft Bootcamp, presented by the Mayor's Office of Media and Entertainment and the NYC Dept. of Small Business Services. For the following six months, fellows are engaging in progressive, hands-on skills and theory training for 29 hours a week in Roundabout's education spaces and theatre venues, in addition to observing theatre professionals on the job at Roundabout and National Black Theatre, all in preparation for full-time internship placements at a participating theatre or studio in the late spring and summer. Throughout the training program, fellows will receive a living wage, reimbursed travel, one-on-one mentorship with an IATSE professional, access to additional IATSE industry professionals and retention support services.
The second year includes placement in an entry-level job at a not-for-profit theatre, production, or shop in their chosen trade. Fellows will continue to receive one-on-one mentorship with IATSE professionals, Roundabout-led wrap-around career programming, and retention support services from The Door. At the end of this phase, in the third year of the program, fellows will continue to be supported while they pursue contract work from their new professional networks and our cultivated network of theatres and performance, sports, cruise line, and conference venues.
Roundabout's Theatrical Workforce Development Program (TWDP) is made possible through the generosity of Denise Littlefield Sobel, the Mellon Foundation, The Pinkerton Foundation, the Solon E. Summerfield Foundation, the Altman Foundation, the Kaplen Foundation, Capitol One, and the Herbert M. Citrin Foundation.
Major funding to establish the "Made in NY" Stagecraft Bootcamp is provided by the Mayor's Office of Media and Entertainment and NYC Department of Small Business Services.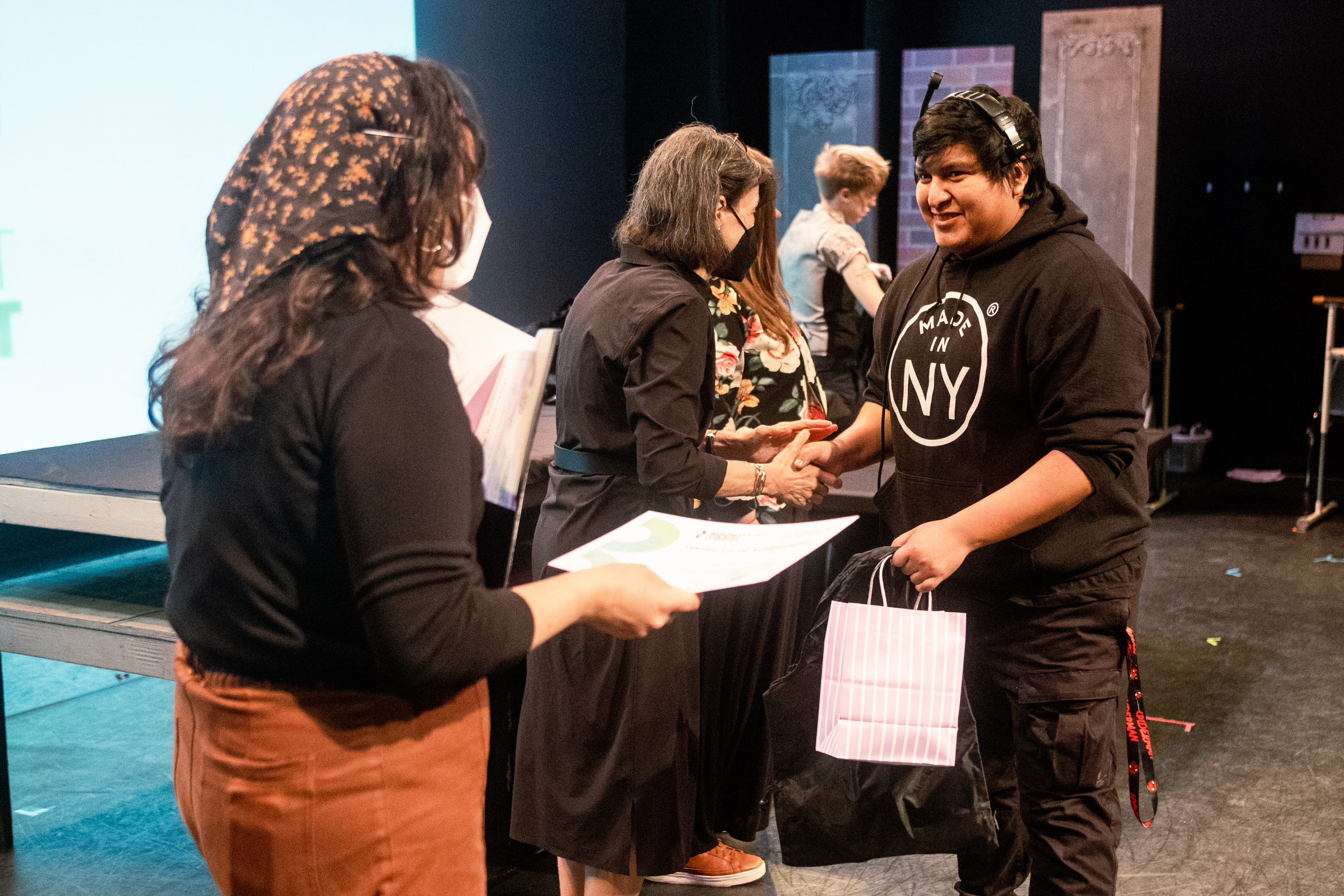 This program is supported, in part, by public funds from the New York City Department of Cultural Affairs in partnership with the City Council, NYC's Human Resources Administration and Center for Economic Opportunity's joint support through the Work Progress Program, the New York State Council on the Arts, and the National Endowment for the Arts.
TWDP is made possible by the Champions for Inclusive Theatre and Roundabout's Forward Fund. We acknowledge the generous friends who support our many efforts to increase representation and inclusion in all aspects of theatre: Elizabeth Armstrong, Bank of America, Eugene and Joann Bissell and the Lillian Lincoln Foundation, Kevin Brown, Barbara and Peter Bye, Ginger McKnight Chavers, Ford Foundation, Jill and Barry Lafer, Gina Maria Leonetti, Iva Mills, Beryl Snyder, and Denise Littlefield Sobel.
Education at Roundabout, including TWDP, is made possible by the leadership and generosity of Roundabout's Board Education Committee, helmed by Co-Chairs Gess LeBlanc and Jennie Thomas.
Established in 1996, Education at Roundabout annually serves over 30,000 people throughout New York City's five boroughs and beyond. Roundabout offers nationally recognized programs that use the power of theatre to inspire, engage, and promote social equity through three core areas: Career Training, Community Partnerships, and Teaching and Learning.  The deep impact and breadth of our work is a result of programs and curricula curated specifically to build lasting relationships with students, teachers, early-career professionals, audiences, and our local communities. roundabouttheatre.org/education
Roundabout Theatre Company has been working to prioritize and actively incorporate anti-racism, equity, diversity, inclusion and accountability throughout the institution. Read more about the company's social justice progress and timeline at roundabouttheatre.org/socialjustice.
Further information from the Roundabout Theatre Company: www.roundabouttheatre.org