Staging Concepts' Optimized Uplift® Platform Lets the Stage Do the Work
September 9, 2020
Staging Concepts, a leading provider of portable staging solutions, has updated the design of its Uplift® Stage to make it more convenient than ever. The new and improved Uplift is raised and lowered with an electric drill, allowing facility personnel to quickly change the platform's height with ease.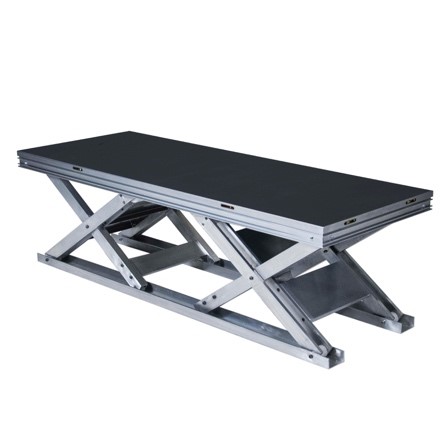 "The revolutionary Uplift Stage uses a scissor system that requires no manual labor or lifting, allowing crews to setup a venue efficiently and with the least amount of effort," said Cindy Albrecht, director of sales and marketing for Staging Concepts. "Most importantly, the Uplift can be designed to stop at any level, allowing for the utmost customization."
 
Adjusting the Uplift Stage requires only one operator. Simply insert a recommended cordless drill with the provided adapter into the gear box input shaft and allow the drill to raise or lower the platform.
 
Manufactured in the U.S., the Uplift Stage is designed for permanent installation, includes simple mechanical expansion anchors and is available in 3' x 8' or 4' x 8' standard sizes. Maximum standard height is 47 inches and minimum height is 11 inches (both without shims).
 
For unique applications, the Uplift also can be built into custom shapes, sizes, and height ranges to meet the needs of a venue, eliminating the storage requirements and hours of assembly time required for temporary options. Additionally, it is compatible with all standard Staging Concepts' accessories, such as skirting, closure panels and guardrails.
 
The Uplift Stage features an aluminum frame construction designed for maximum strength and long-term durability. The platform is engineered to support 150 lbs./square foot (732.4 kg/square meter) with additional loading options. Multiple Uplifts may be locked to adjacent Uplift platforms to provide a flat, uniform surface, that can all still be raised or lowered with one drill.
 
Uplift platforms are available with a variety of surface options to complement any setting. Customers may choose from Polyvinyl (black or gray), commercial grade carpet (black or gray), unfinished plywood, painted plywood (black), Plyron (tempered hardboard) or customer-specified tongue and groove.
 
"Lead-times for the Uplift are minimal, and installation is easy because the Uplift Stage is fully supported by our technicians and engineering staff," added Albrecht.
 
Call 800.337.5339 or info@stagingconcepts.com to request a quote. More information is available at www.stagingconcepts.com.