2023 Young Designers, Managers, & Technicians Award Winners Announced
February 8, 2023
Congratulations to our 2023 Young Designs, Managers, & Technicians (YDMT) Award winners! The awards for YDMT bring recognition and support to young designers, managers, and technicians at the beginning of their careers. They are made possible by generous gifts to USITT from their sponsors. These winners will be honored at USITT23 in St. Louis, March 15-18. Be on the lookout for our annual TECHnically Speaking YDMT podcast series featuring this year's winners in late March/early April!
The Barbizon Lighting Company Jonathan Resnick Lighting Design Award
Jaemin Park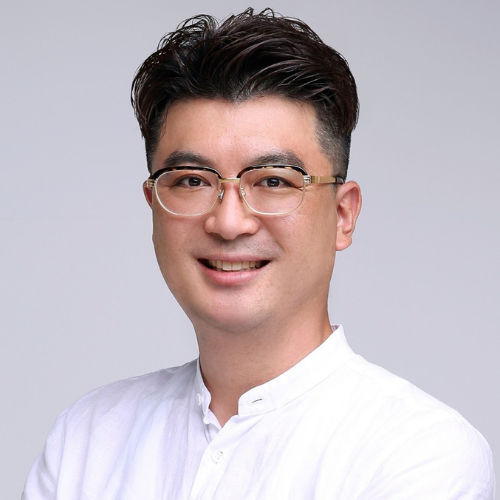 Jaemin is a lighting designer and an assistant professor in the School of Theater and Dance at Southern Illinois University.
A native of South Korea, Jaemin began his career as a lighting designer in 2005 by designing the opera "La Traviata" in South Korea. He has designed more than 100 productions in various genres such as plays, musicals, operas, and dances.
While he was in South Korea, he worked as a full-time lighting supervisor and resident designer in the national theatre with about 1,200 seats in Daegu, South Korea. His unique background in studying vocal music during his undergraduate courses has given him a keen ear for analyzing and expressing music. He has directed opera and loves musical works.
He graduated as an outstanding graduate designer from Kent State University's MFA program in Lighting Design. When he was a student, elevated his design presence in the region by designing the musical "Chaining Zero" and with that opportunity, designed the play "Passage" produced by the Case Western Reserve University/Cleveland Play House MFA Acting Program.
After graduating in 2022, he worked as a lighting designer on four shows. It was the musical "Little Shop of Horrors" at Porthouse Theatre, "The Lightning Thief" and "Sweeney Todd" at Rubber City Theatre, and the play "La Siempreviva" LatinUs Theatre Company.
The Richard Hay Undergraduate Scene Design Award
Cecilia Shin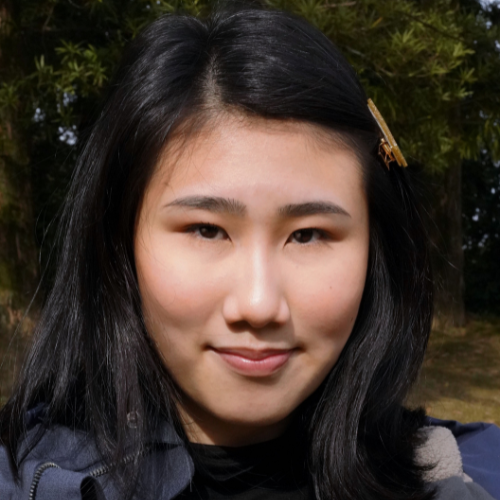 Cecilia Shin is a set and stage designer, born and raised in Hong Kong. She is a current fourth-year student at the School of Drama, Carnegie Mellon University, pursuing a BFA in Scenic Design. She is also pursuing a minor in Architecture History from the School of Architecture. Working in both film and theater, she is enraptured by stories and creating worlds for captivating and compelling individuals to exist in. She is always excited to work with collaborators to tell stories through a spatial and visual lens. 
Cecilia has worked on various TV and film projects produced by major production companies in Hong Kong, including Shaw Brothers Studios and We Pictures. During the semester, she focuses on theater work. Most recently, Cecilia was awarded the 2022 Carnegie Mellon University School of Drama Lloyd Weninger Award for Stage Design, an award recognizing excellence in scenic design for undergraduates within the program, selected by the faculty.
The Barbara Matera Award in Costume Making
Emma Dickerson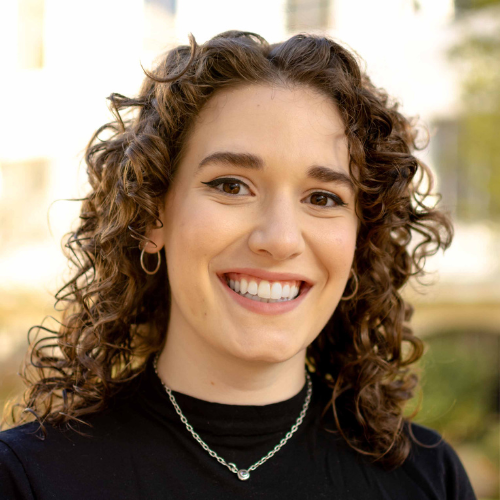 Emma Dickerson is a third year MFA candidate for Live Design and Production with a concentration in Costume Technology at The University of Texas at Austin. While there she studied under James Glaven and David Arevelo. Emma is originally from outside of Philadelphia Pennsylvania and completed her BFA in Theater Costume Design from Pennsylvania State University in 2018 studying under Richard StClaire and Laura Robinson. Emma has worked professionally all over the country. Most recently she has worked at Bethany Joy Costumes in New York city on projects for television, film and Broadway.  Some of these projects include making dresses for Dickinson on Apple TV and several suits for Camilla in Dianna the Musical. She has also worked at The Huntington Theatre in Boston, The Utah Shakespeare Festival, and The Santa Fe Opera. In her time at UT Emma has worked on many projects and has been a draper for several main stage productions. Her Thesis is focused on digital pattern making software and its future in the costume making industry. It will include a project comparing traditional pattern making methods with digital pattern making. She is excited to keep working hard and learning as her time at UT comes to a close and she takes the next steps into her career as a technician and artisan.
Zelma H. Weisfeld Costume Design & Technology Award
M.J. Hromek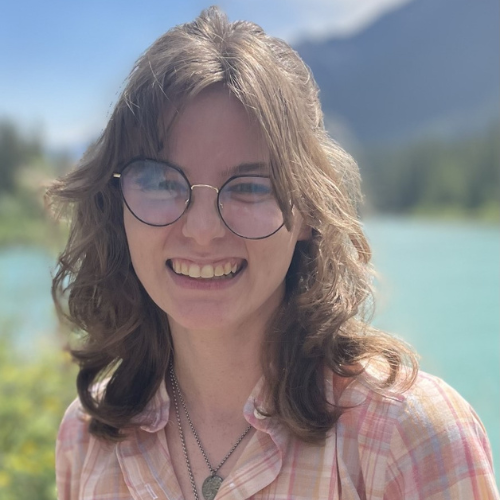 M.J. Hromek is from Baltimore, Maryland and received a BA in Theatre Design and Production from the University of Maryland, Baltimore County. They are currently pursuing an MFA in Costume Design at the University of Tennessee, Knoxville where they are exploring various methods of communicating design, including the use of digital rendering. Works include Anon(ymous) by Naomi Iizuka as well as She Kills Monster's by Qui Nguyen and Agatha Christie's Murder on the Orient Express adapted by Ken Ludwig.

Robert E. Cohen Sound Achievement Award
Huhao Yang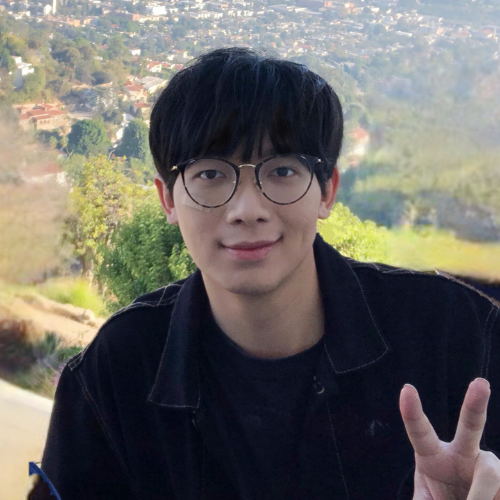 Huhao Yang is a sound design graduate student in the Department of Theatre at Purdue University, who has done extensive work in the field of sound production. During his undergraduate period in China, he participated in professional audio work with various units including the China Central Television and Zhejiang TV & Radio Group. He also received the 5th Sound Academy Award from the China Society of Motion Picture and Television Engineers for his film sound works. After coming to the United States, Huhao is actively involved in various theatre and live productions while chasing his MFA degree In Purdue Theatre, he has served as sound designer and engineer for many theatre shows in his university, and also actively participated in off-campus internships. He followed Chicago-based production company Centerstage and participate in many large corporate conference productions such as Toyota, Wyndham. As a young sound designer, Huhao's motto is to embrace infinite possibilities, he has the enthusiasm to devote himself to the sound field he loves, and contribute his strength to more wonderful shows. He hopes to further improve himself at Purdue Theatre, and become an outstanding sound artist and sound engineer in the future.

KM Fabrics, Inc. Technical Production Award
Mia Sara Haiman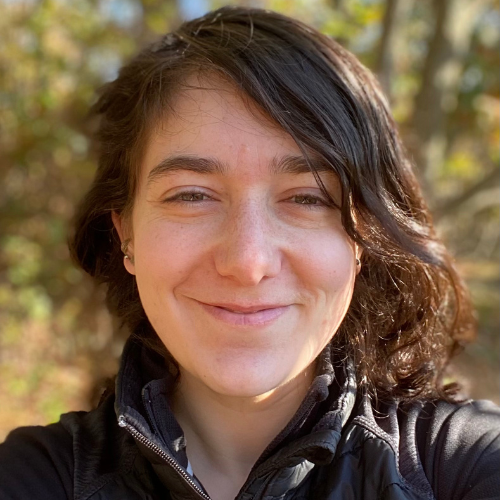 Mia Sara Haiman is a fourth-year M.F.A. candidate in the Technical Design and Production department at the David Geffen School of Drama at Yale. At Yale Repertory Theatre, she has worked in various roles including Technical Director and Associate Production Manager. As a project and production manager, Mia has worked in live entertainment for Broadway, regionally, and abroad. Prior to Yale, Mia worked as Production Manager at Boston Center for the Arts and in international relations at the Cameri Theatre of Tel Aviv. Other credits include Vermont Shakespeare Festival, BAMAH, Theatre NOW New York, CMJ Music Marathon, Vermont Stage Company, St. Michael's Playhouse. Most recently, Mia worked on multiple Broadway and regional productions at ShowMotion, Inc.
USITT Makeup Design Award sponsored by Kryolan Professional Make-Up
Ying-Syuan Zeng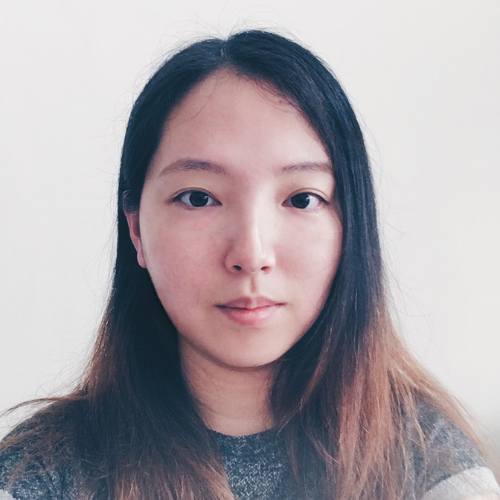 Born in Taipei Taiwan, Ying-Syuan Zeng had discovered her love in visual arts at an early age. Yet it takes her quite a long route from learning painting, graphic design, editing, making costumes then being able to realize it is building out her imagination that makes her so happy, and theater/film is the magic land that put everything together. So she took a turn and hopped onto the path of costume design for theater. Now she is exploring the new world in prosthetic, props, wig&makeup, and scenic art with the goal and passion of combining all these elements together to bring her imagination into reality.

USITT Stage Management Award sponsored by Clear-Com
Kelsea Sibold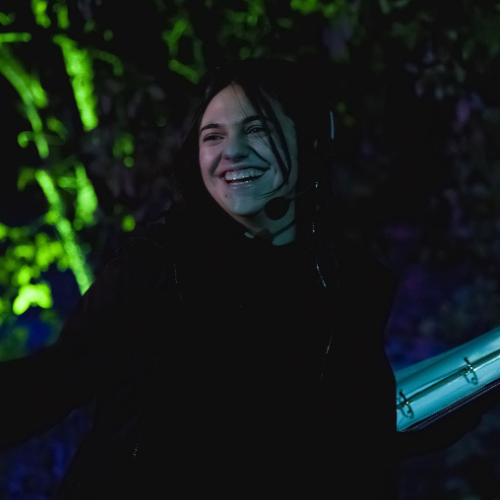 Kelsea Sibold (she/her) is a stage manager based out of Boulder, Colorado, originally from Frederick, Colorado. Her regional credits include: Always…Patsy Cline and Native Gardens (Creede Repertory Theatre); Theatre of the Mind (DCPA); Kinky Boots (The Arvada Center); A Midsummer Night's Dream, The Odyssey, and Pericles (Colorado Shakespeare Festival); It's a Wonderful Life (Breckenridge Backstage Theatre); and Above/Below (Broken Box Mime). Her educational credits include: ShakesFear, Gallathea, Climate Cabaret, and Spring Awakening (CU Theatre & Dance). Kelsea will be graduating this spring with her BFA in stage management from the University of Colorado Boulder. She is extremely grateful for the opportunities she has had throughout her undergraduate career and cannot wait to see what post grad life has in store for her!

Bernhard R. Works Master Crafts Award
Cole Zwilling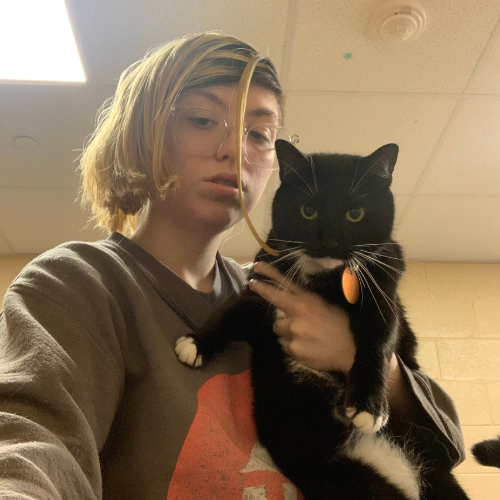 Cole Zwilling is a senior theatre design and tech major at DeSales University focusing in prop construction, design, and management. They have been building props for the past eleven years, having done 5 years on the technical crew at their local summer stock in high school. They have been the University's props manager and primary artisan since the start of their sophomore year and were the props artisan for the Pennsylvania Shakespeare Festival this past summer. They have worked on over 50 regional, collegiate, and professional productions since starting high school in 2015 and have designed props for 3 productions for a local middle school since their senior year of high school. Some of their most recent roles include props manager for Sound of Music, Silent Sky, and A Civil War Christmas: An American Musical Celebration at DeSales University with prop design work appearing in all three productions.

USITT Scene Design Award sponsored by Rose Brand
Mia Irwin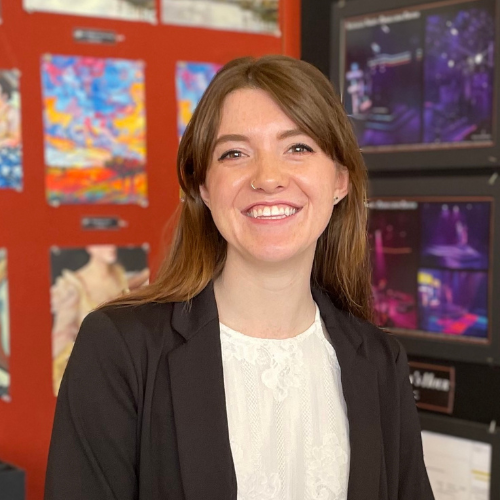 Mia Irwin is a third-year M.F.A. candidate in Scenic Design attending The Pennsylvania State University from Durango, Colorado. Mia received her B.A. in Theatre Arts and a minor in Art and Design from the University of Northern Colorado in 2020. She is an experienced scenic artist, having worked for several companies, including The Rev Theatre Company, The Little Theatre of the Rockies, Acomb, Ostendorf and Associates, LLC, Candlelight Dinner Playhouse, and continues to work as a scenic artist at Penn State. Her previous credits include the scenic designs for Nostalgia Night (2022, Penn State Centre Stage), The Wild Party (2021, Penn State Centre Stage), Dry Land (2021, Penn State School of Theatre), and Eurydice (2019, UNC). Upcoming projects include the scenic design for Into the Woods (2023, Penn State Centre Stage). www.miairwindesign.com