Imaginary Labs Announces Carbon for Unreal v1.2
May 12, 2021
Imaginary Labs takes the next leap in visualization with its highly anticipated update of Carbon for Unreal, the professional DMX toolkit and library for live and virtual events in Unreal Engine. Version 1.2 features a completely rewritten fixture core, a new system for conventionals and accessories, new Niagara VFX System-based special FX, and substantial performance improvements over previous versions.
"Version 1.2 is packed with new features," remarks CEO and Chief Architect David S. Perkins. "We've taken our own internal wish list and combined it with the most requested improvements from our users. At the end of the day, we are devoted to creating a great user experience and offering incredible support to our users as they get back to work in this industry we love. We are really excited to get it into people's hands to see how far they can push the technology."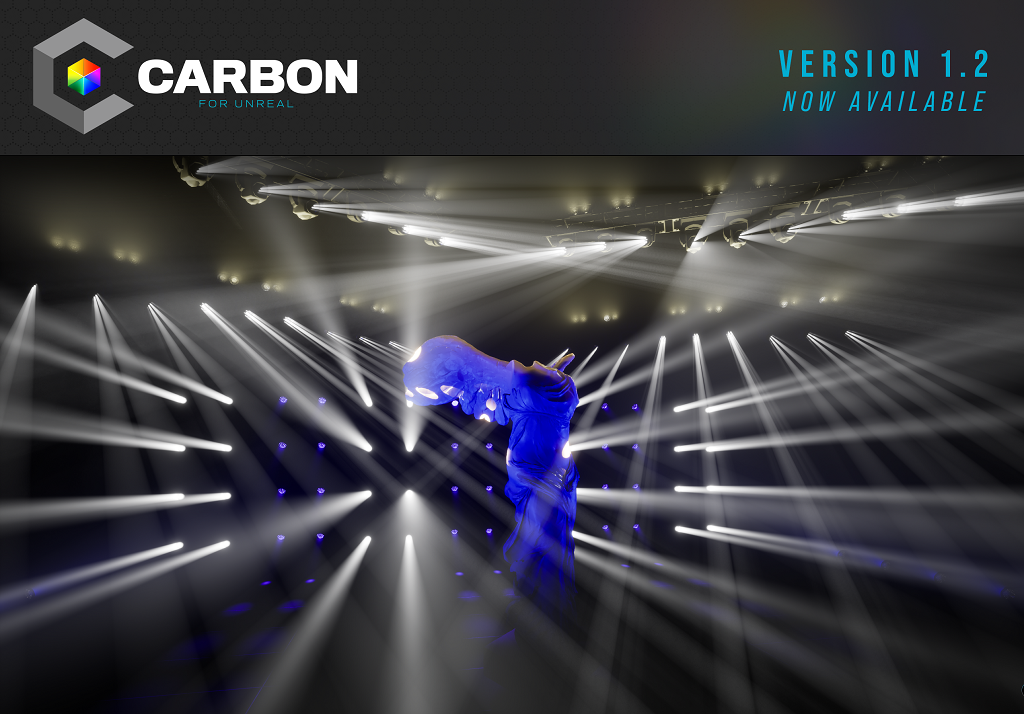 Exciting advances include compatibility with Deep Learning Super Sampling (DLSS) technology by Nvidia; multi-protocol mapping; continuous pan and tilt; support for up to two animation wheels, three subtractive (CMY) color wheels, and LED virtual color wheels; custom pulse curves; and beam intensity unification between beam types. One of the most satisfying improvements is with the addition of the new conventional fixture type; you can now easily add gobos, predefined color filters, framing shutters, and more.
All of this is now backed up with a completely new support portal for Carbon's users and folks who are considering adopting this technology in their live and XR workflows. "We now have a searchable knowledgebase and a brand-new ticketing system that lets folks communicate with developers one-on-one, as well as my personal favorite—a community forum," says Zach Ricketson, Producer and Community Manager. "We are ready to answer your tough questions and give you the resources you need to succeed!" The new support portal is now live.
With the new "Indie Edition" level, Carbon for Unreal is now available for independent musicians, DJs, and streamers who want to use Carbon in their online shows. The Indie Edition starts at just $129/month and offers up to 16 universes of DMX input and is licensed for live broadcast use.
"All of these great new features in v1.2 and we're just getting started! There's new stuff coming out of the lab every day," states Perkins. "The timing couldn't be better," adds Tom Thompson, Chief Relationship Officer. "As we start to see our industry turn a corner, Carbon for Unreal is here to help designers prepare for the shows of the future."