In Memoriam: Randy Lutz
January 14, 2021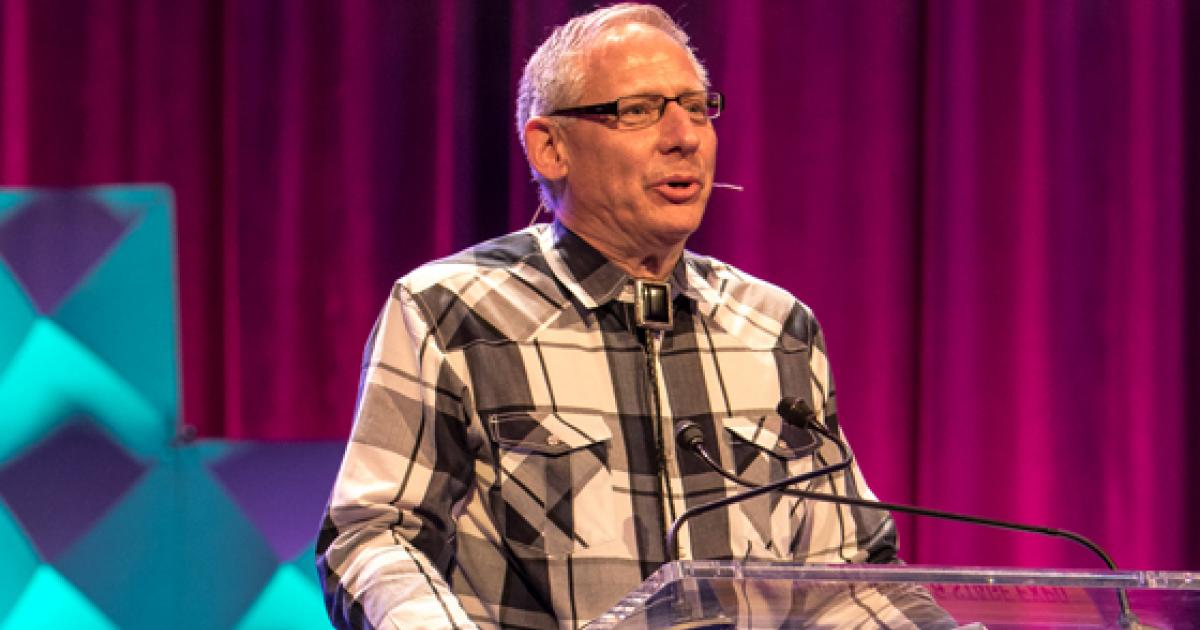 Article sourced from Stage Directions.com
USITT is sad to share the news that our 2018 Wally Russell Professional Mentoring Award Honoree, Randall Lutz, died on Jan. 12, 2021. We share condolences with the many people mourning.
Randy Lutz was the Properties Director at Santa Fe Opera, and a mentor to many theater makers over his many years.
Lutz got started in theater back in high school in Mt. Carmel, PA. He attended Bloomsburg University, first in pre-med, but switched to technical theater. Lutz started at Santa Fe Opera as a Stage Carpenter in 1979. He was a stage carpenter at Santa Fe Festival Theatre as well as assistant run crew chief and head properties run crew chief at SFO. In 1992, Lutz was offered the position of properties manager, eventually moving up to his current role of properties director, which is a mix of creative and management. He would be responsible for hiring the staff and apprentice positions in the props department, which with local over hires got up to 39 people. With props being so central to a production, Lutz was often a liaison between designers and directors, and the production staffs at SFO.
Lutz, a member of the Society of Properties Artisan and Managers (S*P*A*M), often presented workshops at regional and national theater festivals and conferences. He would the rounds of conferences like the annual SETC and USITT conferences speaking at seminars as well as interviewing potential candidates for SFO. Lutz worked a lot with the Kennedy Center American College Theater Festival where he served as a responder for allied crafts and prop construction and design.
In 2018, he was honored with The Wally Russell Mentoring Award, which is presented by USITT in partnership with the Wally Russell Foundation to honor someone who embodies the guiding hand that Wally Russell provided to many young professionals. In the words of one of the 23 people who wrote letters of support of Lutz for this award, "Randy is the best manager of people whom I have ever met. He hires his staff and assistants for each summer season like an artist chooses paints; looking for complimentary skills and personalities that blend together in a positive and productive way."
Paul Horpedahl, Former Director of Production & Facilities at The Santa Fe Opera and who worked with Lutz for many years, remembered his colleague and friend. "Randy Lutz. Craftsman, artist, historian, leader, mentor, teacher, advisor, spiritual counsellor, pastor, friend… The list goes on. If a picture is worth a thousand words, 10,000 pictures would not cover what he has meant to his many thousands of friends and colleagues. We have been through a lot over our 40+ years of personal and professional lives. That he is gone seems impossible, especially as I look at these images, always with people. Always smiling. I suspect that prop shops all over the country will feel a little darker today. Please hold them, and the entire Santa Fe Opera, in your hearts and prayers today. All have lost a key person in their lives. The kind of human we all really need more of. Thank you, Randy. We will all continue to love you."
Properties Artisan, author, and professor at the University of North Carolina School of the Arts, Eric Hart added his remembrance of Lutz. "I am heartbroken to hear that Randy Lutz has passed away. He was an amazing mentor and friend to me and so many others. He was kind, gracious, fun, and patient even while running one of the finest prop shops in the country. He was always an inspiration to me that you could accomplish great things while still treating everyone around you with dignity and respect. He genuinely cared for so many of us. He was an amazing human, and to find out that he was taken so quickly and so young just feels deeply unfair. He was truly one of the greats. He mentored several generations of props people; not just me, but my students and apprentices as well. His passing has left a huge hole in the world of props."
"My heart aches this morning after hearing of the passing of Randy Lutz, commented Properties Artisan, Karin Rabe Vance. "He was simply one of the best people I've ever had honor of knowing and the loss of his kindness, generosity, humor, and talent will leave a huge hole in my heart and so many others. I will carry the lessons from his mentorship and friendship with me forever. Please don't take those you love for granted and never miss an opportunity to tell them what they mean to you. Tomorrow is not guaranteed. Love you so much Randy, may you rest peacefully with the angels."