National Suicide Prevention Week – #BeThe1To Help Save a Life
September 1, 2021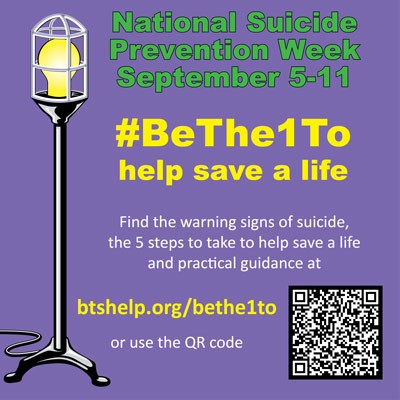 As much of the entertainment industry and the world at large returns to work after more than a year of stress, uncertainty, and loss, we as an industry find ourselves finally looking at what is next. For many, these past 18 months or more have been some of the most challenging of our lives. September is National Suicide Awareness Month and while we may be getting back to work, the need for awareness and action is greater than ever. Underemployment, new demands in the workplace, and worry about the future are all contributing to the negative impact on mental health. The reality is that many are not coping well and reports of suicide are on the rise.
National Suicide Prevention Week (September 5-11) is an opportunity to learn what you can do to help those you may be concerned about on the job or at home, as well as find resources that may help you today or in the future. Visit btshelp.org/bethe1to see the warning signs of suicide, because the more familiar you are with the signs the more likely you are to recognize them. Then learn about the 5 Steps you can take to save a life: Ask, Be There, Keep Them Safe, Help Them Connect, and Follow Up. Practical guidance and situational examples are provided for each of the five steps. 
Most people want to help if they see someone at risk for suicide, but they don't know what to say or do, or are afraid they will make things worse or damage their relationship with the person. However now, more than ever, we need to remain vigilant to the signs that someone may be at risk. National Suicide Prevention Week also coincides with Labor Day, a day to celebrate the great strides made in this country's history, and reflect on how much there is still left to do. This Labor Day, think of those who are here now and how we can honor one another's contribution to this industry by working toward an open conversation about suicide awareness.
Posters of the warning signs and the 5 Steps are available on the site for download in multiple sizes and in English, Spanish and French. Additionally, laminated wallet cards are available at no cost for individuals or organizations, simply email mh@btshelp.org with the quantity and your mailing address.
Help spread the word across our industry – we can all help save lives if we know what to look for and follow the simple 5 Steps. Remember, being alone is not the same as feeling alone – reach out and BeThe1To to help save a life today. If you or someone you know may be struggling with suicidal thoughts or actions, the National Suicide Hotline (1-800-273-8255) has crisis support available 24/7 or you can text the Crisis Text Line (text HOME to 741-741). These resources are not only for those struggling with suicidal thoughts or actions, but for anyone who may need support or advice when assisting others who may be in need of help.
Behind the Scenes has collaborated with other concerned organizations and individuals to create the Mental Health and Suicide Prevention Initiative. A series of tools and resources has been developed to not only help you but also assist you in helping your colleagues, friends and family. Find links to additional tools and resources and information about the initiative at btshelp.org/mentalhealth.