The Stage Manager's Association of the United States (SMA) Announces New Leadership
October 14, 2021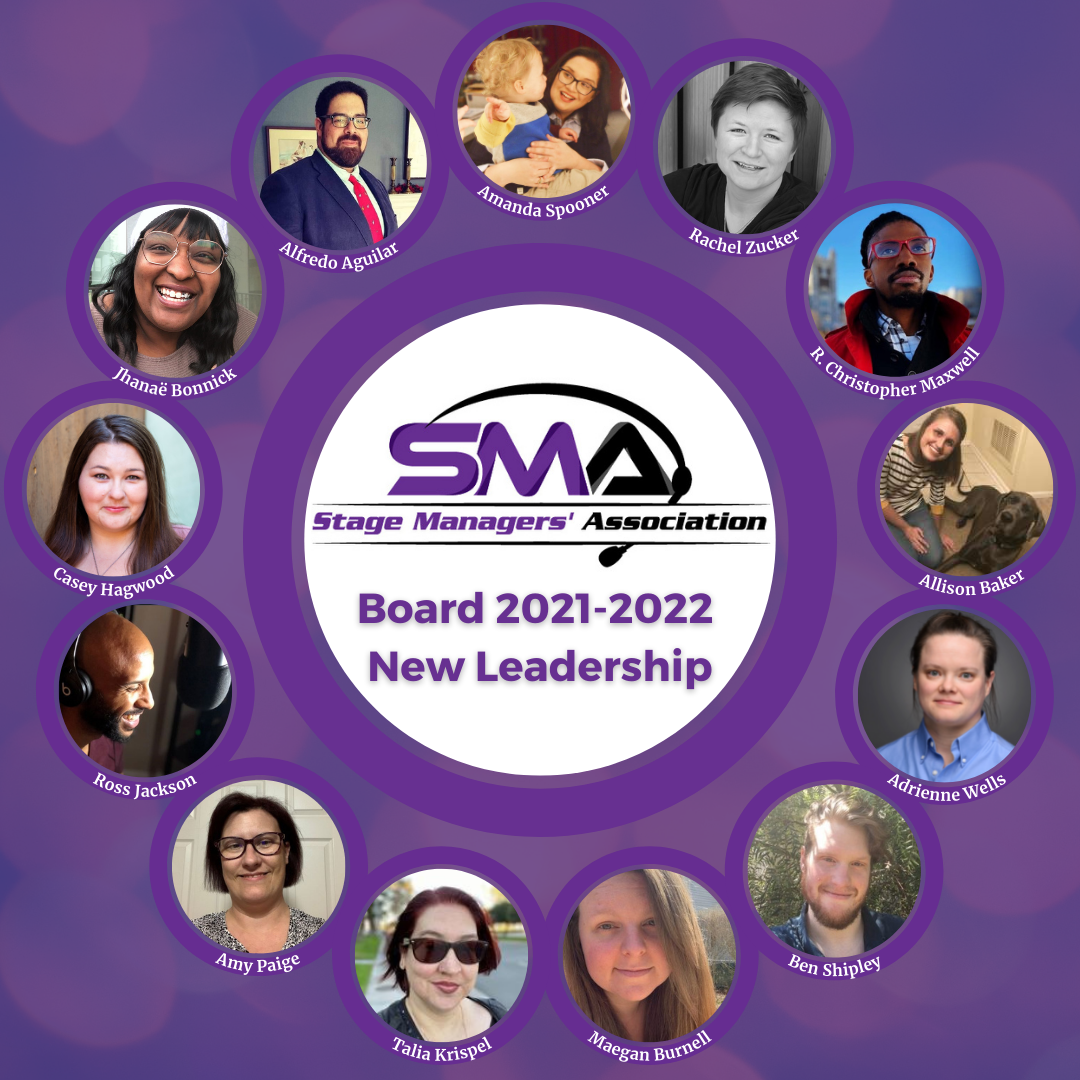 Article originally posted by Michael S. Eddy for PLSN
The Stage Manager's Association of the United States (SMA) welcomed 10 new directors to its first board meeting of the 2021-22 SMA term, who had not served on the board in the past. Joining the leadership team are Alfredo 'Fredo' Aguilar, an active committee member located in the Central Region, Chicago, and R. Christopher Maxwell who has served as a NYC Regional Rep; both elected to serve at large.
Also elected were Amy Paige, Treasurer, Allison Baker, Recording Secretary, and Casey Hagwood as Corresponding Secretary. Joining Rachel Harrison in the East are Regional Directors, Maegan Burnell, Central; Ben Shipley and Talia Krispel, Western; and Jhanaë Bonnick and Rachel Zucker for New York Metro (NYM) Region.
In a statement, the leadership of the SMA stated, "One of our mid-career members recently told us 'If we have learned anything over the past 20 month, it is that we need fresh leadership'. And that is definitely something that our chair and board is taking to heart in this transitional year."
One of the first things that the New York Metro Directors will be taking on is organizing the SMAs participation for the October 3rd Broadway Cares/Equity Fights Aids Grand Auction and Flea Market held in Times Square.
In 2021 the SMA is implementing a structural leadership change, eliminating second Vice Chair, and adding a Chair-Elect. Ross Jackson, from Los Angeles has been elected as Vice Chair of the Association. Jackson has previously served as 2nd Vice Chair, Western Regional Director, and chair of the SMA Social Media Committee. Adrienne Wells will serve a year as chair-elect in preparation for taking over the leadership of the Association in July 2022. Stage Managers may know Wells for her six years serving as the corresponding secretary for the SMA and from many conferences and recruiting trips.
An exciting new development for the SMA is the addition of a Director of Education. This position will be responsible for developing and representing all education efforts of the SMA while working and guiding the Education Committee and its multiple projects. They are very pleased to announce that Amanda Spooner, who helmed the very successful Year of the Stage Manager campaign and previously has served as Vice Chair, has been appointed to this two-year position on the SMA Board. She will be working with all various working groups and subcommitational programs for the SMA moving into the future.
As the SMA enters this transitional year, they plan to lean into many of the changes and adjustments they made for 2020 and continue to work to address the many needed changes highlighted in the industry overall. It is sure to be an interesting year.
More information about Stage Managers' Association can be found here.