Rosco Introduces Image Spot HO, the Brightest Addition to its Image Spot Projector Range
May 18, 2023
Stamford, CT - Rosco, a leading manufacturer of lighting solutions, announced the release of the Image Spot® HO, the latest addition to their popular Image Spot Projector range. Image Spot HO boasts high output performance, crisp gobo projection, durability, reliability, and a sleek design.
The 75W Image Spot HO is the brightest projector in the Image Spot range, producing up to 2,900 lumens of output, making it ideal for use in museums, retail stores, themed environments, and hospitality venues. The fixture's superior optics enable it to produce sharp gobo projections up to 75' (22m) away. The Image Spot HO is available in two color temperature options: 3000K warm white and 5500K cool white.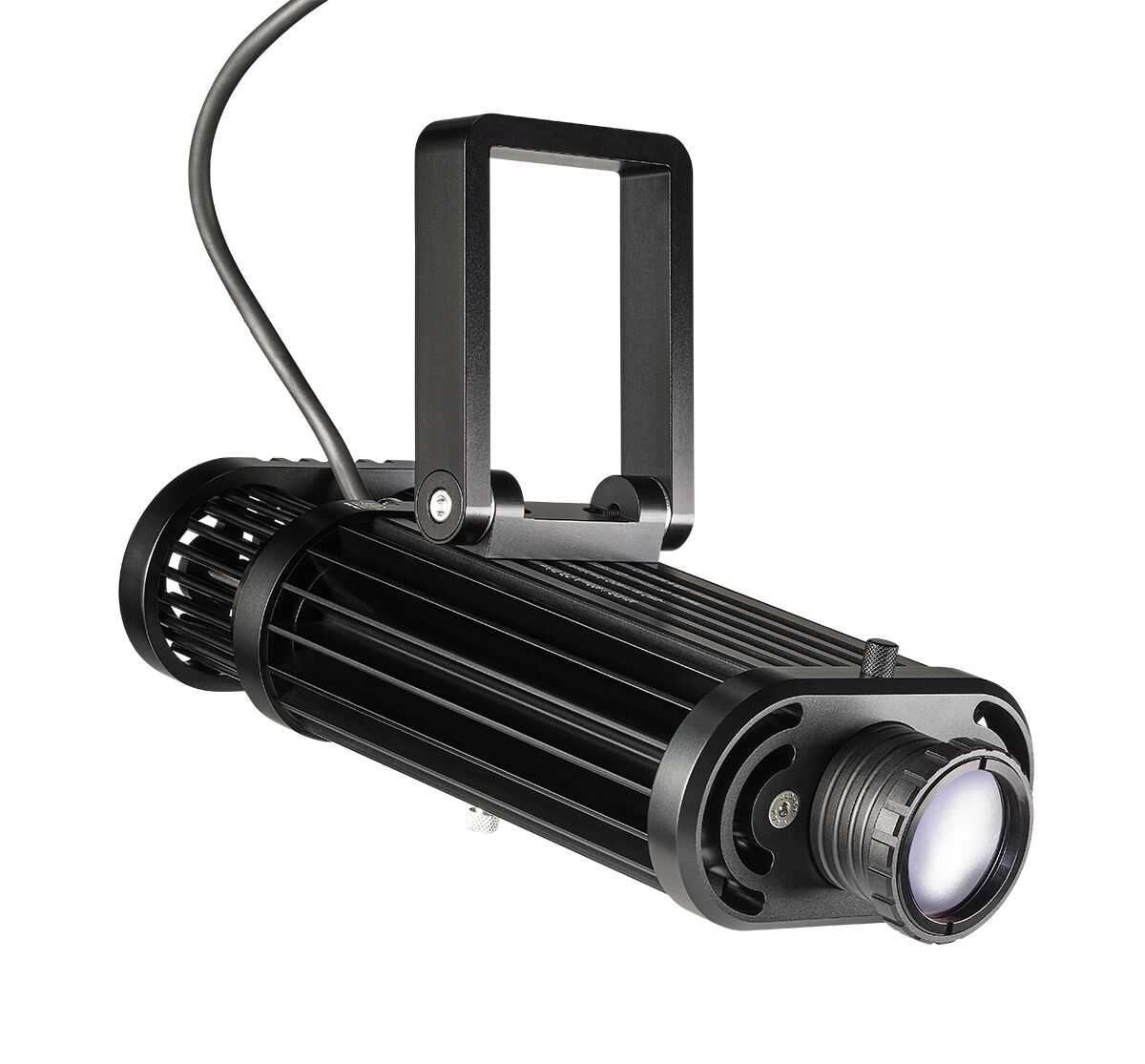 The Image Spot HO produces powerful gobo projections, and is designed to accept steel and glass Image Spot Gobos. The fixture's gobo cassette even accepts thicker Effects Glass gobos like Image Glass, ColorWaves, as well as Rosco Permacolor dichroic glass filters. The Image Spot HO remains compatible with the original Image Spot Lens Optics, available in 10°, 19°, 25°, and 30°, for precise control of its beam angle.
The IP65-rated Image Spot HO is powered via an IP65+ rated external driver, making it easy to install in any environment – indoors or outdoors. There are three driver options to choose from: a 3-In-1 Driver that offers 0-10 vdc, 10V PWM, and Resistance dimming options, a DALI Driver that can interface with DALI control technology, and the Image Spot HO Driver with onboard Potentiometer for manual control in the field.
The Image Spot HO's sleek design measures in at 8.9 in x 4.8 in x 6.8 in (228mm x 123mm x 172.5mm) and weighs a mere 4.4lbs (2kg) - making it an ideal choice for a wide variety of projection needs. The fixture's use of an external driver allows for a slimmer form factor in comparison to the original Image Spot, while its body is slightly longer to dissipate the heat from the higher wattage LED array.
For more information about Image Spot HO, please visit www.rosco.com/image-spot-ho.
The Image Spot HO joins Rosco's Image Spot and Image Spot Mini, creating a versatile line of compact yet powerful range of LED gobo projectors. All Image Spot projectors are available for purchase through Rosco's worldwide network of dealers and manufacturer representatives.
About Rosco:
Rosco has been providing comprehensive lighting solutions since 1910. With a commitment to quality, innovation, and customer service, Rosco continues to push the boundaries of innovation and technology to meet the evolving needs of the industry. Rosco maintains fully staffed businesses in the United States, Canada, the United Kingdom, Spain, and France.