Shop Talk: Beyond the Scenes with Prop Artisans by NY Public Library for the Performing Arts
April 22, 2021
Jay Duckworth, Eric Hart, and Faye Armon-Troncoso talk props with the New York Public Library for the Performing Arts in Shop Talk: Beyond the Scenes with Prop Artisans.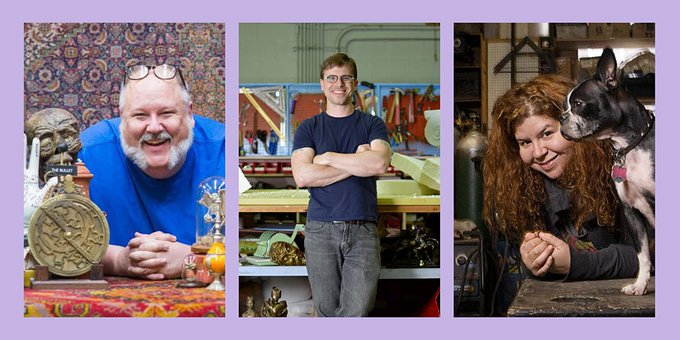 The New York Public Library for the Performing Arts is holding a free online webinar, Shop Talk: Beyond the Scenes with Prop Artisans, which is an exploration of the eclectic world of theatre props with three veteran prop designers. This will take place on Monday, May 17, 2021 at 5:30 p.m. EDT. Be sure to register for this free event.
This debut installment of Shop Talk, a series dedicated to exploring the offstage creative roles in the performing arts, explores the expansive and eclectic world of props. Three veteran prop designers and virtuosos from the world of theatre will guide us through the process from research and dramaturgy to acquisition and build, and ultimately getting a work on stage. Collectively, our guests—Faye Armon-Troncoso, Jay Duckworth, and Eric Hart—bring over 50 years of experience in the world of props as professors, Obie-award-winners, and props designers on iconic shows such as Hamilton, Fun Home, and countless Shakespearean adaptations. Curated and moderated by Billy Rose Theatre Division librarian Sharon Rork.
Featured Guests
Faye Armon-Troncoso is the first Props/Set Decorator to ever win an Obie award. Recent TV: Paramount+ The Good Fight (Season 3 & 4); Disney+ The Big Fib; Broadway: Linda Vista (Hayes); Head Over Heels (Hudson); The Terms of My Surrender (Belasco); Oslo (Lincoln Center); Les Liaisons Dangereuses (Booth); The Gin Game (Golden); Fun Home (Circle in the Square, Tony Nomination Best Set); The River (Circle in the Square); Of Mice & Men (Longacre); Macbeth (Lincoln Center); Testament of Mary (Walter Kerr); Golden Boy (Belasco); Clybourne Park (Walter Kerr, Tony Nomination Best Set); Warhorse (Lincoln Center, Tony Winner Best Set); The Merchant of Venice (Broadhurst/Delacorte, Tony Nomination Best Set); Enron (Broadhurst); Albee's Seascape (Booth). Off: In The Heights (37 Arts) and a zillion Off-Broadway shows at Lincoln Center.
Jay Duckworth boasts over 35 years' experience in League of Resident Theatres & Off-Broadway theatres, as well as for independent films, TV, and music videos, and served as Props Master and Props Designer for more than 65 Off-Broadway shows. The roll call of shows for which he has created original work, starts in Classic Greek Theater, re-imagining Shakespeare plays as part of the artistic team that created musicals including Hamilton, Fun Home, Bloody, Bloody Andrew Jackson and the highly controversial Julius Caesar at Shakespeare in the Park 2017 during his 10-year residency at The Public Theater. As well as being a Contributing Writer for Stage Directions magazine, he teaches Properties and the Philosophy of Aesthetics at Pace University. He has been the Keynote Speaker for The Kennedy Center American College Theater Festival and the United States Institute for Theatre Technology, curating USITT's very first Prop Lab in 2018.
Eric Hart is a professor of Stage Properties at the University of North Carolina School of the Arts. He has built props for theater, film, television, opera, Broadway, theme parks, and retail display, and is the author of The Prop Building Guidebook, The Prop Effects Guidebook, and Prop Building for Beginners. He holds an MFA from the Ohio University School of Theater.