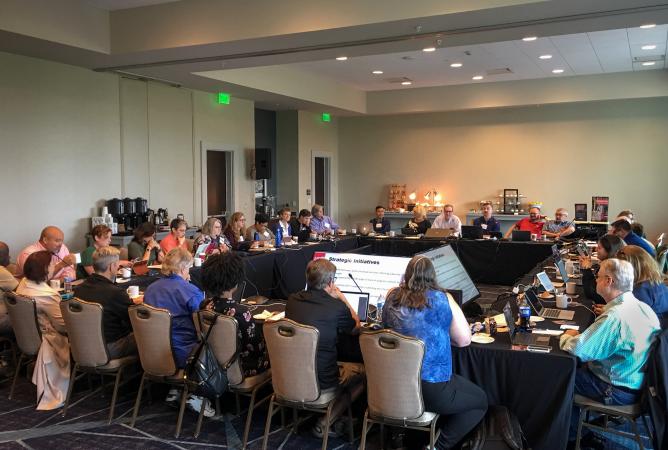 Board of Directors Nomination
USITT Board of Directors Nomination Form
This comprehensive application form must be completed by all potential Board candidates. The USITT Nominations Committee asks the questions because we value who you are. While some of these questions are optional, we ask that you provide as much information as you are comfortable sharing.
USITT Mission
The United States Institute for Theatre Technology, Inc. (USITT) connects performing arts design and technology communities to ensure a vibrant dialogue among practitioners, educators, and students.
Core Values of USITT Include:
Inclusion - Acknowledging the inequitable structures established by the dominant culture, and the industry's conscious or unconscious participation in these unjust systems, USITT commits to the ongoing struggle to create equitable spaces, to embrace diverse experiences, and to uplift and encourage multiple perspectives.
Excellence - Recognizing the need for continuous pursuit of the very best in our profession, our industry, and our Institute, USITT cultivates innovation in education, research, and safety.
Responsibility - Embracing a long-standing imperative to serve, USITT provides value through year-round activities, elevates the work of individuals and organizations, and heightens accountability to our members and the industry.
INSTRUCTIONS:
Please fill out this form in its entirety. Forms cannot be submitted with required fields left blank. Demographic information is not required, but provision of this information is encouraged. Look over the form and gather necessary documents prior to filling out the form. You are unable save an incomplete form. Nominations will be accepted until May 25, 2022 at 11:59pm EDT. The Nominations Committee, at its sole discretion, may choose to accept or reject any nominations received after the posted date.