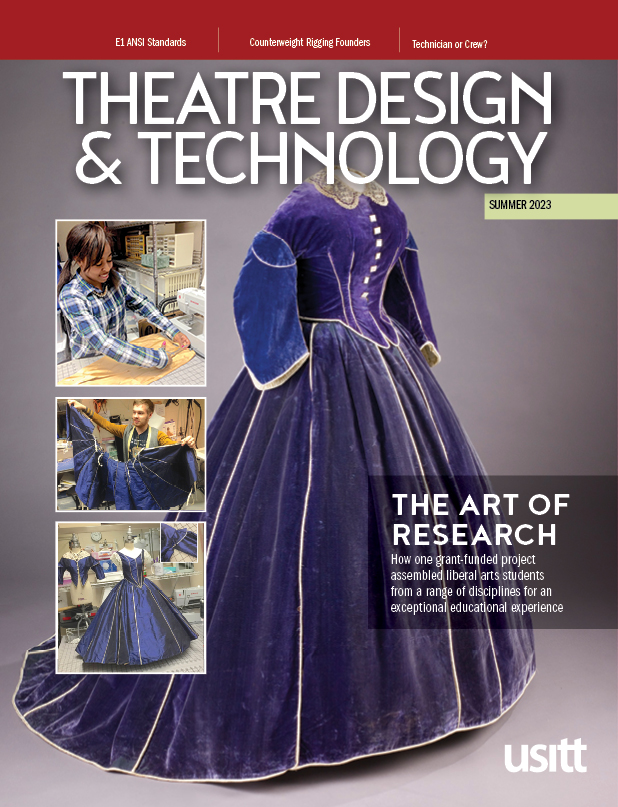 The journal of USITT, Theatre Design & Technology, is published five times per year by the Institute as a benefit to its members.
For member access to the latest edition, click here.
To read this issue's FREE article, Role Play, click here.
USITT is pleased to make available the Willard F. Bellman Digital Archive, an online library of the complete TD&T catalogue, dating back to Issue No. 1 in May 1965 for historical reference and research. The Bellman Archive is available to members only. To access, click on the links for the latest edition. Once your membership is authenticated, you will find ARCHIVE located in the top right menu in the TD&T portal.
Subscriptions:
TD&T is also available by subscription to colleges, universities, and libraries. For current rates, click here.
Submissions:
TD&T is always looking for exciting, unusual, and interesting articles. If you have an idea for an article you would like to write, we'd be interested in hearing about it. Expressions of interest, abstracts, and fill articles should be sent to the Editor at this address. Each article is expected to advance the art of theatrical production while being held to the highest standards of technical accuracy. Every submission is peer-reviewed by at least two content experts and the Editor prior to publication.
Advertising:
To advertise in TD&T, please contact Jody Harris HERE.