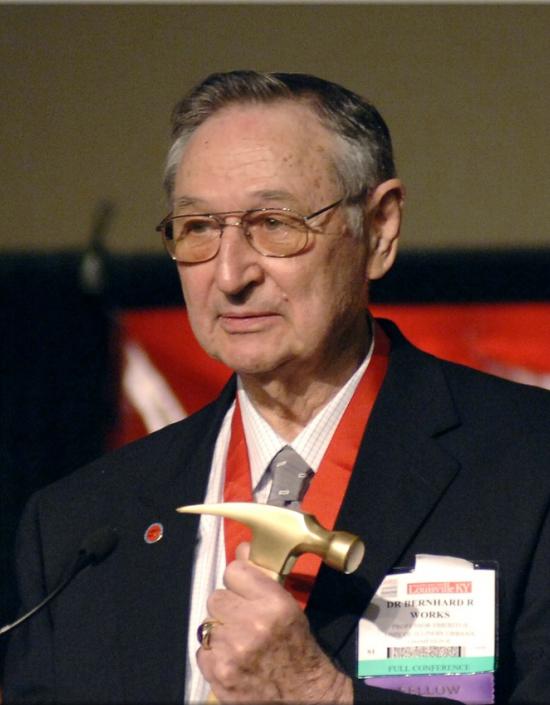 Bernhard R. Works
(1925-2017)
Read a remembrance of Bernhard R. Works
On Oct. 28, 2017 the last of USITT's Midwest original founders joined the others at that USITT meeting in the sky. Bernhard Works passed away at the age of 92. His wife of 64 years, Nancy, survives him along with son Larry and daughter, Chris (Gustafson) plus two grandchildren. His loving family was present in Middleton, WI at Attic Angel where his final days were spent and memorial was held. Bernie taught at the University of Illinois, Champaign-Urbana for 34 years where was Technical Director and Professor of Theatre Design and Technology. Subsequently, he and Nancy retired to Middleton.
Bernie joined USITT in 1960 as one of our first members and continued service in a variety of assignments. In 1978 he was inducted into the Fellows and was honored with the Joel E. Rubin Founders Award in 2011. Bernie's USITT legacy includes two major scholarships which he established and to which he made major contributions. The Frederick A. Buerki Scenic Technology Award was established in 1999 and often known as the Golden Hammer Award.
In 2014, he established the Master Craftsmanship Award for achievement in one of four craft areas (scene painting, stage properties, costume making or lighting technology).
There have been a number of tributes to Bernie and several stand out as reflecting the man we've all respected and known for many years. Tim Kelly speaks for many " We should all be so lucky to have as full, productive and gentle a life as did Bernie." Dick Devin writes "… so many positive memories of his kindness, dedicated appreciation of USITT and his wonderful support and mentorship of so many students. We're so fortunate to have had the privilege to call him a friend and colleague."
Recently, Andy Gibbs, one of Bernie's PhD students sent a very touching letter which spoke to the impact on his education and mentions "Bernie's combination of intellect, artistic sensibility, teaching methods and enlightened mentorship were only surpassed by his sense of compassion and humanity. May his spirit always live on!"
Bernie was the role model for how one lives the USITT life with dignity and generosity. He moved me to seriously consider how to give back to USITT prompting action to guarantee this important tradition established by him.