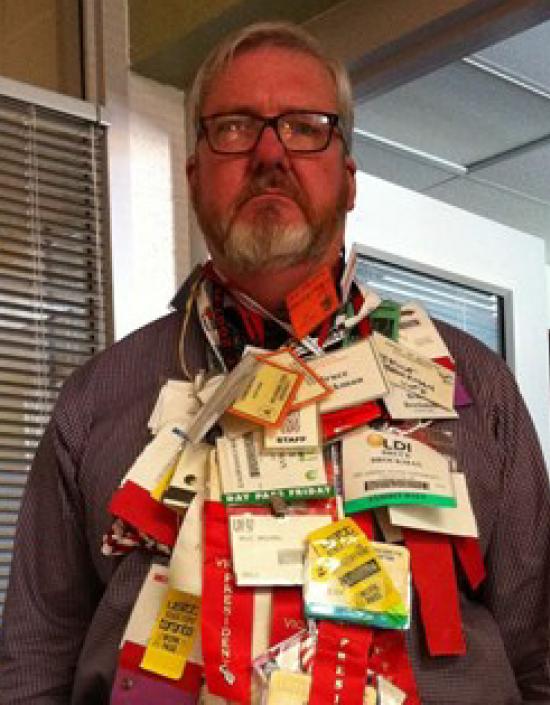 Bruce Brockman
Your earliest memories of the Institute?
My very first conference was in 1980 in Overland Park Kansas.  The hotel was about 3 minutes from where I grew up.  It was very memorable for a variety of reasons, but mostly because I got hired to teach at the University of Idaho at that conference.  I stayed at the U of I for 17 years.

Favorite USITT memory?
I have some really wonderful memories and experiences at USITT conferences, but one that sticks out in particular was the Pittsburg Conference.  USITT hosted the OISTAT World Congress and may of us had the opportunity to attend a dinner and subsequent party that we threw for them featuring Squonk Opera.  I remember standing in the ballroom of the William Penn Hotel -- filled with murals by Joseph Urban-- enjoying a reception that included Josef Svoboda an a large number of other folks and thinking of all of the amazing places and people USITT had given me the opportunity to experience.
Career highlights:
I have served as Department chair of Theatre at University of Idaho, Oklahoma State University, University of Wisconsin-Milwaukee, and Director of the School of Theatre, Film & Television at the University of Arizona. 
I have freelanced as a set designer and scenic artist and have produced work for Music Theatre of Wichita, Milwaukee Ballet, Milwaukee Chamber Theatre, University of Michigan's Music Theatre Program, First Stage Children's Theatre, Montana Repertory Theatre, and Idaho Theatre for Youth. 

Short list of your involvement in the Institute:
Chair of Design Expo Committee

Vice President for Commissions

President of the Institute

Immediate Past President

Member of two PQ committees

Fellow of the Institute
Memorable USITT characters who have made a difference to you?
I have gotten to associate with many wonderful people in USITT including Sarah Nash Gates, Norm Bouchard, Dick Durst, Larry Hill, Chris Kaiser, Richard Pilbrow, Bobbi Owen and many, many other folks who have made significant contributions to the success of USITT.

What are your thoughts about being made a Fellow?
Aside from having my older brother Lance (Mom always liked him best!) share every unfortunate photo of my youth with all of my colleagues when I was inducted as a Fellow, I was immensely proud to be included in this group of folks who have given so much of their time, expertise, and treasure in order to make the Institute the success it is today.

What does the USITT mean to you?
USITT has been extremely important to my career because it kept the world a larger place and gave me a way to connect with colleagues from around the country.