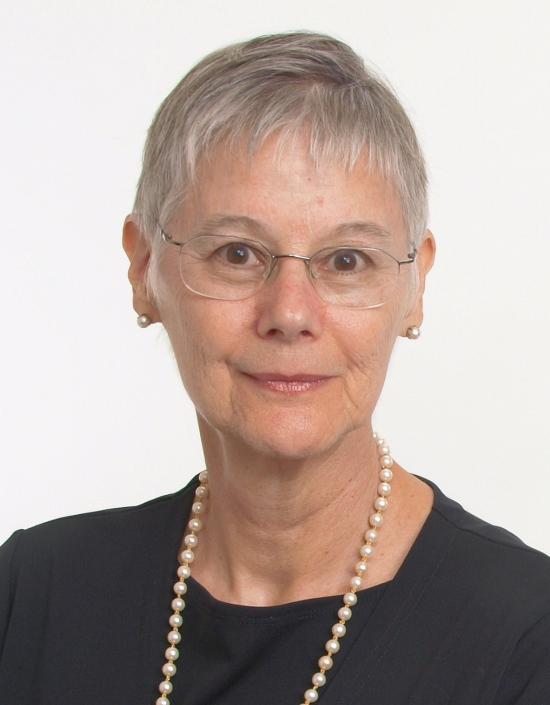 Diane Berg
Earliest Memories of Institute
I learned about USITT from Van Phillips, Lee Watson, and Stan Abbott when I joined the faculty at Purdue University. That year (1981) the conference was in Cleveland and the entire faculty attended. Van told me I needed to get involved with the Costume Design and Technology Commission. Being a shy person, I wasn't sure how I would accomplish such a feat, but I had yet to meet Joy Emery, Costume Design and Technology Commissioner. My first session, I discovered that if you made eye-contact with Joy Emery, you would find yourself on a committee! By the following conference I was Chair of the Costume Health and Safety Project!  But my favorite memory of Joy is when she called me to say because West Lafayette, Indiana, was close to Minneapolis, Minnesota, perhaps I could organize a symposium there.
Favorite memories
The Costume Symposium in England in 1997 was two and half years in preparation and the joint effort of the outgoing commissioner (me), the incoming commissioner Deb Krajec, former commissioner Kevin Seligman, and Graham Cottenden of England's Bournemouth and Poole College of Art and Design. This ten-day event included lectures by Janet Arnold, Avril Hart, and Jean Hunnisett, among others, and tours of Shakespeare's Globe Theatre, the V & A, the National Portrait Gallery, the Imperial War Museum, the Costume Museum at Bath, Montacute House, Milton Abbas, and the Brighton Museum and Royal Pavilion, as well as stage performances at the Globe, the Royal National Theatre, and the Chichester Theatre Festival.  The symposium, with fifty attendees, was a glorious success and a wonderful way to complete my tenure as commissioner.
Career highlights
Ohio Northern University, Costume Director/Draper, 1973-1977

The Asolo State Theatre of Florida, Costume Shop Manager/Tailor, 1978 & 1979

Purdue University, Director of Costume Technology, 1979-1986

University of North Carolina School of the Arts, Costume Shop Director, Costume Technology faculty, 1986-2002
Involvement in USITT
Chair, Costume Health and Safety Project, 1982-1988

Vice-Commissioner, Costume Symposium, Minneapolis, Minnesota, 1984

Vice-Commissioner, Costume Symposium, Winston-Salem, NC, 1989

Commissioner, Costume Design and Technology Commission, 1991-1997

USITT Nominating Committee, 1993-1995

Represented USITT at the National Black Theatre Festival, Winston-Salem, NC, 1994

U.S. delegate to the OISTAT First World Costume Congress, Las Angeles, CA, 1995

USITT Awards Committee, 1996-1998

Fellow, 1996
Memorable Characters
Joy Emery, Christine Kaiser, Van Phillips, Joel Rubin, Don Stowell, Paul Rinehart, Jean Montgomery, Larry Hill, Bruce Brockman, Leon Brauner, Sarah Nash Gates, Randy Earl, and numerous members of the Costume and Technology Commission, notably Betty Blyholder, Rebecca Cunningham, LaLonnie Lehman, Gwen Nagle, Deb Krajec, Kathleen Gossman, Irene Corey, Kevin Seligman and so many more.
About being a Fellow
It was a total surprise and an extreme honor to be inducted as a Fellow and to join this remarkable group of theatre artists.
What USITT means to me personally
Despite my being inactive in recent years, USITT has been an important part of my life.  Attending national conferences and costume symposia provided me the opportunity to meet colleagues from all over the U.S. and indeed, the world.  The networking and lifelong friendships have offered me support, encouragement, and validation, both professionally and personally. I established an endowment at the University of North Carolina School of the Arts for the Design and Production students to attend the annual conference so that they, too, can have the amazing, life changing experiences USITT has to offer.