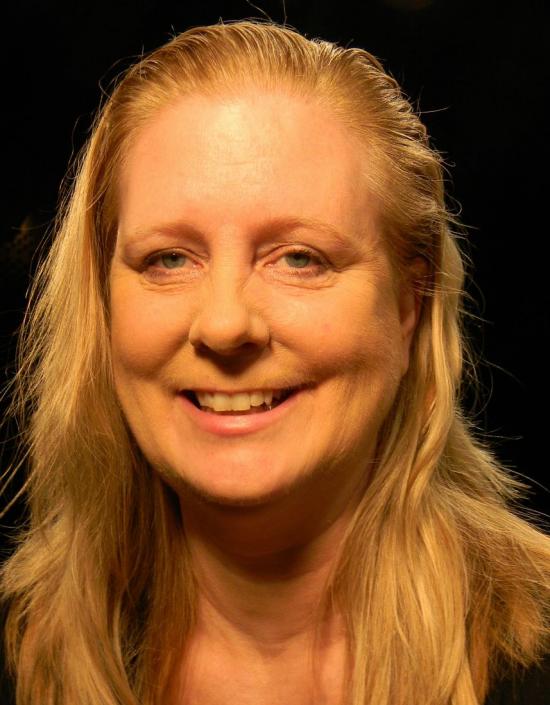 Elynmarie Kazle
Does anything stand out as your favorite USITT memory?
My favorite actual memory is the first time I walked out on stage for the Seattle New Products Showcase, it rather fulfilled my fantasy of being famous – my 15 minutes as it were.  My favorite memory ( as I imagine it in my mind) because I was not present,  was when I was named a fellow .
Short list of your career highlights?
 

Stage Manager for 30 plus years dance, theatre and opera including Brooklyn Academy of Music;

10 yrs touring internationally with Paul Linke and Time Flies…, Ohio Ballet, San Diego Opera and Great Lakes Shakespeare to name a few;

Established and ran the West Coast Office of the stage directors and choreographers union;

Working on Bent with Martin Sherman at the Coast Playhouse;
Working with Derek Walcott and Galt MacDermot on Joker of Seville in Graduate School;

Founding committees of both the Arts Alive Awards (Akron) and the Ovation Awards (Los Angeles);

Founder of the USITT Stage Management Mentoring Project;

Mentored students in the Firestone Visual and Performing Arts Program for the past ten years;

Produced theatre in Los Angeles for over 10 yrs.

Other career highlights:  working with director Geoff Bullen; meeting Richard Pilbrow, Jennifer Tipton and Ming Cho Lee; working and being friends with Tom Skelton; working  with Robert Wilson, Andrew Feigin and Beverly Emmons; being a member of the Stage Managers Association; and, getting to know Cindy Poulson.
Short list of your involvement in the institute?
 

Served on the Board almost four full terms—two terms wo as a director at large and almost two as VP Membership and Development;

Served on 7 conference committees

In Boston, started Stage Management Mentoring Project);

For the  Seattle conference --revived New Products Showcase;

Expanded the Young Designers and Technicians scholarship program as VP Membership and Development;

Served on Finance, Publications, Membership, Grants and Fellowship,  and Management Commission. 
Short list of the memorable USITT characters that have made a difference to you?
Leland Watson, David Fleming, Ron Olson, Pat MacKay, Bill Byrnes, Geno Montgomery, Dick Durst, Larry Hill, and Christine Kaiser.
Anything you want to say about being a fellow?
It rocks.  Like having your kids young (which I did not) because I AM the youngest Fellow.
Anything you'd like to add about what the USITT means to you personally?
Best leadership training in the world.  Best friends on the planet.
List of your publications (if any)
Ohio Network newsletter (five years) and articles in Sightlines.
Mentoring? 
Of course!