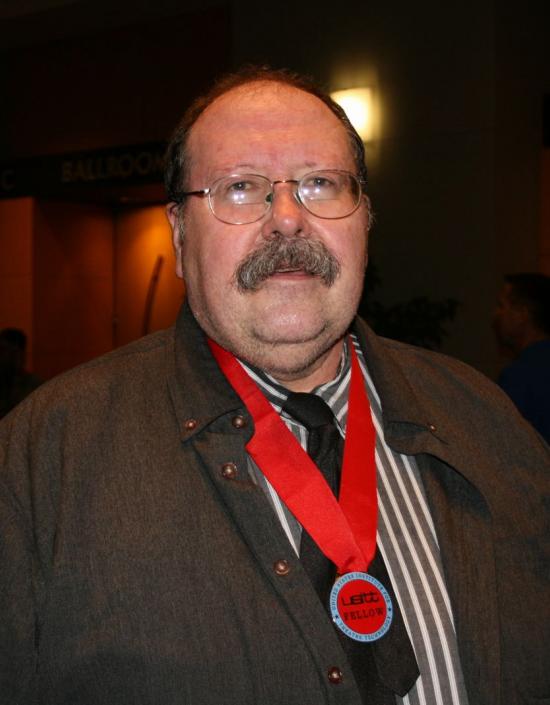 Eric Fielding
Favorite USITT memory?
It would have to be attending the 1978 OISTAT Congress in Hamburg, West Germany. My wife and I had only been married for a few weeks when we traveled to Europe. It was my first trip there. While we visited much of Western Europe during our five-week Eurail-Europe-on-$5-a-Day trip, there were three main things I wanted to do: see theatre in London, visit Prague (and hopefully meet my hero Josef Svoboda!), and attend the OISTAT  World Congress (which I had learned about through TD&T). London theatre was even better than I had imagined; Prague was wonderful (although I didn't get to meet Svoboda, I did start a life-long friendship with Jarmila Gabrielova at the Theatre Institute, home of OISTAT and the PQ); and attending the OISTAT Congress changed my life (and I finally got to meet Svoboda!).
It turned out that there were only a handful of USITT members in Hamburg. In fact, when I attended the Scenography Commission meeting, I was the only American there. While I was fresh out of grad school, I was embraced by the commission members that included such international design luminaries as John Bury, Ladislav Vychodil, Adam Killian, Otto Kahler, and Ichiro Takada. Largely by default, I was elected vice-commissioner for North America. This experience was perhaps the most influential of my professional career.
While I have been involved in a variety of roles and activities in USITT over the past three-plus decades, my main focus has been in activities related to the International Activities Committee and the Institute's role as the US OISTAT Centre.
Career highlights?
Design Faculty/Resident Set Designer, Department of Theatre, Brigham Young University [1976-83, 1992-present]

Design Faculty, Goodman School of Drama, DePaul University [1983-86]

Editor/Art Director for USITT Periodicals: TD&T, Sightlines, Directory [1988-95]

Freelance Designer [1971-present] 

250+ plays, musicals, operas, concerts, pageants, events, films, and television productions for such companies as the Utah Opera, Tuacahn, Utah Shakespeare Festival, Pioneer Theatre Company, Colorado Shakespeare Festival, Denver Center Theatre Company, Sundance Theatre, Ririe-Woodbury Dance Company, Osmond Studio, and the LDS Church.
Short list of your involvement in the institute?
Vice President for Communications (1999-2002)

Scenic Design Commissioner (1986-88)

Board of Directors (1983-87)

Associate Chair of International Liaison Committee/US OISTAT Centre (1985-97)

OISTAT Publications & Communication Commission Chair (1991-1999)

OISTAT Scenography Commission Vice-Chair—North America (1978-1987)

World Stage Design 2005 Producer/Director (2001-2005)

Delegate, delegate tour director, exhibitor, exhibit designer, catalog editor/designer, and/or documentarian for every Prague Quadrennial since 1979.
Short list of the memorable USITT characters that have made a difference to you:
Joel Rubin

Ned Bowman 

Pat MacKay

Randy Earle

Dick Devin

Chris Kaiser

Helmut Grosser

Don Stowell

Stephen Hild

Richard Hay

Leon Brauner

And….etc., etc.
What does the USITT means to you personally?
For more than three decades, USITT and OISTAT have provided me with a wealth of opportunities for education, service, personal growth, and interaction with some wonderful friends and colleagues. At the same time there have been challenges and painful experiences and relationships. But I am humbled and honored to have been recognized multiple times by the Institute including the USITT Founders' Award [1992], election to the Fellows [1992], and the USITT Lifetime Member Award [2008].
Your publications:
Editor/Art Director for USITT Periodicals: TD&T,  Sightlines, Directory [1988-95]

Editor/Art Director for USA/PQ Catalogs [1991, 1995, 1999, 2003]

Editor/Art Director for World Stage Design 2005 [print & digital catalogs]
Editorial Coordinator & English (US) Language Editor for New Theatre Words [1995]
Various articles for Theatre Crafts, TD&T, Sightlines, and Live Design.