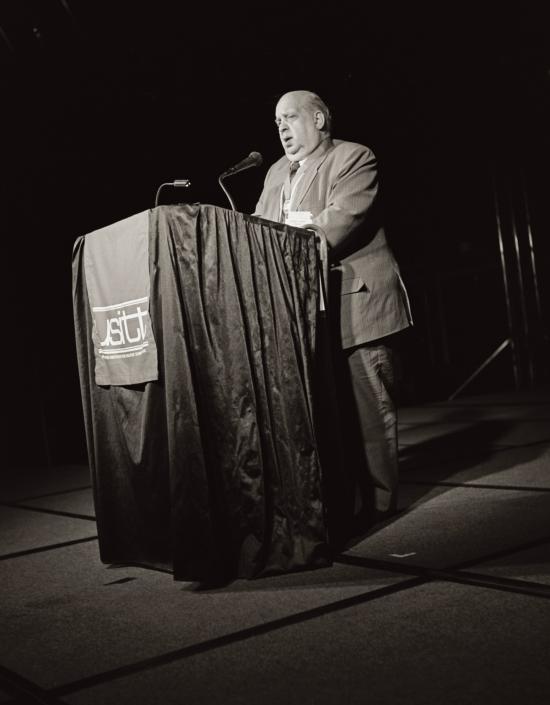 George Thomas Howard
(1929-2011)
Read a memorial of George Thomas Howard
Education/Training:
Reed College (Portland), BS in Physics (1949-1951)

Massachusetts Institute of Technology, BS in Engineering (1952)

MIT, MS in Electrical Engineering (1953)
Employment history:
General Electric Corporation, Large lamp division (1953-1958)

General Manager, Kliegl Bros. Western Corp. (1965-1970)

Founder and Principal, George Thomas Howard and Assoc. consultants (1958-2000)
Editor's note: Credits for his theatre and entertainment facilities projects are too numerous to list.  Selected highlights include: The Las Vegas showrooms for the Hilton, Stardust, Desert Inn, Bonanza and the Ziegfeld Theatre at the MGM Grand which was designed for the production Hallelujah Hollywood (1973).  The mechanical and hydraulic systems for this space included double deck bridges, wagons, turntables, a band cart, a Plexiglass water tank 30' X 9' X 10" for a "Dolphin Girl" water ballet, a proscenium-wide "Living Curtain" which could hold cast members, front of house descending podiums for the showgirls, a retracting cantilevered passarelle at the front of the stage and an ice wagon.  The integration of  all of the stage mechanics into the room set the standard for the design of the Las Vegas showrooms for decades.
Selected theatre projects include: lighting consultant for the Elizabethan and Bowmer theatres at the Oregon Shakespeare Festival, and theatre consultant for the World Trade Center in Moscow (1980), Seattle Opera House renovation(1958-1961), and the Grand Ole Opry (1970).

Mr. Howard was a licensed Professional Engineer in 17 States.

Life-long Member of IATSE
USITT involvement:
Member from 1962

Board of Directors

USITT Delegate to numerous OISTAT International Conferences

USITT representative to NFPA Electrical Code Panel 15 (1962-2000)
Awards and Honors:
Elected USITT Fellow (1982)

Founding and Honorary Member, American Society of Theatrical Consultants

USITT Fellows Address (1995)