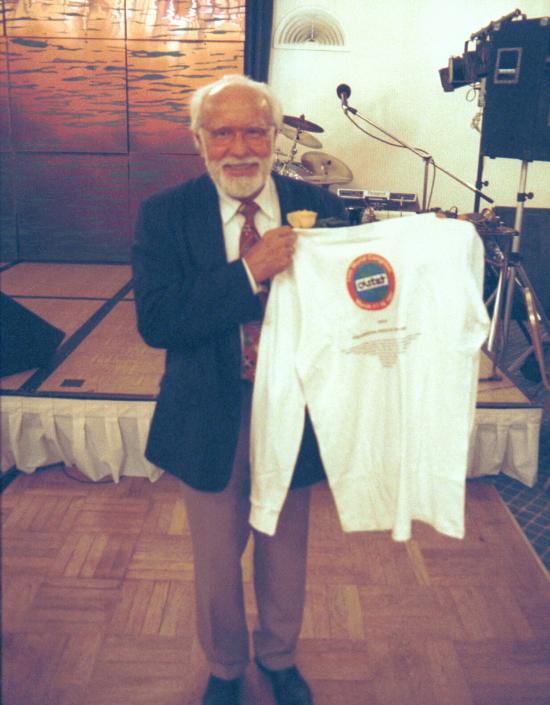 Helmut Grosser
(1927-2010)
Read a memorial of Helmut Grosser
Education/Training:
Passed Stage Technical Master exam (1949)

Passed Stage Lighting Master exam (1950)

Apprenticeship, City of Dresden, GDR  (1945-1949)
Employment History:
National Opera Theatre, Saxony, German Democratic Republic (1950-1953)

Technical Director; Hagen, Weisbaden and Cologne Operas (1953-1971)

Technical Director and Production Director; Staatsoper, Munich (Bavarian National Opera House) (1971-1992)
Publications:
Editor, Buhnentechnische Rundshau (1977-1997?) Editor's note: This is the oldest technical theatre periodical in the world, published continuously since 1907.
USITT and OISTAT involvement and offices held:
OISTAT Founding Member (1968)

Chair, OISTAT programming committee (1974-1978)

President, OISTAT (1978-1997)

Series of Master Classes throughout the U.S. for Universities and USITT Sections (1973)

German Association of Theatre Technicians (DThG): Member (since 1966); Member of the Board of Directors (1968-1983); President (1976-1983)
Awards and Honors:
Elected USITT Fellow (1997)

Editor's note: Mr. Grosser is the only non-member to ever be accorded this honor.

USITT Special Citation (1985)

Honorary Medal of the Federal Republic of Germany

OISTAT Gold Pin (1997)

Silver Honorary Medal of the DTHG

Holder of the Linnebach Gold Ring

Editor's note: Within the German theatre world the most significant honor is to be the bearer of the legendary Linnebach Gold Ring.  This artifact is a special tribute passed from the most outstanding Technical Director of each generation to a successor of the next generation and is passed down only in the final will of the current holder.