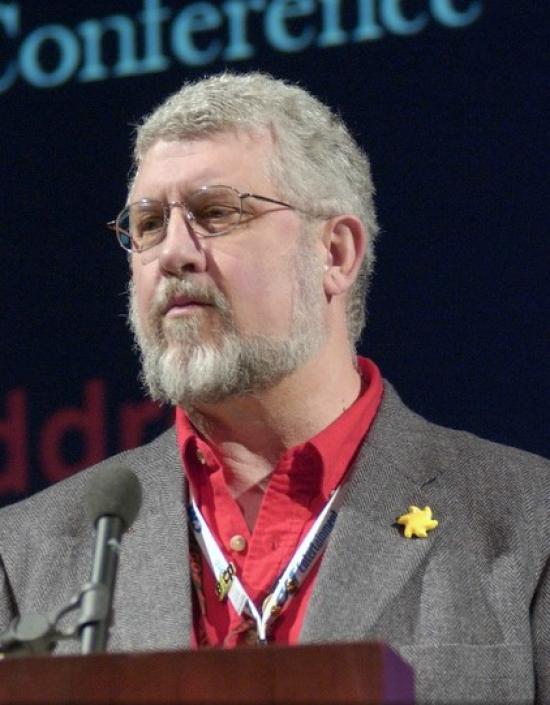 Joe Aldridge
First active in USITT?
I first became involved in USITT in 1985 and attended my first conference in Oakland in 1986. The Calgary conference is the only one that I have missed since then. I became an active participant in 1993 at the Wichita conference where I sat on my first panel.

Does anything stand out as your favorite USITT memory?
My favorite memory occurred at the Thursday evening Fellows Address where Rick Stephens introduced me as one of the newly inducted "Fellows" of the Institute. It was a total shock and one of the most humbling experiences of my life. I was fortunate that my daughter was there with me to share in the experience.

Some career highlights:
The majority of my career has been spent in Las Vegas where I have taught at UNLV and often worked as a union stagehand in various showrooms on the Strip.

I have had the good fortune to be able to go on tour with Siegfried and Roy to Japan.

I have taken a production, at the invitation of the Greek government, to Delphi, Greece.

I have also been able to take numerous productions to the Edinburgh Fringe Festival.

Most important to me is the fact that I have been able to write and implement a new undergraduate degree in Entertainment Engineering and Design which has been very successful.

USITT involvement/positions held: 
1995 – Las Vegas Conference Chair

1996-2002 – Conference AV Coordinator/Media Resources Coordinator

2002-2003 – VP for Special Operations

2003-2009 – VP for Conferences

2009-2010 – President Elect

2010-2012 – President

2012-2014 – Immediate Past President


 Are there memorable USITT characters who have made a difference to you?
There are a number of memorable characters who have made a difference to me. Folks who made me feel welcome into the Institute. The list is exhaustive, so, here are a few: Dick Durst, Leon Brauner, Christine Kaiser, John Uthoff, Rick Stephens, Travis de Castro, Sarah Nash Gates, and many, many more!

About being a Fellow?
When it was announced that I had been selected to join the Institute's elite as a member, I recall it being something akin to an out-of-body experience! I was numb at the thought that I had been singled out to receive such an honor. The group of individuals that I had been chosen to join reads as a "Who's Who" of the entertainment world. I soon realized that with such an honor came great responsibility and I strive to maintain my "worthiness" of such an honor!
 
USITT and your career?
USITT has had a profound effect on my career. At a university where I was the 6th Technical Director to have applied for and received tenure, to date the only person to do so, it wouldn't have been possible without my association with USITT. I was given opportunities to serve in leadership roles that influenced the granting of tenure. To my Dean, my involvement in USITT was the pinnacle of a career for a technical director. He felt that by rising in the ranks with USITT leadership roles, I was bringing great honor to the department, the college and the university. He held my achievements as benchmarks for those who would follow.
 
Your publications:
Does Graffiti on the Men's Room walls count?
 
Mentoring?
I would be happy to mentor aspiring young technical directors and technicians.