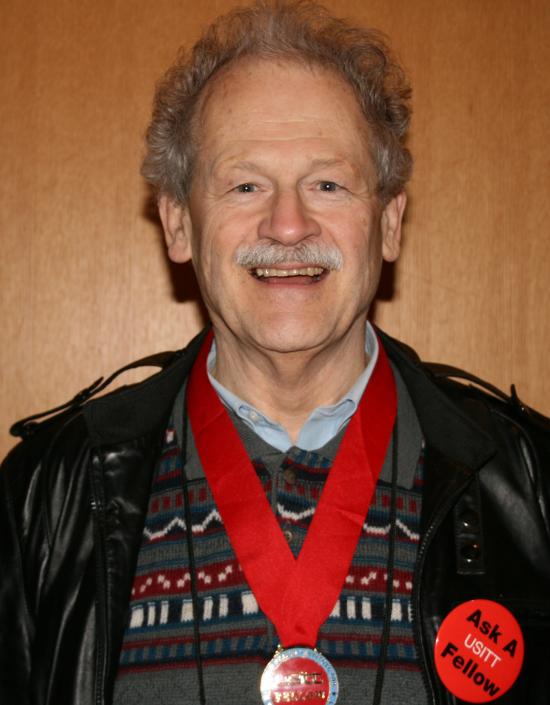 Kenneth Vannice
(1944-2018)
Read a remembrance of Kenneth Vannice
Your earliest memories of the institute?
As a new student member I received a copy of the first TD&T,
May 1965. My first conference was at the Barbizon Plaza Hotel, probably 1967. Worked on first West Coast conference with George Howard, Will Bellman, Will Crocken, Mert Cramer and Tom Lehman, L. A. 1969
Favorite USITT memory?
Leading the charge to revise the NEC including adding the requirements for single-conductor feeder systems
Short list of your career highlights:
Technical Director for MSU Student Union Theatre and The Loft Theatre (summer stock)

Degrees in Electrical Engineering and Theatre Arts from Montana State University

Engineer/Manager for Kliegl Bros. Western Corp., Colortran Inc. (with and without 

prefixes), NSI Corp. and Leviton Manufacturing Co. Inc.

Stage lighting system and equipment designer

Registered Professional Engineer, Electrical

Member of several codes and standards bodies

ETCP Certified Entertainment Electrician and Recognized Electrical Trainer
Short list of your involvements in the Institute:
O

ffi

cer, Southern California Section (CATT Inc.)

Conference Committee member, 1969, 1975 and 1988 (when local sections produced 

the conference)(facilitated first AIDS awareness exhibit)

Principal Member, NEC CMP 15; Engineering Commission Vice-commissioner for NEC 

A

􀃠

airs;

Chair, Engineering Commission NEC Committee

Member, Standards Committee

Co-chair, Engineering Commission Electrical Safety Workshop

Member, Board of Directors

Fellow
Short list of the memorable USITT characters that have made a difference to you?
Past – Joel Rubin, Bob Benson, Ed Peterson,

Present – Mitch Hefter, Jerry Gorrell, Louis Bradfield, Steve Terry

Most Significant – George Howard (I owe most of my practical knowledge of the theatre 

and engineering to George.)
Being a Fellow means:
I consider it a great honor to be included in such an august group.
What does USITT means to you?
USITT has always been a place for me to shared ideas and hone skills. Furthermore, many of my extended family members are Institute members.
Publications:
Monthly column Code Corner in

Sightlines

Articles in

TD&T

Articles in

Protocol

Articles in

IAEI
List of books that you recommend:
National Electrical Code Handbook