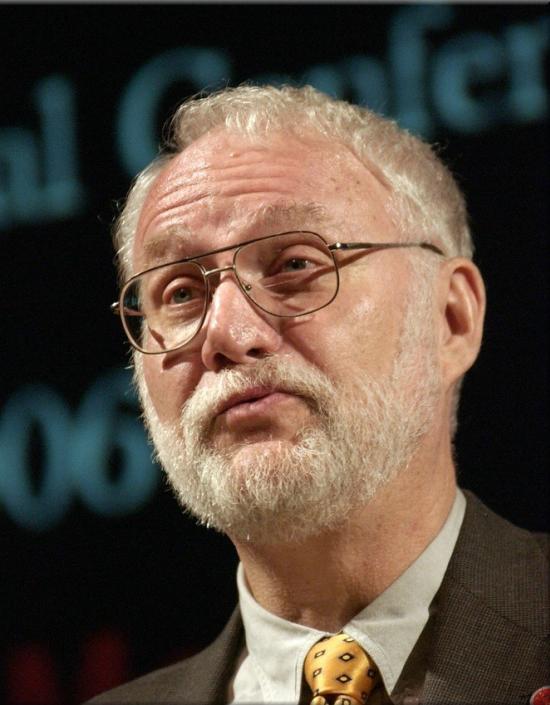 Larry Hill
(1942-2020)
Your earliest memories of the Institute?
In 1973, I gathered students from the University of North Dakota to attend the conference in St. Louis and escape the cold. This began a March tradition--getting students to a place where they could learn about their personal theatrical interests. This group began planning for 1975 in Anaheim. The impact of these treks reflects how engaged the students became by their attendance at the Conference.
Favorite USITT memory?
Traveling with USITT sponsored groups to the Prague Quadrennials, Greece, and Italy gave a wonderful opportunity to realize the breadth of specialties and responsibilities of the members in the industry.
Short list of your involvement in the Institute:
Founding Member Board of Directors (6 yrs.), Northern Boundary Section

Chair of Programming, 1987 National Conference and Stage Expo in Minneapolis

Member-at-large, USITT Board of Directors & Chair of Finance Committee,1990-96

Treasurer, USITT 1996-1999, 2002-2007

Grants & Fellowship Awards Committee & Archives Committee 1999-2007

Joel E Rubin Founders Award 2005

Co-Chair ot the USITT @ 50 fund raising campaign
Short list of the memorable USITT characters that have made a difference to you?
The importance of Richard Durst, C. Lance Brockman and Jean Montgomery in creating the Northern Boundary Section has carried through decades of research, continuing service to USITT, and retirement. Sylvia Hillyard Pannell's generosity in introducing me to the South was a blessing. I will never stop praising the women and men who served the USITT Finance Committee----they brought wisdom and patience to benefit us all. A special nod goes Christine L. Kaiser, Van Phillips, Sarah Nash Gates, Richard Arnold, and William J. Byrnes
Being a USITT fellow means:
Committing to a leadership role in USITT involves a heavy commitment of time and energy that is willingly given. For those in education, we know the benefit of membership to our students. The ongoing expansion of USITT in meeting the future of the industry was, and is, the "Pat on my back" for the involvement.
What does USITT mean to you?
The lasting memories of 50 plus years in USITT are the richness of being involved with the members. The Annual Conference and Stage Exposition always found increasing numbers of travel buddies to share their lives. The blend of former students, travel friends and the conference was a yearly adventure. This was highlighted by the five year USITT @ 50 fund raising campaign celebrating its 50th year. The student attendees to the conferences gave a huge contribution of energy to the campaign. The Fellows, and longtime sponsors of USITT, led the e􀃠orts to put a solid financial base for the various named awards that recognizes the work of our members.
Publications:
Dives and Diversions: The variety theaters in early Minneapolis,

Hennepin County History 

(Fall 1998): 4-10.

Maxwell Anderson Conference, Catalog and Exhibition

. Original 200+ design plates for 

the premiere performances of the Playwright Maxwell Anderson." North Dakota 

Museum of Art. Grand Forks, ND, October 1983. Guest Speakers and panelists 

included: Howard Bay, Donald Stowell, John Rothgeb, Arthur Ballet, Lee Watson, Alfred 

Shivers.

The Twin City Scenic Collection: Popular Entertainment 1895-1929

. Ed. C. Lance 

Brockman. "Late Nineteeth-Century Popular and Theatrical and Events in Minneapolis-

St Paul." University Art Museum, University of Minnesota, March 1987. A catalog 

prepared for the museum and touring exhibit. Exhibition funded by NEH.

Catalog essay for NEH Funded exhibition:

Theatre of the Fraternity: Staging the Ritual 

Space of the Scottish Rite of Freemasonry

, 1896-1929. Exhibit conceived and curated by 

C. Lance Brockman at the Weisman Museum, October 1997, University of Minnesota, 

for a 3-year national tour. Essay for the catalog, "The Changing Light of Dramatic 

Initiation

"

Prague Quadrennnial 1999 Exhibits: Russia.

" Theatre Design and Technology, Fall 1999, 

v. 35, #5, pp. 54-55. A photo-essay of Russian exhibit at the international design 

exhibit. Photo credit as well as essay.

Paper presented to the Association of Theatre in Higher Education. "

Making of the 

Cyclorama.

" Washington