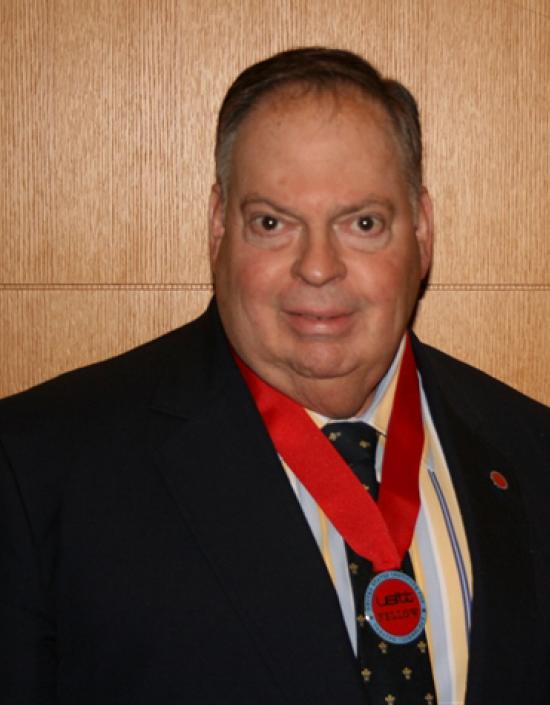 Louis Bradfield
Favorite Memories:
Becoming a Fellow, Being elected to the Board, receiving the special citation in 1991 and the 1995 conference in Las Vega when I was local programming chair and originated the Institute's first "Super Sessions"—five in all.
Career highlights:
Degree in theatre, University of Iowa, 1964

Arrived in Las Vegas knowing on that "they do shows, there", 1964

My first stage job was the Folies Bergere (5th edition) at the Tropicana, 1965

Becoming a member of IATSE Local 720, 1967

Desert Inn Hotel production of Pzazz, 1968

My last 41 years at Bally's Hotel, originally the first MGM Grand Hotel

Retired in 2014 after 49 years of working continuously on the Las Vegas Strip as an IATSE Local 720 theatre electrician.
Involvement in the Institute:
Serving on the Board of Directors

Member of the Standards Committee

Local Program Chair for the 1995 Las Vegas conference

Speaking at and chairing many conference sessions over the years.
Short list of memorable USITT characters:
There is no such thing as a short list! During my 48 years as a member, the friendships and connection have been rewarding and educational.
About being a Fellow:
I was very honored and surprised to have been selected by a highly respected group of my peers for inclusion in this group of the best theatre professionals.  I am very proud to be a Fellow.
What the USITT means to you?
Because of USITT I have made many, life-long friends who have the same interest in and dedication to the theatre.  I have learned from Theatre "Greats" and imparted my knowledge and experience to the upcoming generations of future theatre professionals.  I always anticipate seeing my extended theatre family at the annual conference and other times during the year.