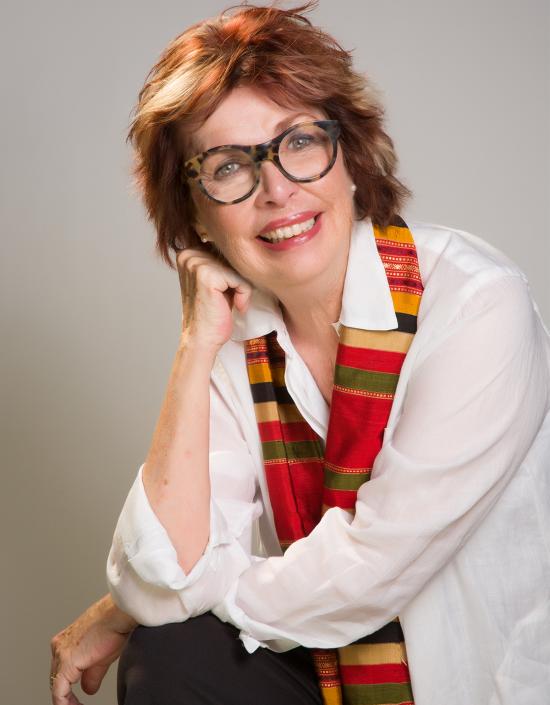 Pat MacKay
Your earliest memories of the institute…as in how far back do you go?
Barbizon Plaza Hotel -- 1970 Conference when then USITT president C. Ray Smith brought me along to meet the assembled luminaries. At the time I was editing Jo Mielziner's The Shapes of our Theatres for C. Ray and writing for Theatre Crafts—time to meet the makers and shakers!
Does anything stand out as your favorite USITT memory?
PQ 83 was the most fabulous experience ever…A great gang of people –our fearless leader was Eric Fielding.  First stop was London where we laughed ourselves silly at the premiere production of  "Noises Off".  Then off to Prague (where menu darts was invented) followed by Bratislava for the Opening Night of "L'Elisir d'Amore"  where eau d'moth balls emanating from fur wraps just taken out of storage was the overwhelming fragrance.  And then…well..Vychodil's homemade wine (or was it something stronger?) capped the whole evening.
Short list of your career highlights
Editor and Publisher of Theatre Crafts magazine which became TCI
Editor and Publisher of Lighting Dimensions magazine

Founder LDI, the Lighting Dimensions International conference and trade show

Combined all into Entertainment Communications Group which also published newsletters, ran seminars, acquired Cue magazine, contracted to the USITT to manage the trade show portion of the conference for several years.

Created ETECH the industry's first digital information portal (before the Mozilla browser had even been invented)—oh, the arrows in my back.

Author of numerous articles and books

Producer of location-based and themed entertainment projects globally.
Short list of your various involvement in the institute
Theatre Architecture Slide File

co-edited with Leslie Armstrong (she got the Founder's award for the project in 1976)

Board of Directors multiple terms in the 1970s and part of the 1980s

Co-chair of the 1974 New York conference with Bob Benson, committee work for the 1985 New York conference, and assorted New York Section positions.

Publications committee-- various stints

Stage Expo management of the 1990 Milwaukee, 1991 Boston under a two year contract.

USITT  Health and Safety Award

International Committee and OISTAT work including

Co-chair with Joel Rubin of the 1987 Golden Triga winning PQ exhibit and catalogue preparation and publication

Delegate to Warsaw OISTAT Congress

Delegate to OISTAT publications commission in Budapest

USITT Fellows Make It So Committee with Chris Kaiser, Tim Kelly, Dick Devin, and Bob Scales
If you were to make a short list of the memorable USITT characters that have made a difference to you, who would they be?
For personal impact: Joel Rubin, Ned Bowman, C. Ray Smith, and  Bob Scales

For always-a-great-costume: Dr. Doom, Lee Watson, and Peter Sargent.

For general hilarity: Eddie Kook, Sarah Nash Gates, Sylvia Hillyard Pannell, Eric Fielding, Pete Happe, and Tim Kelly
Anything you want to say about being a fellow?
Never so surprised in my life when at a party at a Disco during the 1985 conference my name was called out. I really thought that they only let boys be Fellows. Turns out I was actually the second female fellow, Peggy Clark Kelly being the first.  It was, and continues, to be an amazing honor. Thanks to all.
Anything you'd like to add about what the USITT means to you personally?
My greatest friends and best memories are deeply woven into the fabric of all my USITT activities.  Ultimately everything that I accomplished in my professional life grew out of my early work with the Institute on behalf of Theatre Crafts magazine.
List of your publications (if any)
Many over the years in various magazines and reprinted in anthologies.

To Boldly Go

(Behind the Scenes at Star Trek: The Experience),

The Art of the Abraham Lincoln Presidential Library
The Shakespeare Complex co-authored with Glenn Loney
Most recent project in this field is Walt Disney Concert Hall/The Backstage Story with Richard Pilbrow
Mentoring—is there an area that you'd be happy to mentor students, officers, commissions about?
Figuring out what to write, how to organize it, and getting published.  Of course I can also run a trade show and organize seminars and workshops. Anything International or OISTAT related.