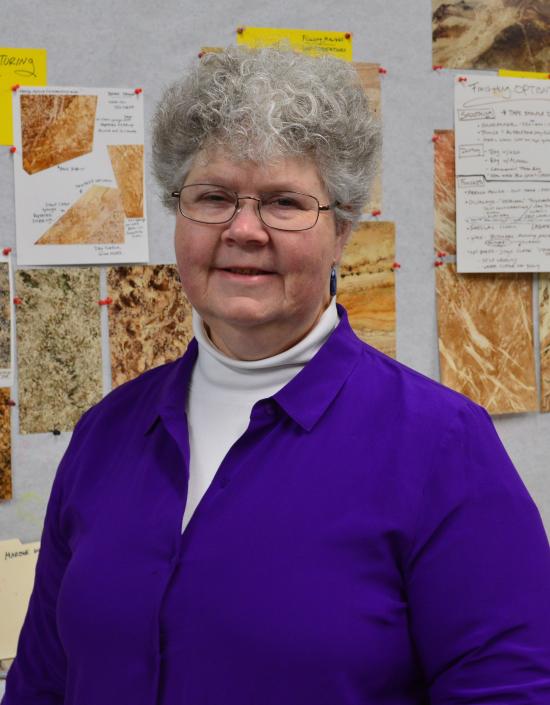 Rachel Keebler
Your earliest memories of the institute?
Have been a Member since 1989, but I believe I went to a convention in Boston before that.
Going to Long Beach and wondering if there were any other Scenic Artists there!! It did not seem that there were very many.
Your favorite USITT memories?
Having Lance Brockman "drag" (invite?) me onto a stage at a Masonic temple before I knew anything about them!! (Did he really think I would say something intelligent?)
Seeing our backdrops all hung up the year Cobalt got the Education Award.
Career highlights:
Charge painter/scenic artist at numerous regional reps and professional scenic studios.  Lots of summer theatre!
Co-Founder, Director and Sole Owner of Cobalt Studios, Inc.   Founded in 1988 where I continue to run the Summer Scene Painting Studio.

Guest Teacher/Master Class Instructor at North Carolina School for the Arts,Temple University, University of Michigan/Kalamazoo, Rutgers University, Hong Kong Academy of Performing Arts, SUNY Fredonia, University of Michigan/Kalamazoo, University of Tennessee/Knoxville, Denver Theatre Center,University of Illinois/Urbana-Champaign, and at numerous USITT Seminars .

2013 Boston University Award of Excellence

2013, USITT Education Commission Special Citation to Cobalt Studios
Your involvement in the institute?
Member, USITT/ since 1989 

Director-at-Large/2001- 2004

Membership Committee/2004-2006

Adjudicator, USITT National Young Designers Forum/1998   
A short list of USITT members that have made a difference to you?
Sorry, not short, and getting longer each year and not necessarily in order of significance:  Howard Jones, Lance Brockman, Kimb Williamson, Bob Scales, Larry Hill, Elynmarie Kazle, Barbara Lucas, Mary Heilman, Pat MacKay, and Richard Pilbrow
Anything you want to say about being a fellow?
Please stand by….
Anything you'd like to add about what the USITT means to you?
The support it gives both me and Cobalt continues to expand! The folks I have met through the Institute are as tenacious as the ones I worked with in Summer Stock - wonderful and treasures in my life.
Your publications:
Articles in The Painters Journal, interviews in Stage Directions and Scenic Art for the Theatre'  and I wrote the forward for Sherwin's Scene Painting Projects for Theatre.
Books that you recommend about your field:
Designing and Painting for the Theatre by Lynn Pecktal 
Scenic Art for the Theatre by Susan Crabtree and Peter Beudert
Notes on Scenic Painting by  Bradford Ashworth  
And for teachers of beginners: Scene Painting Projects for Theatre by Stephen Sherwin