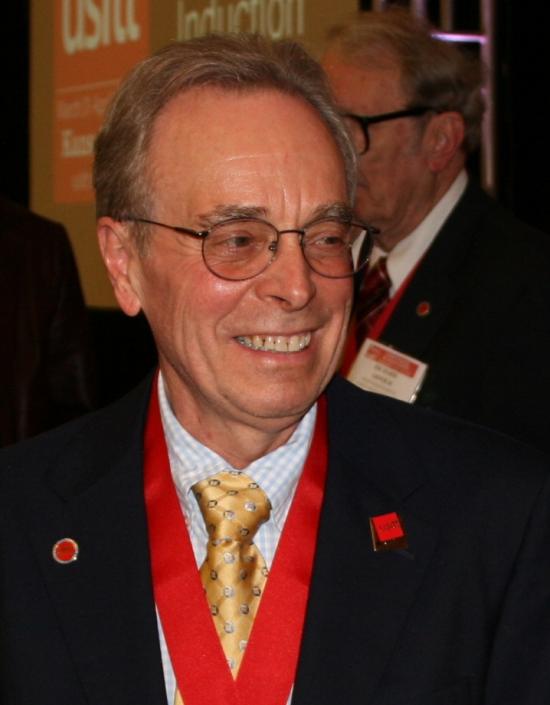 Randy Earle
Your earliest memories of the Institute?
I joined USITT in 1965 as a student member while a student at Purdue University. Can you believe the yearly dues were $5.00? My first contact was with Richard Thompson who signed me up for the Architecture, Engineering and Presentation Committees and who made certain I received the minutes of their meetings (all of which were held in NYC).
My first direct involvement was as part of the San Francisco Conference Committee which also was the first conference I attended. This event had a profound effect on me and resulted in my becoming active in the Institute. Since then, I've attended all conferences with the exception of 1990.
Favorite USITT memories?
Passing the hat at the Top of the Mark Hopkins Hotel to collect funds for the "No Host" bar tab that was miscommunicated to the hotel management as "Hosted" was an early introduction to financial management.

Winning the Scenography Exposition prize, a free one year USITT membership, in 1984 may have been my greatest embarrassment, as I was part of the team that created the raffle. With the Institute's finances in a somewhat precarious situation, I elected not to collect the prize.

Finally, the start of our first endowment, later named the Edward F. Kook Fund, at a board meeting where everyone present agreed to pull out their checkbooks and replace talk with action.
Short list of career highlights
My major professional work has been as professor of theatre design and technology since 1968 with two years at Purdue University and 38+ at San Jose State University. Assignments have included head of theatre program, technical director, lighting designer, sound designer and scenic designer.
In addition, since 1970, I have been a practicing theatre consultant and, since 1985, been a partner in Pantechnicon LLC
Short list of your involvement in the Institute:
I began as Commissioner for Performing Arts Training and Education, later renamed the Education Commission.
Subsequent offices held included Vice President for Commissions and Projects and Vice President for Relations prior to election as President Elect in 1984  and a two year term as President 1985 -86.
Other service has included membership on the Nominations,  Endowment Management, Grants and Fellowships and Art Auction Committees.
In 1982, I was made a Fellow and since 1998 I have been the Fellows Chair.
If you were to make a short list of the memorable USITT characters that have made a difference to you, who would they be?
Eddie Kook, Dr. Snodgrass a.k.a. Harold Burris-Meyer, Dr. Doom a.k.a. Randy Davidson, and Sam Scripps.
Then again, most of us in USITT are characters in our own inimitable way, aren't we?
Anything you want to say about being a Fellow?
When I was named a Fellow after looking at the list of Fellows, I was somewhat overwhelmed feeling as though I was standing among the giants of our industry.
I have never lost that sense of awe as I've seen the new Fellows join our ranks bringing additional stature to our group. I am proud of being a member of such a distinguished group of men and women.
List of books that you recommend about stage lighting:
The Art Of Stage Lighting

 by Frederick Bentham;  

Light Fantastic

 by Max Keller;

Stage Lighting Design

 by Richard Pilbrow;

The Magic Of Light

 by Jean Rosenthal.
Mentoring?
I am happy to mentor students and young professionals with an interest in theatre facility planning, architecture, consulting and design. I am always available to mentor students and faculty on careers in academic theatre.