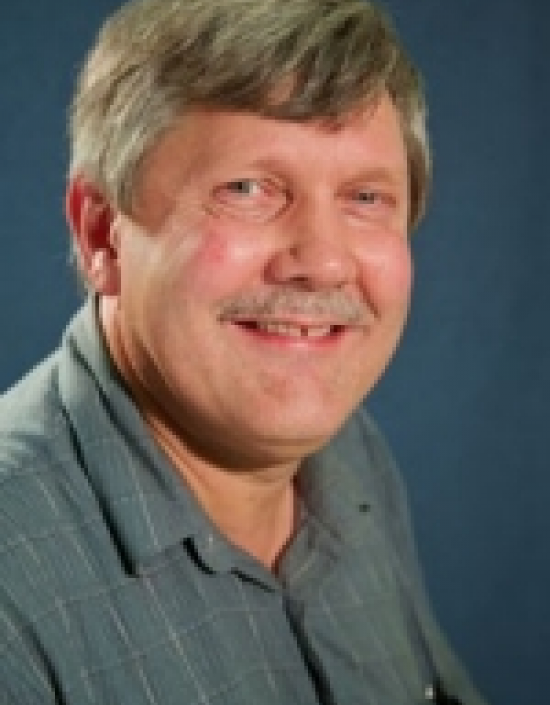 Rich Dunham
Your earliest memories of the institute…as in how far back do you go?
I first learned about USITT in the fall of 1983 as a graduate student at Ohio State University (OSU).  We enrolled in both the section and national organizations and started going to Ohio Section master classes/workshops my first year at OSU.  Tom Skeleton did a practical series of exercises training us to feel/sense the light at one of those …which I found very memorable and enlightening.  My first national conference was 1987 in Twin Cities …..two of us went together ….flew into the city and then picked up a rent-wreck for the week from a shady place in the wrong part of town.  I was overwhelmed by the sheer scale of the expo floor and number of sessions that I could participate in.  I was hooked and don't believe that I've missed a conference since!
Does anything stand out as your favorite USITT memory?
It's hard to pick a single memory …..a couple that do stand out include:  Sarah Nash Gates making her grand entrance on horseback as our new president one year, back in the days of banquets the wonderful one that we had up in Calgary, but mostly the people and colleagues with whom I have developed so many relationships over the years …many through my work in the Lighting Commission but many others beyond the world of lighting and through my work with the Publications and Grants/Fellowships committees …after all, our business is a people business as much as anything else.
Short list of your career highlights:
MFA (dual emphasis in Lighting and Scenic Design), The Ohio State University, 1987.

Lighting and Scenic Designs (400 + Credits)  in opera, dance, musical theatre and drama in regional, academic, stock and other productions from community to Off and Off-Off Broadway designs.  Notable design credits include:  Brunswick Music Theatre (Maine State Music Theatre), The Disney Institute, Music Theatre North, Jean Cocteau Rep, Circle Repertory Lab Company, Broadhollow Productions, The Springer Opera House and The Atlanta Lyric Theatre. NCQLP Certified Lighting Designer in Architectural Lighting and hold member status in IESNA and IALD.

Author of Stage Lighting: Fundamentals and Applications.

Two Herbert Greggs Honor Awards

Professor of Scene and Lighting Design/Head of Design at the University of Georgia (since 2000) with other academic appointments at University of Central Florida, Vanderbilt University, SUNY Stony Brook and Stephens College.

Becoming a USITT Fellow
Short list of your involvement in the institute
Chair. Grants and Fellowships, Director, Publications Committee,  Lighting Commissioner 1998-2006 and a host of VC appointments through the years that led up to that.  Several notable highlights include: Chair. of RP-2 Lighting Graphics Standards Committee (2006 revision), editorial roles in the Practical Projects for Teaching Lighting  and Scenic Design Compendiums, and judicator for several USITT student awards (Rising Star, Barbizon and Stage Technology Lighting Awards) plus lots of panel sessions.
If you were to make a short list of the memorable USITT characters that have made a difference to you, who would they be?
The list seems endless.  When working on securing Distinguished Lighting Designers I got to know many of this country's top lighting designers ...several of the more notable include: Ken Billington, Richard Pilbrow, Jim Moody, Jennifer Tipton, Beverly Emmons, and Bill Klages.  Great institute members that I have had the privilege  to work with include: Cindy Limauro and Craig Wolf (they got me involved initially), then many many others …just a few include Randy Earle, Joel Rubin, Tim Kelley, Bobbie Owen, Sylvia Pannell, David and Debra Rodger, Carl Lefko, and Larry Hill.  The manufacturers and distributors have also been terrific …Stan Miller and Schwartz, Paul Vincent, Joe Tawil, Jack Schmidt, Mike Wood and Steve Shelley to name just a few. I've been lucky in developing an incredible network of friends and colleagues through USITT over the years!
Anything you want to say about being a fellow?
What an honor to be brought into this wonderful group of esteemed colleagues!!  So many are people that I have looked up to and admired over the years.
Anything you'd like to add about what the USITT means to you personally?
I've been very active through all of the volunteering and positons that I've held over the years, yet still feel that I have received more than I have given.  A number of my career accomplishments can in some way be attributed to some form of USITT connection.  I have met so so many people from all walks of the industry through USITT that are willing to discuss and share their personal knowledge and experience with me.  Many of these experiences have developed into strong professional relationships and friendships over the years. 
List of your publications (if any)
Stage Lighting: Fundamentals and Applications; (Boston: Allyn and Bacon/Pearson Education, Inc.,2010).   2nd Edition in Progress with Focal Press/Taylor and Francis.
Late and Great American Designers 1960-2010: Bobbi Owens, editor: Chapter Essay on Thomas Skelton; (New York: USITT Publications, 2010).
Approximately a dozen articles in TD&T over the years.  Two won Herbert Craigs Honor Awards.
"Performance Design Traditions in India: Where Past and Present Meet," co-authored with Farley Richmond; Spring 2003.
"Cirque du Soleil Comes to Orlando to Party," Spring 2000.
USITT RP-2 Recommended Practice for Theatrical Lighting Design Graphics (2006).
USITT Editorial Credits:
Practical Projects for Teaching Lighting Design, A Compendium (Volume 2). Editorial Team

 Member and Contributing Author, USITT Publications, March 2016

Practical Projects for Teaching Scenic Design, A Compendium.  Advising Editor, U

SITT Publications, March 2006

Practical Projects for Teaching Lighting Design, A Compendium (Second Edition), Editor, USITT

Publications, July, 1992, Reprint March, 1996

Practical Projects for Teaching Lighting Design, A Compendium, Editorial Committee, USITT Publications,  August, 1990
List of books that you recommend about the field
Almost any book on lighting that you can get your hands on …..but some standouts without tooting my own horn……
The Magic of Light, Jean Rosenthal
Stage Lighting Design, The Art, The Craft, The Life, Richard Pilbrow
Concert Lighting, James Moody
A Practical Guide to Stage Lighting, Steven Shelley
Photometrics Handbook, Robert Mumm
Syllabus of Stage Lighting, Stanley McCandless
Light Fantastic, Max Keller
The IES Lighting Handbook 10th edition, Editors David DiLaura, Kevin Houser, Richard Mistrick, Gary Steffy
Mentoring—is there an area that you'd be happy to mentor students, officers, commissions about?
Sure anything on lighting (both in the traditional or non-traditional sense), academic theatre, or publishing