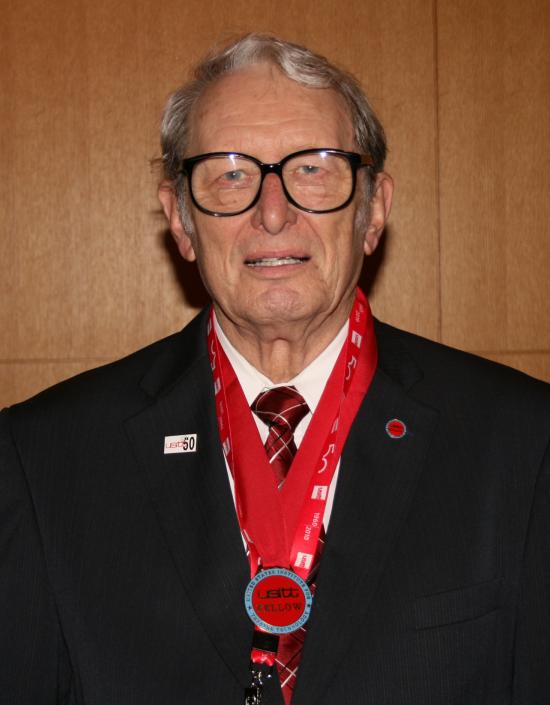 Richard L. Arnold, Sr.
(1928-2016)
Read Richard Arnold's Sightlines Tribute
Your earliest memories of the Institute?
My earliest memory was in the Fall of 1964 when I wrote a letter to the then USITT President, Joel E. Rubin, seeking to join the Institute. Three months later I received a reply and then became a member. Other early memories included USITT Board meetings sitting around a crowded table in the ANTA Board Room in NYC.
Favorite USITT memory?
Receiving the Golden Triga Award at the Prague Quadrennial was a real sensational moment that I am pleased to have experienced. On this side of the pond, an event at the Anaheim Conference in 1975 was unforgettable. As USITT President, I entered a room filled with people wall to wall. They turned to me and requested that a costume interest committee be formed in the Institute. A sudden hush fell over the room when I said, "No, there can't be a committee," but then the roof raised slightly when I ended by saying, "the By Laws require that costume becomes a commission," and Don Stowell, Jr. became the first Costume Commissioner.
Short list of career highlights:
BA & MA University of Iowa

Ph.D. Northwestern University

Taught at Univ. of Northern Iowa, Cal. State University-Fresno & Northern Illinois Univ.

Deans Award for service as chair of the School of Theatre & Dance at NIU.

Designed scenery for over 130 productions.

Founding member of the Illinois Theatre Association. (Award of Honor 1998 & 

Outstanding Contribution Award 1990)
Short list of your involvement in the Institute:
President of USITT 1973-1975

Past First Vice President, Chair of By Laws Committee, Chair of Finance Committee

Chair of Silver Anniversary Committee, Chair of the Fellows, Program Chair of 

Programming at 1990 Conference

14 years on the Board of Directors

Currently member of the Archives Committee, the Audit Committee & the Fellows Fund 

Committee

Founding member and past chair of the Midwest Section

Fellow of the Institute 1977, Founders Award 1987, Honorary Lifetime Member 1996

Annual USITT Journal Award 1970
Short list of the memorable USITT characters that have made a difference to you?
As education mentors: Arnold Gillette, Walter Dewey, Theodore Fuchs, Lee Mitchell
As career mentors: Harold Burris-Meyer, Ned Bowman, Eddie Kook. Walter Walters, Joel Rubin, Bernard Grossman, Al Koga, George Petterson and many more
Being a USITT Fellow means:
Nothing has been more humbling than being named a Fellow. It is such a great honor to be among so distinguished a group of people.
What does USITT mean to you?
USITT has been a godsend helping me to advance in my theatre career. Associating with other members has been monumental in sharing knowledge and pursuing study and research in our field.
Publications:
Book:

Scene Technology, Prentice Hall

, three editions: 1985, 1990, & 1994

Articles: Over 30 juried articles and book contributions

Chapter:

"Design" in Theatre Technology and Design: A Course Guide

. International 

Thespian Society. 1984

Editor: editor of three newsletters.