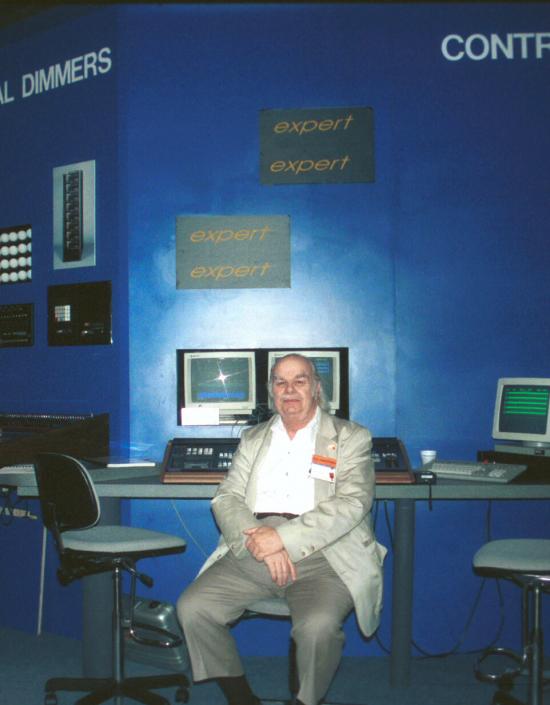 (1927-2007)
Read a Memorial of Samuel H. Scripps
Employment history:
Assistant Technical Director, old Globe Theatre, San Diego and the Berkeley Shakespeare Festival (later became California Shakespeare Festival) (1950s)

Photographer and filmmaker, San Diego Zoo and Scripps Institute of Oceanography, including a four-month expedition to the Fiji Islands and Tahiti

Lighting Designer, Riverside Shakespeare Festival, New York (1980s)

Part Owner and Director, AVAB America, Inc (a lighting company and USITT Sustaining Member)

Co-founder, with his wife Luise Scripps, American Society for Eastern Arts, a non-profit organization that brought classical performing artists from Asia to America for performances and workshops

Board Member for various arts organizations including: Paul Taylor Dance Company; American Dance Festival in Durham, NC; Brooklyn Academy of Music; Theater for a New Audience; Rhinebeck Performing Arts Center

Major Contributor to the Globe Theatre project in London

Namesake of Samuel H Scripps American Dance Festival Award for Lifetime Achievement in Choreography. 

Editor's note:

This award, established in 1981, is given annually and administered by the Association for the American Dance Festival.

World-renowned Philanthropist to the Performing Arts. 

Editor's note:

Mr. Scripps was a descendent of the Scripps newspaper family.  His grandfather, Edward W Scripps, founded United Press International (UPI) and the Scripps-Howard newspaper chain, which at one time was the nation's largest. His father, Robert P Scripps was a reporter and correspondent, as well as editorial director of various Scripps-Howard and Scripps-McRae newspapers,
USITT Involvement and Offices Held:
Mr. Scripps Company, AVAB American, became the First Contributing Member when the category was established in 1982

Member, Steering Committee of prize-winning 1987 PQ Exhibit

Member, Steering Committee of the International Liaison Committee (the U.S. Center of OISTAT)

Board of Directors

 Mr. Scripps' first Philanthropic donation toward USITT activities was a sizeable grant to the Institute's Third Scenographic Exposition, an annual, national design exhibit. (1984)
Awards and Honors:
Editor's note:  Mr. Scripps received far too many honors and accolades for his philanthropic activities to list here.  What is included below are the honors bestowed upon Mr. Scripps for his USITT activities.

Elected USITT Fellow (1991)

USITT Award (as member of '87 PQ Steering Committee) (1990)

Namesake of USITT Samuel H Scripps International Fund. 

Editor's note:

This fund was named in Mr. Scripps' honor in recognition of his initial donation to support 1987 Prague Quadrennial exhibit and annual donations thereafter which supporting PQ, international OISTAT meetings, and student travel abroad.

 
Special resolutions and commendations by the USITT Board of Directors
April 1984 resolution expressed the Board's gratitude and appreciation to Scripps as a benefactor to the Scenographic Exposition

April 1989 resolution acknowledged the continued support of Scripps through his participation on the PQ 87 committee, his hosting a reception for Swedish OISTAT quests and his major contributions for the support of international projects

The first Honorary Lifetime Membership was awarded in 1992 to Samuel H Scripps and in 1996 the Institute began using Honorary Lifetime Memberships as a way to recognize "a lifetime of continuous service to the Institute"