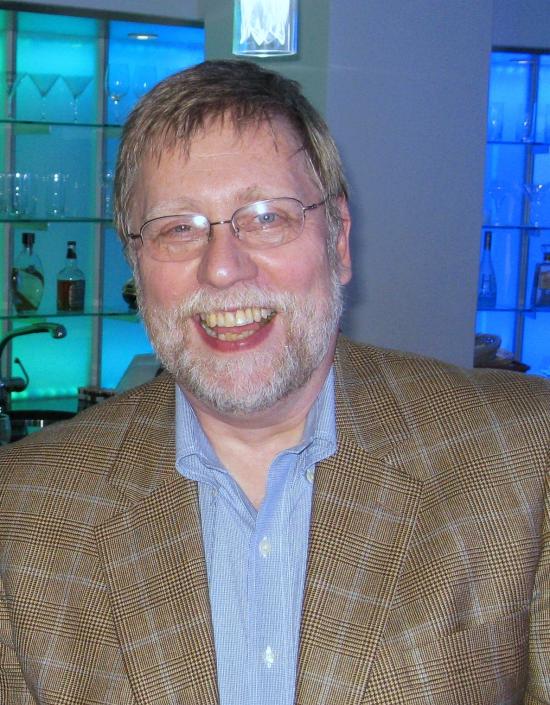 Steve Terry
Steve Terry is the Vice President of Research & Development at Electronic Theatre Controls, the Madison Wisconsin-based lighting manufacturer. In that capacity, he leads the team that is responsible for global development of new products.
Steve Terry began his professional career as the Production Electrician for the Dance Theatre of Harlem in 1971. He toured the world in that capacity for over five years, and the experience gained in that position served as the basis for many of Mr. Terry's designs of touring equipment for the lighting rental market.
In 1976, he was responsible for the care and feeding of the first computerized lighting control system on Broadway at "A Chorus Line". From 1977-1981, he was the Production Sound Engineer for that production.
Mr. Terry joined Production Arts Lighting in 1976, and was Executive Vice President and Chief Engineer until 1998. In that capacity, he led the Systems Integration and Consulting Group of Production Arts. This group specialized in the design, engineering, furnishing, integration, and installation of permanent entertainment technology systems in a wide variety of markets. These included theatres, opera houses, theme parks, cruise ships, and television studios. Production Arts was acquired by PRG in 1998.
 Over the last 30 years, Mr. Terry has consulted with a number of manufacturers in developing advanced products for the lighting industry. The first fully digital high density dimmer for touring was produced to a design specification authored by Mr. Terry, and many of the communication network products used in today's digital lighting systems had their genesis at Production Arts.
He has been instrumental in moving the lighting industry towards the concept of systems integration rather than purchase from a single manufacturer. Systems integration is now standard practice in the lighting industry, and his work on the DMX512 standard was a key element in making this possible.
He has been involved in the engineering and management of many prestigious installation projects over the last 20 years including, to name a few, the lighting renovation of the Metropolitan Opera House, the Lyric Opera of Chicago, the Mirage, Treasure Island, Bellagio, and Wynn hotels and the Fremont Street Experience in Las Vegas, the Lido de Paris nightclub in France,  "Fantasmic" at Disneyland, six NBC network television studios, seven cruise ship showrooms for Holland America Line, and the Disney/ABC "Good Morning America" studios in Times Square.
Mr. Terry also maintains an active involvement in the international lighting industry. He founded the USITT National Electrical Code Committee in 1980 and was its original chair.  He was appointed a member of NFPA National Electrical Code Panel 15 in 1994.
He chaired the USITT Committee that wrote the internationally-accepted DMX512 standard for digital communications in lighting systems. He was inducted as a Fellow of the USITT in 2005.
He has been a frequent contributor to Lighting Dimensions (now Live Design) , and Protocol magazines, and has authored many articles on control systems, codes, and standards. He is a frequent panelist at technical sessions throughout the lighting industry.
Mr. Terry co-chaired the Entertainment Services and Technology Association's Control Protocols Working Group from its inception in 1994, to 2007. This working group produced the next important control standards for the lighting industry, ANSI Standard  E1.17, Architecture for Control Networks (ACN) and ANSI Standard E1.20, Remote Device Management (RDM).  Mr. Terry is currently a member of the ESTA Board of Directors, the ESTA Technical Standards Committee, and the ESTA Electrical Power Working Group.
Professional Affiliations:
US Institute for Theatre Technology
Fellow of the Institute

Vice Commissioner for Engineering
National Fire Protection Association Member National Electrical Code Panel 15 (USITT Alternate)
Entertainment Services and Technology Association (ESTA)          
Founding Co-Chair -- Control Protocols Working Group

Member, Electrical Power Working Group

Member, Board of Directors

Member, Technical Standards Committee
Underwriters Laboratories Member--
UL498 (Attachment Plugs and Receptacles), UL924 (Emergency Lighting and Power Equipment), UL1008 (Transfer Switches) and UL1340 (Hoists) Standard
Technical Panels, Industry advisory Groups for UL1691A Single-pole connectors and UL1640 Portable Power Distribution
Institute of Electrical and Electronics Engineers (IEEE) Full Member
International Association of Electrical Inspectors (IAEI) Associate Member
Certifications
ETCP Certified Entertainment Electrician
ETCP Recognized Trainer—Electrical
Awards
1993 USITT Founders Award for work on Codes and Standards
Articles Published
"USITT Dimmer Transmission Standards—Dimmer Communications Protocols May End the Black Box Jungle" Lighting Dimensions March/April 1987
"Entertainment Industry Standards—USITT Committee Considers Control Communications" Lighting Dimensions September/October 1987
"Glimpsing the Future—Symposium Discusses Prospects for Automated Lighting On The Legitimate Stage—A Technical Commentary" Lighting Dimensions March 1988
"Type W—National Electrical Code Recognizes Single-Conductor Feeder Cables For Portable Dimmer Boards" Lighting Dimensions January/February 1989
"Multipurpose Peripherals—L86/IR and L86/I5M Provide Advance In Flexibility and Power of Systems Using DMX512" Lighting Dimensions April 1989
"Access—An Affordable Professional Console"   Lighting Dimensions September 1989
"An Industry Milestone—Lee Colortran's ENR Dimmers Squeeze a New Level of Features Out of Existing Technology"  Lighting Dimensions October 1989
 "Does the Shoe Really Fit?—The Pressing Need For Advanced Standards After DMX512" Lighting Dimensions March 1990
"Cable Selector Guide—A User's Guide to Portable Cable Selection for the Entertainment Industry" with Ken Vannice, Lighting Dimensions April 1990
"Dimming System Destruction—Isolation Failures Creep Up On the Lighting Industry" with Karl Ruling Lighting Dimensions October 1990
"Colorful Personalities—Automated Design Tools—An Evaluation of Six Rolling Color Changers" Lighting Dimensions November 1990
"The Business of Standards"  Lighting & Sound International April 1991
 "Dimming Doom—Understanding Emergency Transfer in Dimming Systems" Lighting Dimensions November 1992
"Emergency Transfer Revisited—The Further Intricacies of the UL1008 Standard" Lighting Dimensions January 1993
"Upscale Ethernet—Picking the Best Network Configurations for Reliable Performance Lighting Systems"  Lighting Dimensions November 1994
"Common Ethernet—The Urgent Need for an Advanced Common-Protocol, High Speed Network for the Lighting Industry" Lighting Dimensions March 1997
"Power Play—Considerations for Feeding Dimmer-Per-Circuit Systems In Theatres and Similar Locations" Lighting Dimensions September 1997
"Back to The Future—Checking Up On 20 Years of Lighting Dimensions Predictions" Lighting Dimensions October 1997
"Report From The Standards Front—UL Considers Single-Pole Connectors" Entertainment Services & Technology Association Newsletter
"Report From The Standards Front—UL Agrees With Industry Input On Single-Pole Connector Standard" Entertainment Services & Technology Association Newsletter
"Whose Network Is It Anyway?—Why the End User is the Loser in the DMX512 Connector Controversy"  Lighting Dimensions May 1998
"Understanding Control of Emergency Lighting Circuits"  ESTA Protocol Summer 2004
"What's Connected?—Unique Global Dimmer Load Survey Delivers Surprising Results"  LiveDesign March 2006
"New Power Tools Provide Quality and Efficiency"  ESTA Protocol Fall 2007
"The Case of the Hidden Harmonic Filter"  ESTA Protocol Summer 2008
"Understanding Control of Emergency Lighting Circuits—2010 Update"  with Ken Vannice and Mitch Hefter, ESTA Protocol Spring 2010
"Understanding Hidden Electrical Diversity in Entertainment Lighting Systems", ESTA Protocol Fall 2010