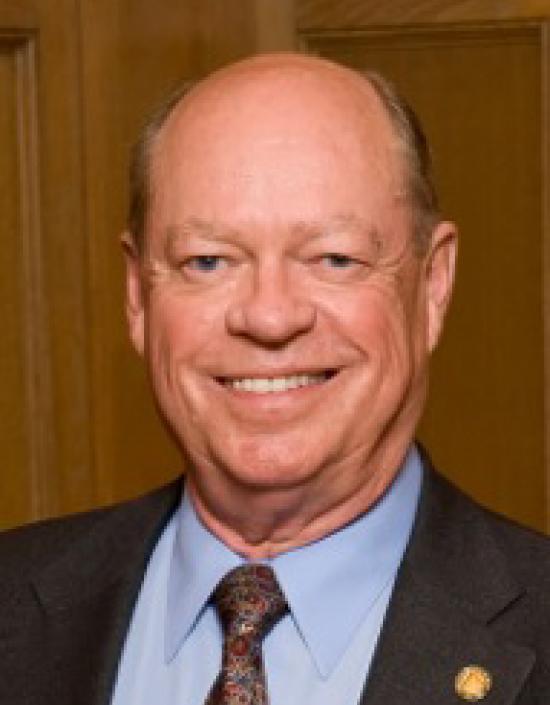 Van Phillips
Your earliest memories of the institute?
My first knowledge of and about USITT was being told by Gene Diskey, the TD at the Dallas Theatre Center (I was his Assistant), that a new organization had just been formed and I should join it.  So, I joined!   Gene was a Yale Graduate and had connections on the East Coast and got the word about USITT shortly after it was formed.  No, I didn't walk up hill both ways in the "neck deep" snow to the meeting when USITT was formed, but joined soon afterward.
 
Does anything stand out as your favorite USITT memory?
Having used my experience at the DTC to figure out what I wanted from a college degree I left The Dallas Theatre Center to return to school at Southwestern University.  When USITT decided to have its annual conference in Dallas, Gene Diskey became part of the Local Conference Committee.  He in turn asked me to come to Dallas and work the conference as a support staffer.  So, I was in the room helping out when the USITT Board had the now famous - "We are broke, and need to file for bankruptcy!" meeting.  I remember the tension in the room and the silence that followed being charged.  I had just put a fresh container of ice water down between Edward F. Kook, Head of Century Lighting, and Joel E. Rubin, Vice President of Kliegl Lighting - when Kook stood (all 5'-3" of him,) pulled out his wallet and started slapping 100 dollar bills on the table.  He turned to Joel and, pointing at the stack of bills, said, "Match it!"  It wasn't a request so much as a demand.  
I've heard many people describe that as the "pass the hat meeting".  But, in truth it was more of Ed Kook going "we are not going bankrupt on my watch" and challenging the other Board Members to join him in getting things fixed.  In that era there were few academics on the Board and none of the corporate types were going to challenge "Don" Kook!   I remember thinking," Welcome to 'active' membership in the USITT!"
Career highlights:
Theatre Planning:
Principal of Jones & Phillips Associates, Inc., Theatre Planners and Architectural Consultants

American Society of Theatre Consultants (ASTC),1975 – present

Listed in Who's Who in Theatre Consulting, Theatre Crafts, 1983

National Award  - Masters of Innovation II, Zenith Data Systems, 1990  Innovative solution to exploring performance architecture

Freelance Theatre Architectural Consultant, 1969 – 1975
Professional Design:
Freelance Designer and Technical Director for Theatre,  Opera, Ballet, and Television.  United Scenic Artist – (USAA) LU - #829.  1965 to present

Assistant Art Director (Hawaii) for the films: Blue Hawaii,  Hawaii,  and In Harms Way

United Scenic Artists (USAA), Examination Committee, 1980 -1990

United Scenic Artist Review Team for the proposed merger of Locals 350 and 829

Listed in Who's Who in Opera, 1976
Educator:
Purdue University: Professor Emeritus 2001, Director of Design and Technical Theatre - 1974-1990, Acting Director of Theatre 1975- 1976 and 1982-83, Full Professor of Theatre Design in 1978

University of South Florida: Director of Design and Technical Theatre, Associate Chairman,1972‑74, Assistant Professor, 1969 – 1974
Technical  Theatre:
Technical Director, Honolulu International Theatre Center, 1965 – 1967 (Summers);

Assistant Technical Director, Dallas Theatre Center, 1962 – 1963

Technical Director, Lutheran Actors Company,.1962 (Summer)

Designer/Technical Director, Foothills Playhouse,1958 – 1961 (Summers)
Your various involvement in the Institute:
United Scenic Artists Representative to the Third Congress of OISTT International Congress on Scenography in Avignon, France, 1974

Chairman of U.S.I.T.T.'s National Liaison.  1974 to 1978

Board of Directors,1974 to 1984

Selected to be Co-Leader (with Donald Stowell Jr.) of the US Scenography Delegation to OISTAT, International Congress on Scenography, Prague, January, 1976

Finance Committee, 1979 to 1993.

Chairman of the Committee on Liability, 1985 to 1988

Chairman, Corporate Projects Committee, 1986 to 1996

Fellows Nominating Committee, Chair, 1986 to Present

Founders Award, 2000
A short list of the memorable USITT characters that have made a difference to you?
There have been and are so many memorable "characters" in USITT that a short list is impossible, so I will list a few of our departed "characters"!
Edward F. Kook - if USITT had a Napoleon - it was Eddie Kook.  He may have been only 5'-3" bit he was a force that got things done.  It took great courage to call him Eddie, and I was only willing to call him Kookie when his wife Hilda took me aside and told me, He would really like you to call him Kookie!"  This man was Century Lighting and the power/money behind many of the most famous Broadway productions from the 1930s to the 1960s such as Death of a Salesman, Picnic, Oklahoma, The Diary of Anne Frank and on and on.
During the January, 1976 OISTT, International Congress on Scenography in Prague, I remember standing in the 1365 Church of Our Lady before Tyn with Jo Mielziner, Millia Davenport, Eddie and Hilda Kook, and Don and Bonnie Stowell looking at the beautiful Gothic interior.  Eddie said, "Give you one little Jewish boy and look what you do!"
Leland "Lee" H. Watson - My first memory of Lee was of him sitting on top of a pile of stacked hotel tables in the hallway of the Waldorf Astoria in New York for a USITT Conference.  He looked for all the world like a Leprechaun in his lime green suit and brown feather bow tie.  Lee designed lighting for several Broadway shows including The Diary Of Anne Frank, was President of USITT and was author of many articles and several books on stage and television lighting.  But, if USITT had one person who truly deserved the title "character", it would have to be Lee, although Randy Davidson has done a fine job of carrying on the role.
Harold "Snodgrass" Burris-Meyer - at 6'-6" and all loose joints like Disneys' Ichabod Crane, he was hard to miss.  Always ready with a limerick and called upon to close every meeting from the USITT Board to the National Conference, Harold was and remains a huge presence in the Institutes history.  His books remain well known, but his pioneering role in the early development of theatre audio, subliminal audience control and theatre architecture seems lost to younger members.
Alvin Cohen - Owner of Paramount Theatrical Supply and was Eddie Kook's money manager.  Al served as the USITT Treasurer from just after the near bankruptcy and on for two decades or better. Al was one of the first real benefactors of the USITT.  Although vilified by some for his unwillingness to relinquish the duties of Treasurer, he was determined that the USITT would always be financially sound.  If he was guilty of anything it was that he "cared too much"!
Samuel H. Scripps - USITT's second great benefactor.  Huge of both girth and love of the people who made theatre, the soft spoken and unassuming Sam Scripps never failed to find ways to financially assist the USITT.  If USITT wanted to sell design renderings to raise money Sam together with Stan Miller, would always make sure the price was "sufficient".  If USITT needed money for a project, Sam was there.  It will be a long time before USITT finds another of his equal.
Anything you want to say about being a Fellow?
Being named a Fellow is the highest honor a person can receive within USITT.  All the other honors and awards USITT gives are for achievement in one portion of an individual's career.  To become a Fellow an individual must be recognized for achievement professionally and for their role within the USITT.  Many achieve recognition in one aspect, but those that can prevail in both become Fellows.  It is an honor that should not be taken lightly.  I am proud to have been included as a member of that distinguished group of men and women.
Anything you'd like to add about the USITT?

USITT has been, and remains, the organizational home of some of my closest friends in the performing arts world.  Their dedication and willingness to mentor a strong future for those who work within the performing arts speaks volumes about the importance of USITT as a national presence in the arts.  Like those that work on professional productions, it ultimately isn't about individual names or past success.  Over time the USITT will be judged on its next success and I feel confident that it is built on a solid foundation.
Your publications:
I have never written a book, but have provided numerous articles related to the performing arts and performing arts facilities for Auditoria, Stage Directions, etc.
Mentoring—is there an area that you'd be happy to mentor students, officers, commissions about?
I would be most useful to those interested in Theatre Consulting and the industry that supports performance architecture and the equipment needed for its construction.