'Camelot' Returns to Broadway with d&b Loudspeakers
August 14, 2023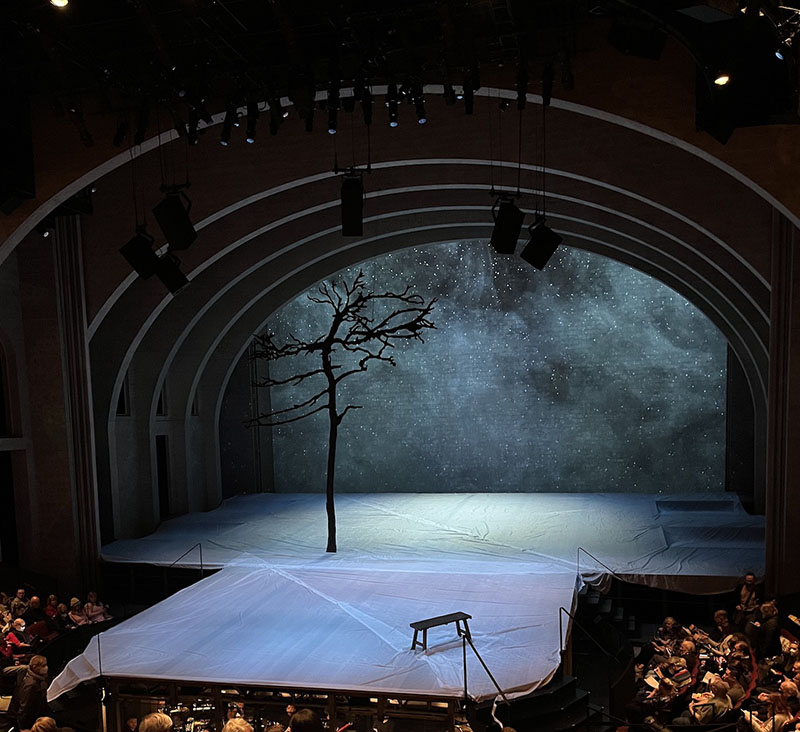 NEW YORK – Sound designers Marc Salzberg and Beth Lake noted that the decision to use d&b loudspeakers on Camelot's return to the New York stage was based on "extensive knowledge and years of experience having worked with these speakers," adding that they are both familiar with the "quality and performance of d&b products." The 2023 production ran from April to late July at the Vivian Beaumont Theater in New York's Lincoln Center. This latest revival of the classic musical, reimagined for today's audiences by Aaron Sorkin and Bartlett Sher, may also soon appear as a U.S. national tour and on London's West End.
More details from d&b audiotechnik: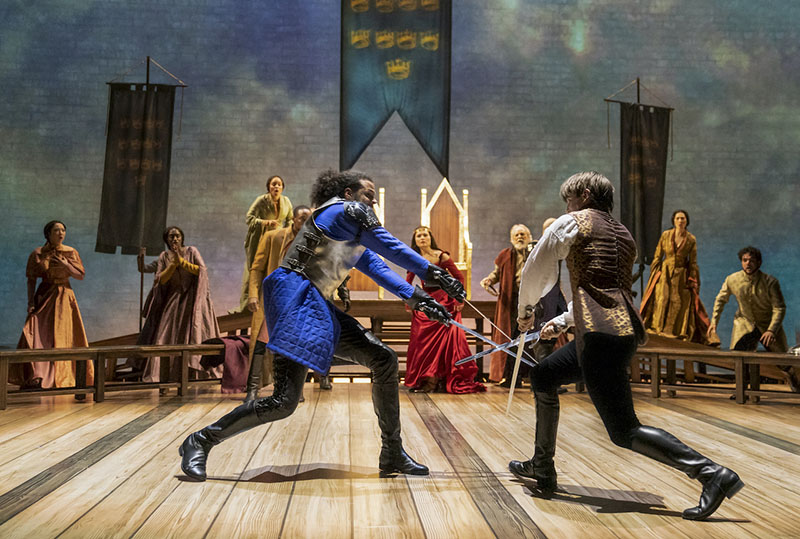 The d&b V7P point source loudspeakers were chosen for the production because of the full range capabilities, and because their dispersion is well-suited for the configuration of the Vivian Beaumont Theater at Lincoln Center. "Because the house is broken into five sections, there are specific areas that can and cannot overlap in coverage," says Salzberg. With d&b ArrayCalc prediction software we could carefully plan with the scenic and lighting departments where our speakers needed to be for the best sounding show. Luckily, we already had a model of the venue from our previous shows in the Beaumont, so we were able to easily translate how Camelot would be slightly different. Because of the large proscenium wall, we needed to know exactly where speakers would hang very early in the process so that the walls could be built to accommodate them. So, we utilized the ArrayCalc predictions software heavily in the planning phases to determine that the V7P was the right choice."
d&b V-Series is a high-performance 3-way passive loudspeaker with two 10" drivers in a dipole arrangement. The innovative horn design for the centrally mounted 8"MF driver produces a remarkable sensitivity resulting in an exceptional performance in the vocal range. An advanced bass-reflex and venting design delivers an extended LF output with full bandwidth capabilities. Due to the dipolar arrangement of the LF drivers, broadband dispersion control is maintained down to approximately 350 Hz in the same plane as the dipole.
Masque Sound has been a longtime provider for Lincoln Center Theater's productions. "We are glad to continue our partnership on Camelot who provided the d&b V, Q, and E-Series loudspeakers," says Lake. "We know that the equipment they provide will be top notch, and the support we receive unequalled. They provide all that we need to craft a beautifully sounding show including microphones, processing, and speakers, in addition to the communication, monitoring and other production needs."
Salzberg said the system is designed to provide localization using delay timing with many speakers. "We placed the speakers so that each of the five seating sections get a left and a right speaker: so, six main point source speakers. They are positioned so that there is overlap between each pair: 1and 2, 2 and 3, 3 and 4, etc. This method allows for each seat to hear more than a singular source which aids in imaging."
The theater seats 1,080 across two levels, arranged in a steeply sloped semicircular layout. The Beaumont differs from traditional Broadway theaters because of its use of a flexible stage, which could be extended with a thrust stage of varying length, and in the case of Camelot, 180-degrees. The house itself is acoustically very dry. Because of its circular (ellipsoidal) shape, efforts have been made to reduce the reflections by that shape. The rear walls are covered in two layers of thick felt and a layer of velour.
Lake said because of the thrust stage, an actor downstage on the thrust is only facing about 60% of the audience; the other 40% are seeing the actor's side or back. "Because of the lack of 'bounce' from the back wall; that means that 40% hear very little acoustically from the stage. Of course, as the actors move, which 40% of the audience that needs additional help changes.  This is only exacerbated by the vast size of the stage that is fully utilized by Scenic Designer Michael Yeargan's set."
The lack of reflective surfaces upstage of the actors means that they are speaking into a void. Much of our job becomes ensuring that those voices can carry out into the whole audience, no matter if the actor is facing directly towards them or not.
6 xV7P loudspeakers used as the main system, 6 x Q7 as rear orchestra delay, and 7 x Q7 as balcony mains. 10 x E0 point sources used as rear balcony delays and 30 x E0 used as surrounds.  8 x E6 are used for out front fills, and 4 x E12 as proscenium left/right sources.
From a sound perspective, Salzberg adds, "we've been quite happy with the audience response. Many audience members have commented on not knowing that the show even had microphones both in the orchestra and on actors. To us, that is the highest compliment. We are simply supporting the performances on stage."