In the Era of COVID – Mental Health for the Entertainment Industry
May 12, 2021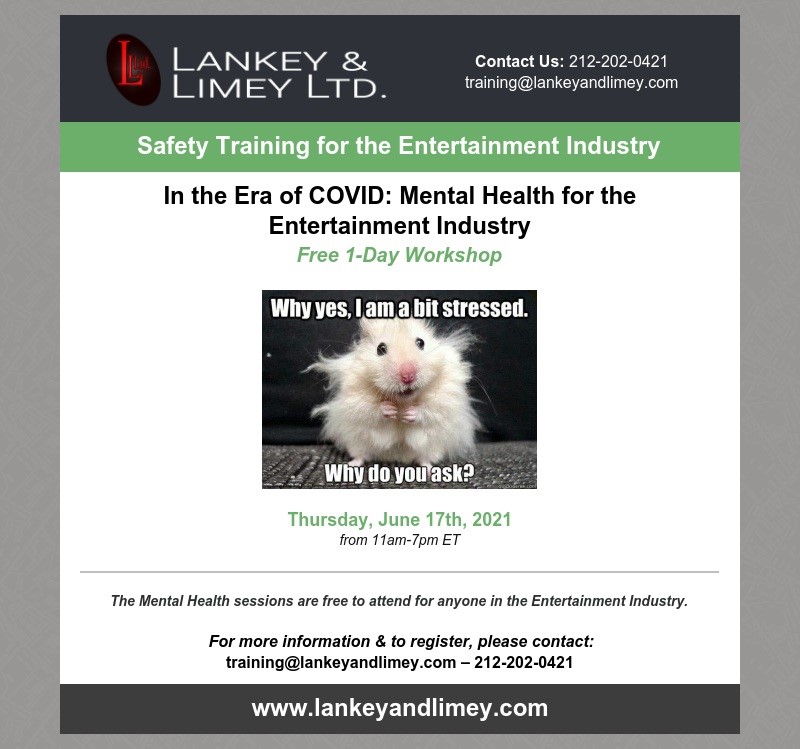 Lankey & Limey Ltd. is running another COVID Mental Health Workshop on June 17th, 2021 from 11 a.m.-7 p.m. EDT.
The pandemic continues to have a profound effect on our community. It is clear that the impacts on our mental health and sense of psychological safety are a significant part of the experience.
Our community has always demonstrated resilience in the face of adversity, but that reservoir of resilience is often replenished by the time we spend with our friends and colleagues when we come together for an event or show.
This resource of mutual support is something many of us do not have access to in the same way during this new normal. So much is out of our collective and individual control at the moment, so we asked the question: what is within our locus of control and what can we do now to support
ourselves and each other?
This workshop puts you at the center of developing tools and strategies that can help.
The workshop will explore:
Individual & Community Strategies for Resilience
Transferable Skills and How to Apply Them
Remaining Connected and Providing Support
Managing Psychological Safety when Returning to Work