In Memoriam: Joseph N. Tawil, USITT Fellow, Lighting Designer, Innovator
November 23, 2021
Joe Tawil in the spotlight. Photo courtesy of Pat Mackay
Original article posted by Michael S. Eddy for PLSN
USITT is saddened to learn about the death of Joseph N. Tawil who was a USITT Fellow, innovator, and marketer of theatrical lighting products over his long career. At the time of his retirement, Tawil was the founder and President of GamProducts, Inc., the Los Angeles-based theatrical lighting and special effects company he founded as the Great American Market in 1975. He was a graduate of Carnegie Mellon University, a Fellow of the United States Institute of Theatre Technology (USITT), and an associate member of The American Society of Cinematographers (ASC).
Tawil authored articles on lighting which have been published in industry trade journals. He often guest lectured on the subject of color at universities and was a frequent speaker for the International Photographers Guild (IATSE 600) about color measurement. Tawil made his first big contribution to the color filter industry when he pioneered and introduced the first polyester-based color filters, Gelatran in 1969 while he was president of lighting manufacturer Berkey Colortran.
Over his career he created many special effects and projection devices that became standard production tools for the entertainment industry, including the Scene Machine for projecting moving images, and the Film/FX and SX4 film loop special effects projectors in 2000 and 2004. Other firsts include the introduction of the original rolling color changer in 1981, and the first drop in double pattern rotator, the TwinSpin, in 1992.
Tawil held more than a half dozen patents in the lighting field and was most proud of three of his product developments that influenced the lighting industry. They include his introduction of the first deep-dyed polyester color filter in 1969; the introduction of the first off-the-shelf stainless steel pattern in 1971; and BlackWrap in 1983, for which he received an Academy of Television Arts & Sciences Technical Award in 2004.
Tawil was born and raised in New York and attended Lafayette High School in Brooklyn, whose graduates include lighting designer Imero Fiorentino. He started working backstage in high school and would go on to study it at Carnegie Mellon University. His college classmates included Jules Fisher and Roger Morgan. After serving in the Army, Tawil would go to work for Kliegl Bros. Universal Stage Lighting Co. in the 1960s. He would move on to theatrical lighting manufacturers Century Lighting and then Colortran. He left Colortran to start the Great American Market in 1975.
One of his first products at the Great American Market was the Scene Machine, a 1,000W scenic projector from RDS Japan that made projecting moving images that much easier. In 1981, Tawil worked with Keny Whitwright and introduced the Colormax rolling color changer in 1981. (In the early 90s, they parted and Whitwright would go on to sell color changers as Wybron.) In 1986, Tawil introduced GAM Chart-A-Beam, a pre-CAD lighting design tool. In 1987, he would go back to working with deep-dyed color media again with the introduction of GAM Color. The black-covered GAM Color swatchbooks quickly became as ubiquitous on designer's drafting tables as Rosco and Lee swatchbooks. Who can forget the many GAM ads in the trade magazines of the day with a wide range of lighting designers declaring their favorite GAM Color was…?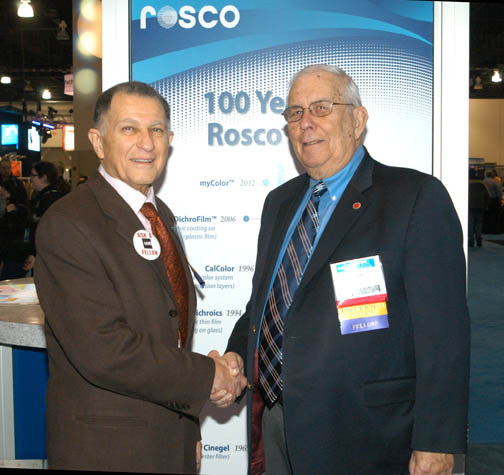 In 2013, Tawil decided to sell the company to Stan Miller and Rosco Labs. The acquisition of GAM Products was announced at that year's USITT Stage Expo. In a memo to Rosco employees, Rosco's Miller made these comments on the acquisition: "I go back a long way with Joe Tawil, the founder of GAM Products. Our companies competed with each other in many product areas. But that didn't prevent me from having a good deal of respect and even admiration for Joe and what he accomplished in terms of product innovation. The respect must have been mutual, because Rosco was the first (and only) call Joe made when he decided to exit the business. With help from Mark Engel and others, we completed the business details quickly and easily. It went smoothly because GAM and Rosco had complementary goals: GAM wanted its product legacy preserved and its remarkable products to continue to be available. Rosco wanted those GAM products to continue to be available as well – but in the Rosco style."
The Institute sends our sincere condolences to his family, friends, and colleagues. Requiescat in Pace, Joe Tawil.