TECHnically Speaking: Breaking Down Disability in the Industry
November 12, 2021
​​​​​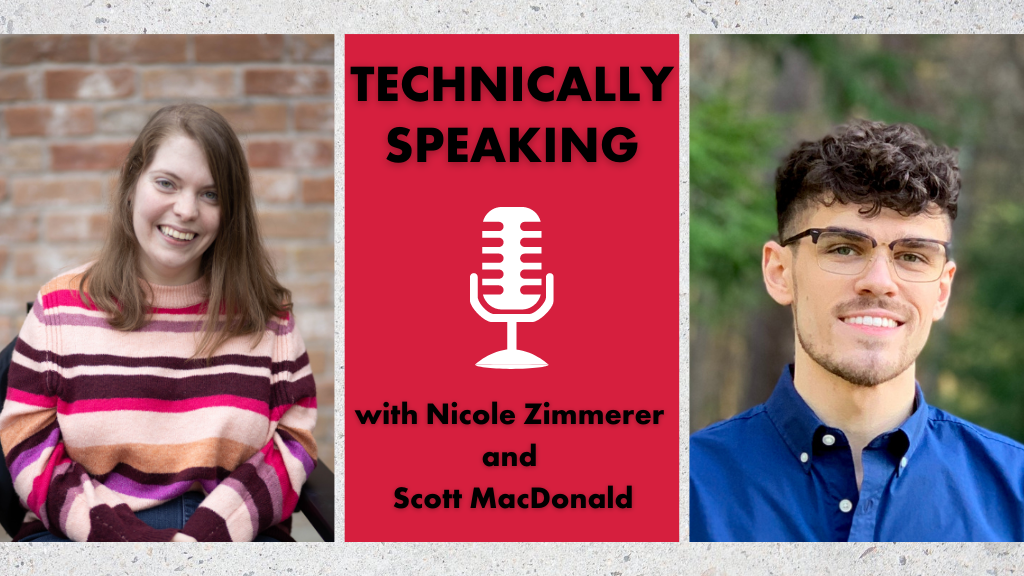 We sat down with playwright, librettist, and host of the Break a Leg! Disability in the Arts Podcast Nicole Zimmerer and sound designer and podcast producer Scott MacDonald to break down the realities of living and working with a disability in the industry.
Nicole is a playwright and librettist with a deep-seated hatred of stairs. She has been a recipient of The Kennedy Center's VSA Playwright Discovery Award and the Betty Z. Rose and Anne J. Exline Presidential Fellowship. She was a finalist for the Playwrights' Center Core Apprenticeship program. She has had multiple productions in Houston, New York City, Chicago, Pittsburgh, and Washington, DC. She holds a BFA in Playwriting and Dramaturgy from the University of Houston and an MFA in Dramatic Writing from Carnegie Mellon University.
Scott is a sound designer and engineer based in New York City. After completing a BFA at the Carnegie Mellon University School of Drama, Scott was a Featured Designer representing the United States in the Emerging/Student Exhibition at the 2019 Prague Quadrennial. Scott is also an advocate for sustainable practices in the arts and beyond. www.sbmacdonald.com
Listen to the Break a Leg! Disability in the Arts Podcast with Nicole and Scott!
Explore the Break a Leg! Disability in the Arts Podcast Instagram.
Listen to the full episode, here, or search "TECHnically Speaking" wherever you get your podcasts.
TECHnically Speaking is a public service of USITT, which seeks to have a broad conversation on topics of interest to its members, but it is neither a legal interpretation nor a statement of Institute policy. The views expressed on this podcast by guests are their own and their appearance herein does not imply an endorsement of them or of any entity they may represent. Reference to any specific product or idea does not constitute an endorsement or recommendation. Views, opinions, recommendations or use cases expressed on this podcast do not necessarily reflect the views of USITT, its Board members or employees.