Tour Diaries: Tales from the Road with Automation Technician Alyse Porsella
July 17, 2020
By: Alye Porsella, Automation Technician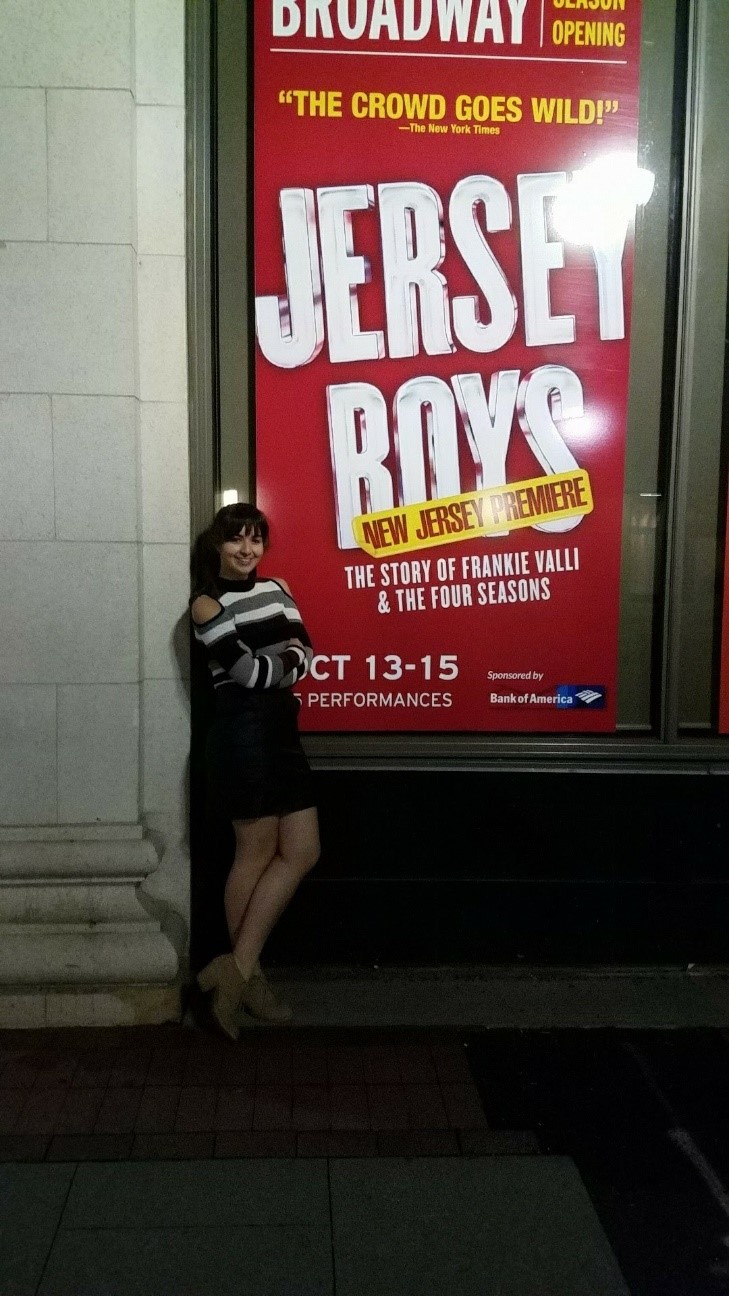 Background
The best way to describe my career path is a Theatrical carpenter turned Automation Technician. I started out at DePaul University's Theatre school as a Theatre Technology major. The major allows people to learn a variety of positions from carpenters, riggers, production mangers, drafters and anything in between. My class at school was fortunate enough to be the first year in a brand new building and with it came a theatre with TAIT automated linesets to being the journey of learning automation.
Through out school I was accepted for several internships in the different fields I was looking at. I was a rigging intern with Sapsis Rigging Inc. was brought on to help production manage the Street Stories for the Prague Quadrennial in 2015, a Flying Director intern with ZFX Flying Effects and studied abroad my senior year in London at Royal Central School of Speech and Drama where I was a Technical Manger major that allowed me to production manage two shows and work in the shop.
Before graduating school I interviewed with NETworks, a broadway touring company and received a contract to begin touring as the Assistant Carpenter on Jersey Boys that September. After the tour through the USITT Elite Intensive program I was brought on as an Assistant Production Manager(for Automation) on board two Princess Cruises ships. Next I was the Automation Technician on board a MSC ship with Cirque du Soleil at sea and right before COVID-19 I had started on my first tour with Cirque du Soleil as an Automation Technician on Volta.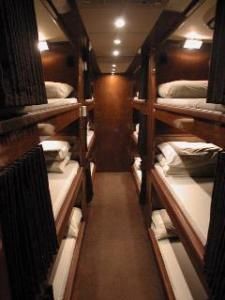 TOUR
Accommodation
For Jersey Boys I was on a pink card contract, I was a temporary Iatse member for the tour. For our tour specifically the actors and musicians had single rooms where as the crew(except specific people) had double occupancy rooms. Once we received our first roommate we stayed with them for the majority of the time. When on one nighter shows or travel days we would travel on a sleeper bus with 12 beds, we were each assigned a bunk that would stay ours for the whole tour. Since I was one of 3 people that gets motion sickness I was given the bottom back driver side bunk. For me it was good because I would feel the engine running which helped put me to sleep and wake me up when the bus stopped moving. On days of loadout we had dinner ordered for us and waiting on the bus. In the back of the bus there was a small lounge and the front of the bus was a table, bathroom, refrigerator, microwave and we added a Keurig. We received a weekly per diem(money set aside for food) for the rest of our meals that was added into our pay checks.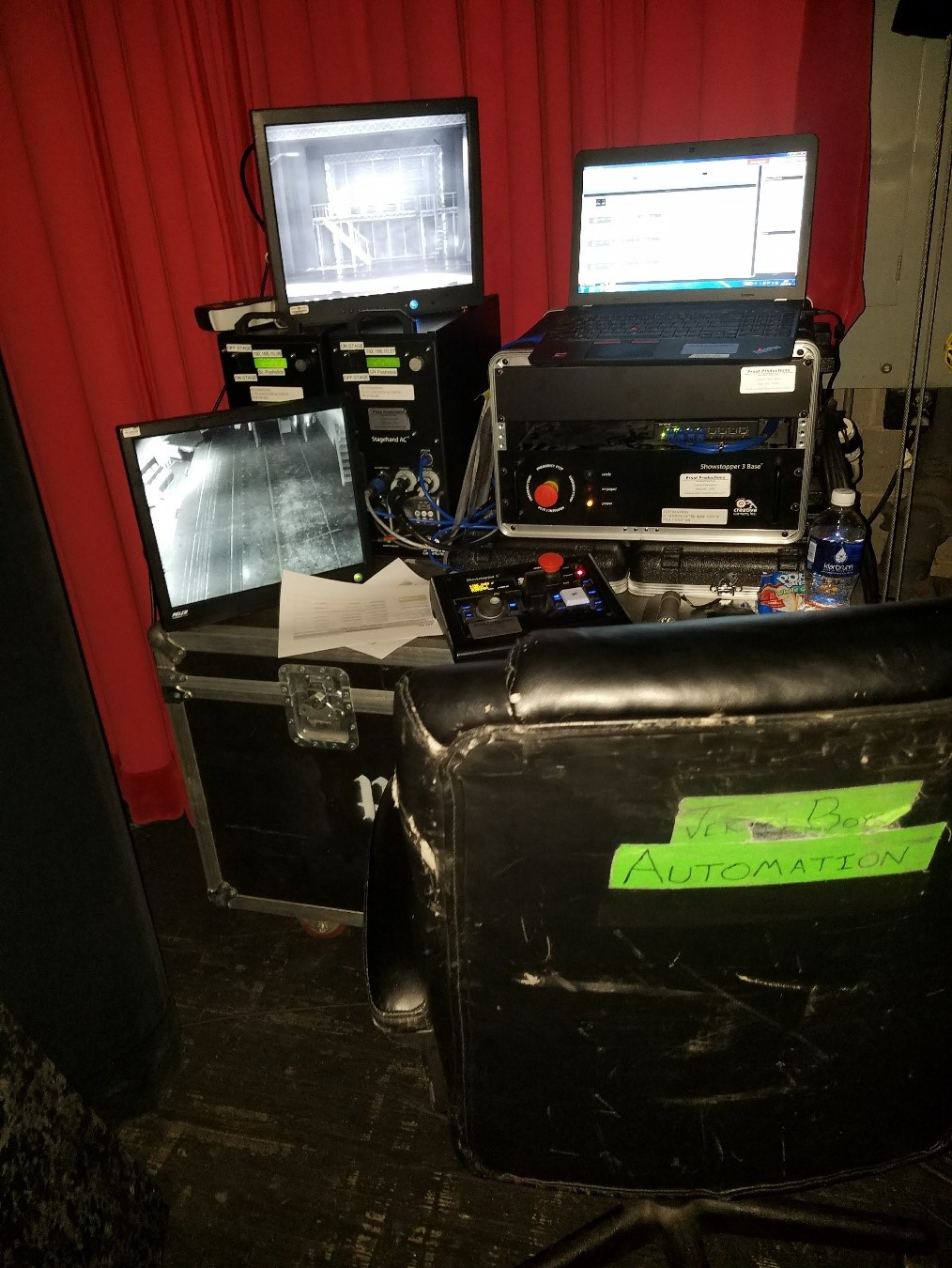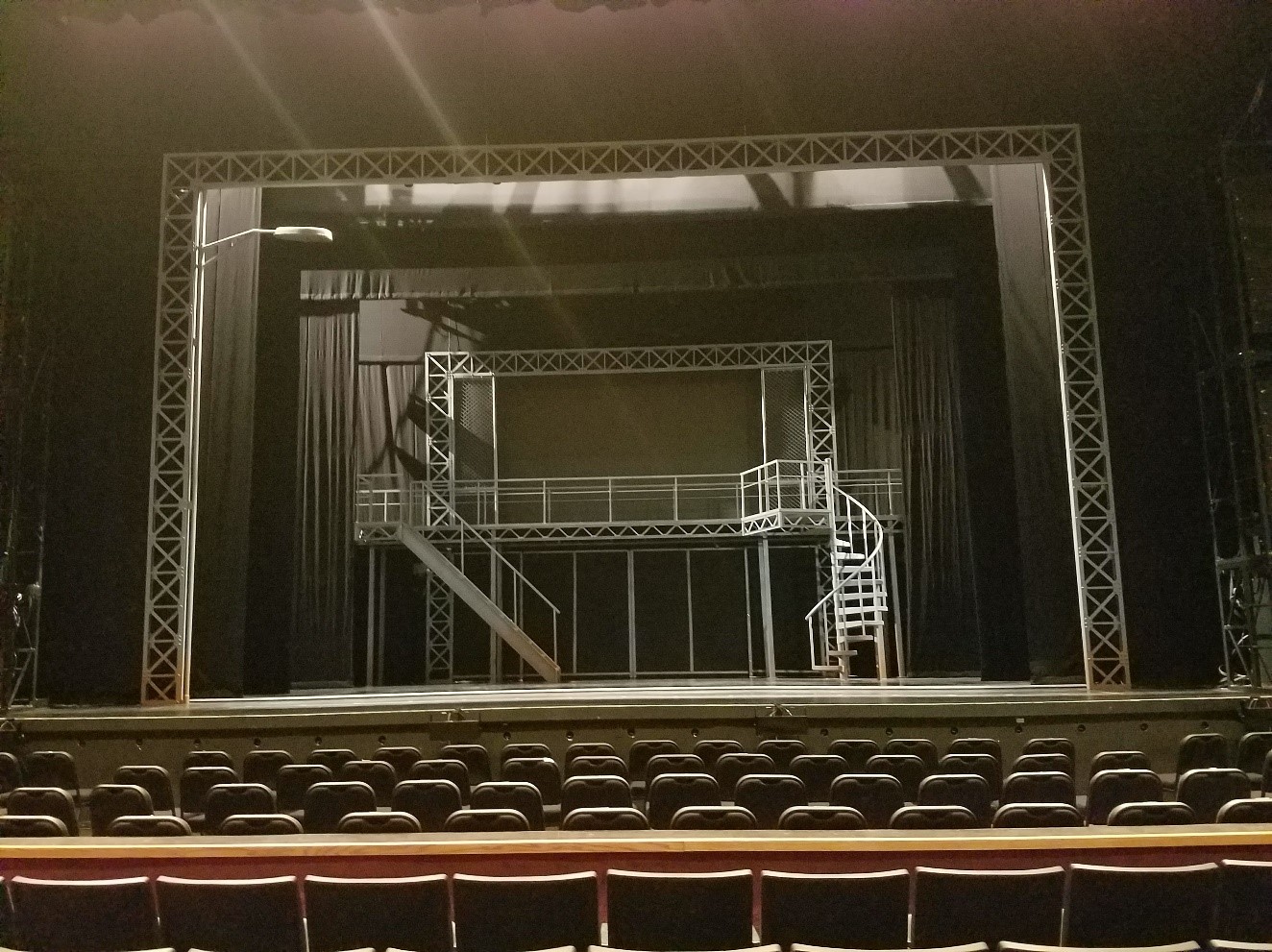 Load-in
Our load-in would usually start around 8am, if we drove from another venue we would sleep on the bus and as soon as we would arrive we would go in and start walking the site. To make sure we knew where different rooms were and if we asked for anything to be set up ahead of time it was done. For me I would then start helping layout the spikes for where the chain motors go with our rigger and assistant electrician until the trucks started to get unpacked. As soon as cases would come we would direct them where to go and when the first truck was unloaded I would start taking the local crew and building the set. For carpentry I would start the day with 4 local crew and by the end of the day I would have 10 to 12 locals. Although I was there to make sure the set got up I was mostly running around with several groups either giving tools and hardware or giving directions on how to put together different pieces of the set. One thing I didn't realize before this tour was each show brings their own masking, so we would start with putting up our portals with masking on the same battens and then hang all our legs, boarders and blackout drops. Our load-in times depended on several factors; time we started, our crews, the size of the venue, and how fast we unloaded the trucks. The fastest we ever loaded in the show was carpentry being done an hour and a half after we came back from our lunch break. In my opinion our hardest days were when we didn't fit in the venues, there were a few cases where even our marley floor was too big for the stage and would have to be rolled back, and sometimes the band couldn't be on stage for that show because they wouldn't fit and allow for enough room for a crossover. After a load-in we would go into a show that night. During a show I would mostly be running automation but I had a few cues of running a pulley and helping set up changes to our musician area.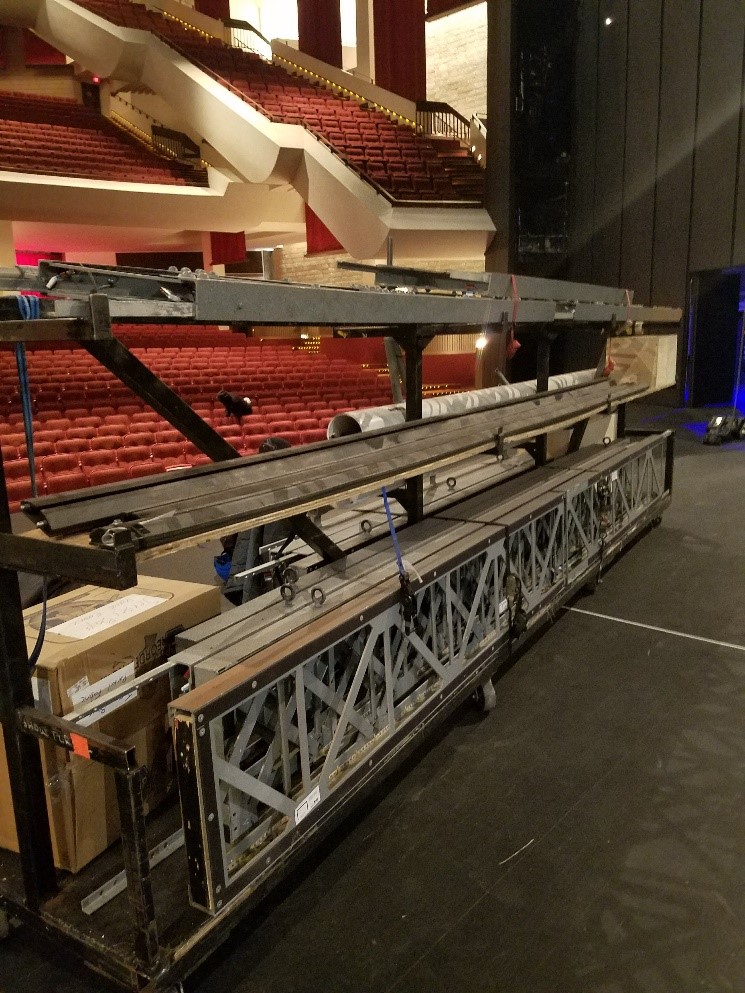 Load out
Load out begins once the show is over and the audience is out. We would all usually meet with our local crew while waiting and form a game plan. Although all departments are constantly working with each other to make sure we aren't in the way and to keep as efficient as possible I feel like load out was a lot more communication with that. Our plan of action was usually to work on getting anything that would be in the way of other departments first out of there and then working on taking the actual set down. In our case carpentry's truck was the last one packed so we were there until the very end though other departments would stay and help us. For our show we would have a lot of one nighters or 2 days in a city, load-in and show one day and show and load out the next. The longest we sat down in one city was a week.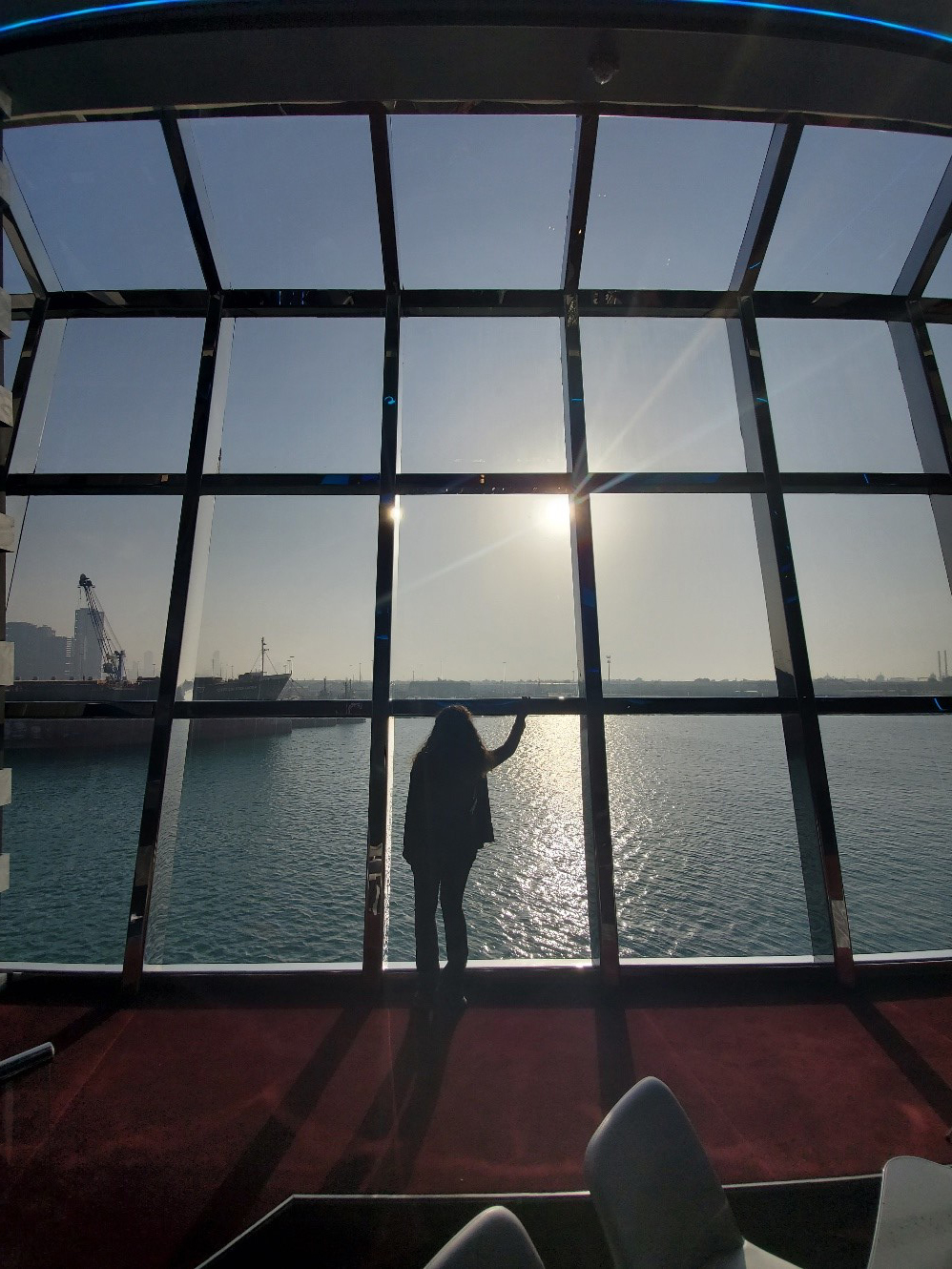 SHIP
My ship experiences include 2 companies and 3 ships. On ships privileges come with the job rank which dictate where you can eat, your room and where on the ship you were allowed to go. My first ships were with Princess Cruises, my position was Assistant Production Manger which technically made me a one strip officer. With that rank I had a room either with a roommate of the same rank or a single if there wasn't another female of my rank in my department. I also was allowed to eat at crew mess, officer mess(if the ship had one), the buffet and any specialty restaurants with a prior reservation. For my last ship I was on MSC, but my ranking fell with the fact I was with Cirque du Soleil at sea so technicians and artists had the same rules, we could eat at crew mess, buffet and specialty restaurants on days that weren't busy and with a reservation.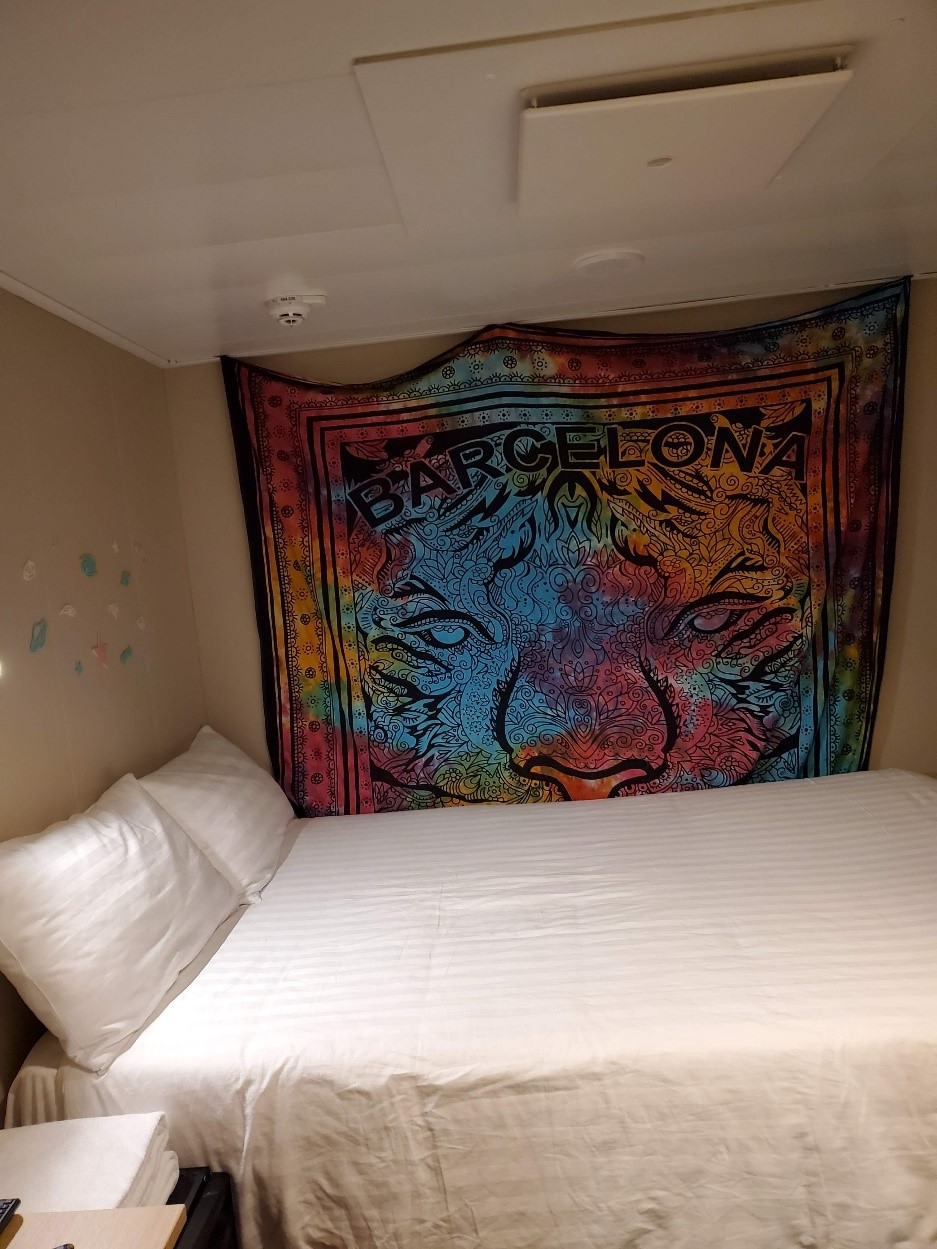 Accommodation
Every company is different and the type of room you will have is based on your position and availability of rooms. For me I have been put in a single room on all my contracts, either with a full size bed or bunkbeds that can be folded away. The walls are magnetic which makes decorating easier and its nice to have something on the walls since they are all white. Each room comes with a closet, desk and a small bathroom that has a sink, toilet and small shower. Crew rooms are on the lower decks, the main hallway for the crew is on deck 4 so usually crew cabins don't go above that but it does vary with availability.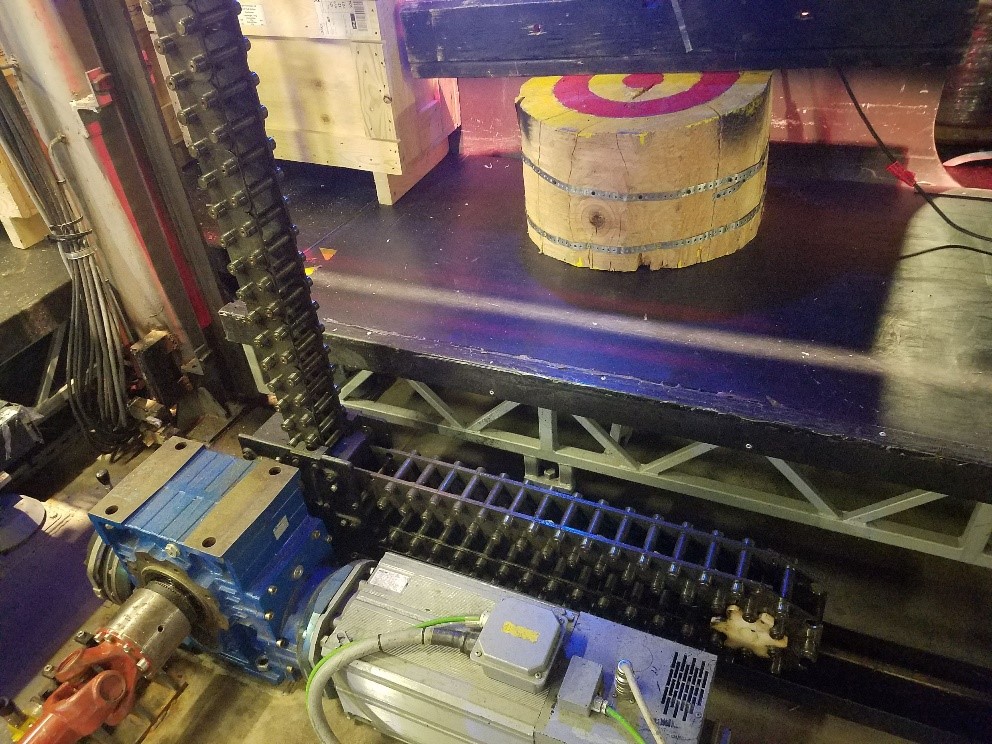 Change over
Because passengers stay on for several days they want to see different entertainment while on board, Princess Cruises had 5 to 7 different shows plus guest entertainers and comedians. MSC had several shows in their normal theatre but in the Carousel lounge where Cirque du Soleil at sea was we had 2 different shows. All the different set pieces were kept backstage either on the stage or near where the lifts were to make for easy access to bring them to the stage. The biggest change for being on a ship is no matter what everything must be tied down, just because you leave it somewhere doesn't mean it will be there later since you are on a moving ship. Every day each department would do their daily checks of their equipment, we would run trainings with the artsits and take a break for food and then come in to run two shows that night. After the second show we would take down the sets and ratch strap everything up before leaving for the night.
Questions
Things to pack:
I pack completely differently for both tour and ships. On tour I prefer to have two smaller/medium rolling bags with me rather than one big one, for shows where we are in a city for a few days I could leave one bag on the bus and take the other into the hotel. As I need to do laundry, I have one clean bag and one dirty which makes it easier to transport when I do laundry be it in the hotel or the venue.
For ships I prefer to have one big rolling duffle bag with a small duffle inside. When I go to the ship it makes it easier and faster for transport and security on the ship. It fits nicely under my bed for the contract so I don't have to constantly move it and when I leave to go home, I have an extra carry on bag if it doesn't all fit. Since I do like to buy things while I am out at port.
Words of advice:
For all these jobs you live with the people you work with. Find a way to get a break if you need to. If you need to stay in your room by yourself and watch a movie or explore the city you are in. Its good to do group activities but give yourself a me day now and again.
Why do I like touring:
Besides the chance to be paid to travel, it's a great opportunity to problem solve. Although it's the same shows or same people with you daily it's still either a new venue or for ships different weather situation daily and it really keeps you on top of your toes to find a solution with not many physical resources around you.