Tour Diaries: Tales from the Road with Lighting Designer Jenni Propst
January 21, 2021
By: Jenni Propst, Lighting Supervisor
Background
After I graduated from Lenoir-Rhyne College, I was hired to be the head electrician at Charlotte Ballet. I had some excellent mentors and worked with the company on and off for many years. We did a number of regional and national tours in a bus and truck model, and occasional one-off performances at festivals in addition to our season in Charlotte. Eventually, I became the company's lighting supervisor in Charlotte and during our summer season in Chautauqua. As the lighting supervisor, I worked with the lighting designers the company would hire for various new works. I was responsible for maintaining the integrity of designer's work, recreating it when necessary from archival paperwork (some dating 40-70 years ago!), and documenting everything so that ballets can be performed again in the future. Unlike in theater, ballet is not usually re-designed, even if it's performed by a new company or five years later. Keeping accurate documentation is key!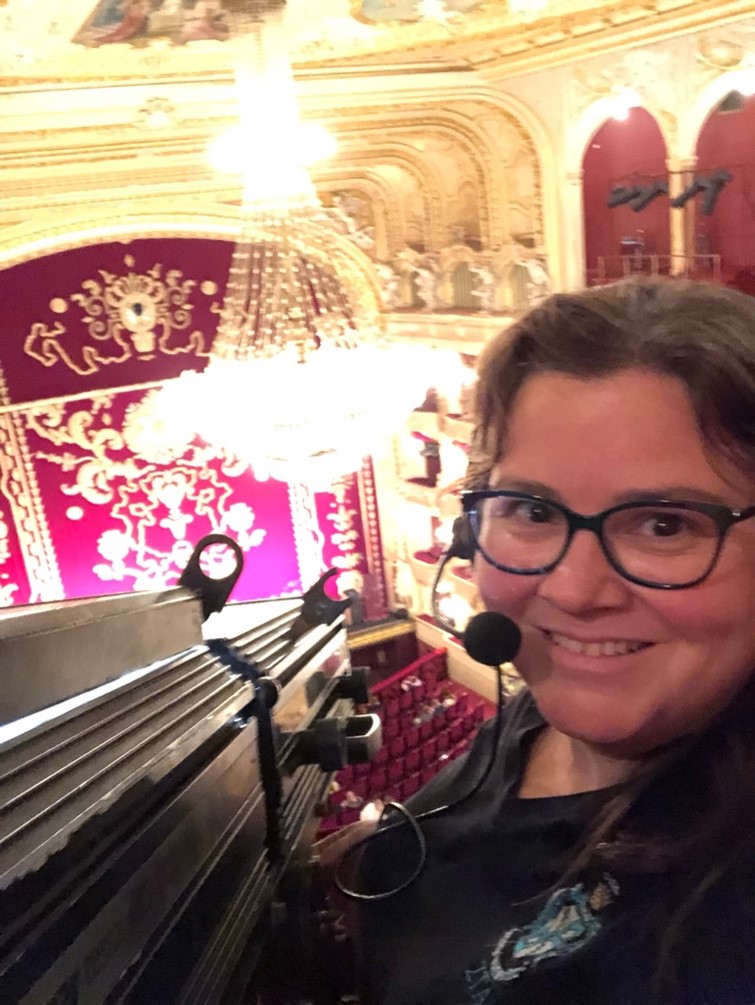 In addition to working in ballet, I have worked as a head electrician at the Knight Theatre in Charlotte, tie-in electrician and directly for my IATSE Local 322. I'm also a Certified Entertainment Electrician through ETCP.
I've worked with dozens of ballet companies, designers and choreographer, and those contacts led to me being offered a variety of overseas tours as a lighting supervisor with Complexions Contemporary Ballet and Alonzo King LINES Ballet. The coronavirus pandemic has kept me from traveling in 2020, but I can't wait to get back on the road.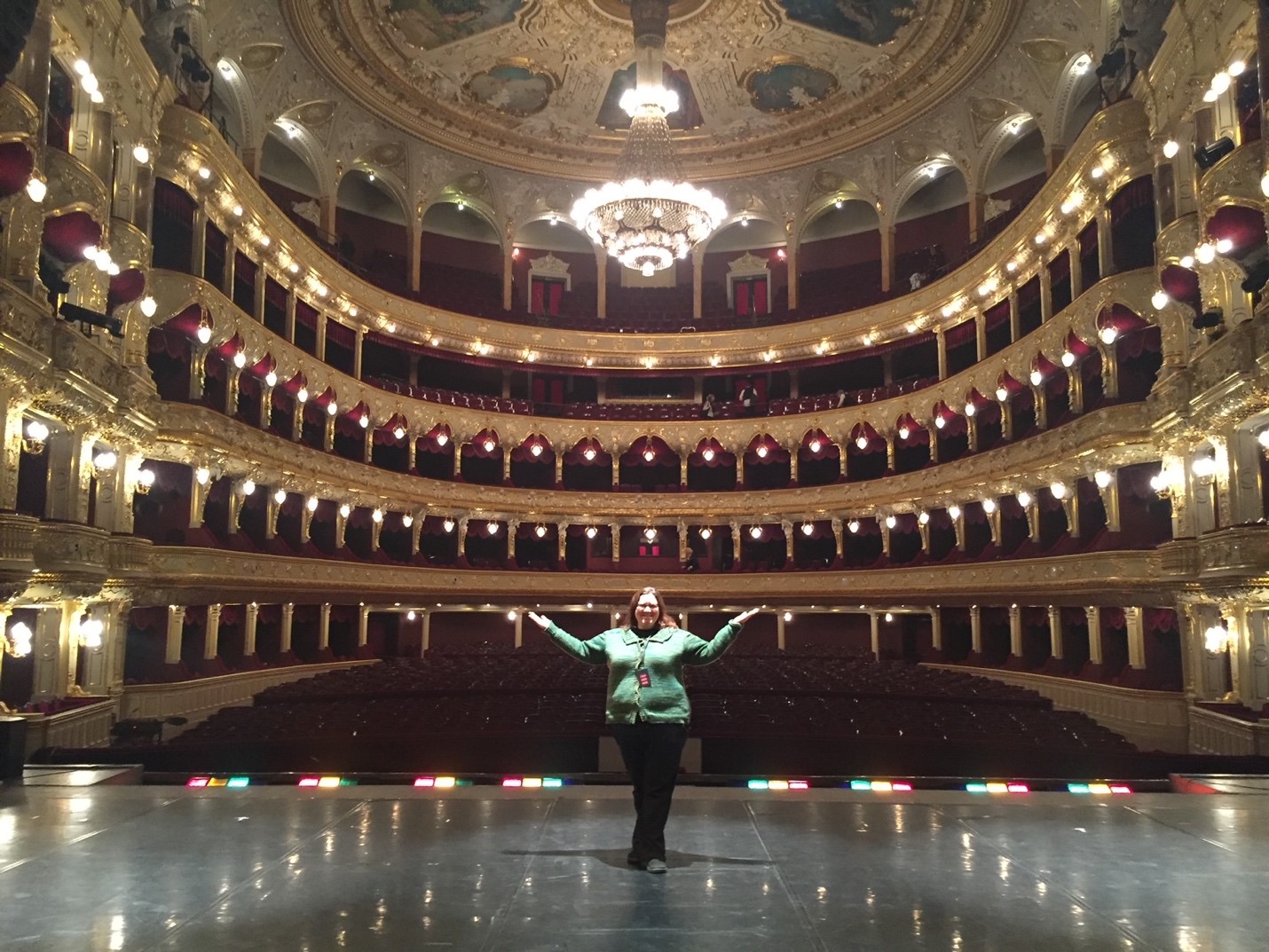 Currently, I'm back in school at the University of Memphis and hope to graduate in 2021 with an MFA in Theater and a concentration in Lighting Design.
My first job touring was offered after I was asked if I had a current passport – so if you want to tour internationally, get that passport now and make sure you keep it up to date in case a job comes your way!

Working and traveling in a foreign language
I always try and learn a few words in every language I'm working in. I wish I could claim fluency, but unfortunately, I'm limited to please, thank you, and I can order a beer in about five different languages (including Canadian, which is really just "Can I have a Labatt's, eh?")
At least being able to say please and thank you to your crew in a venue's native language is helpful!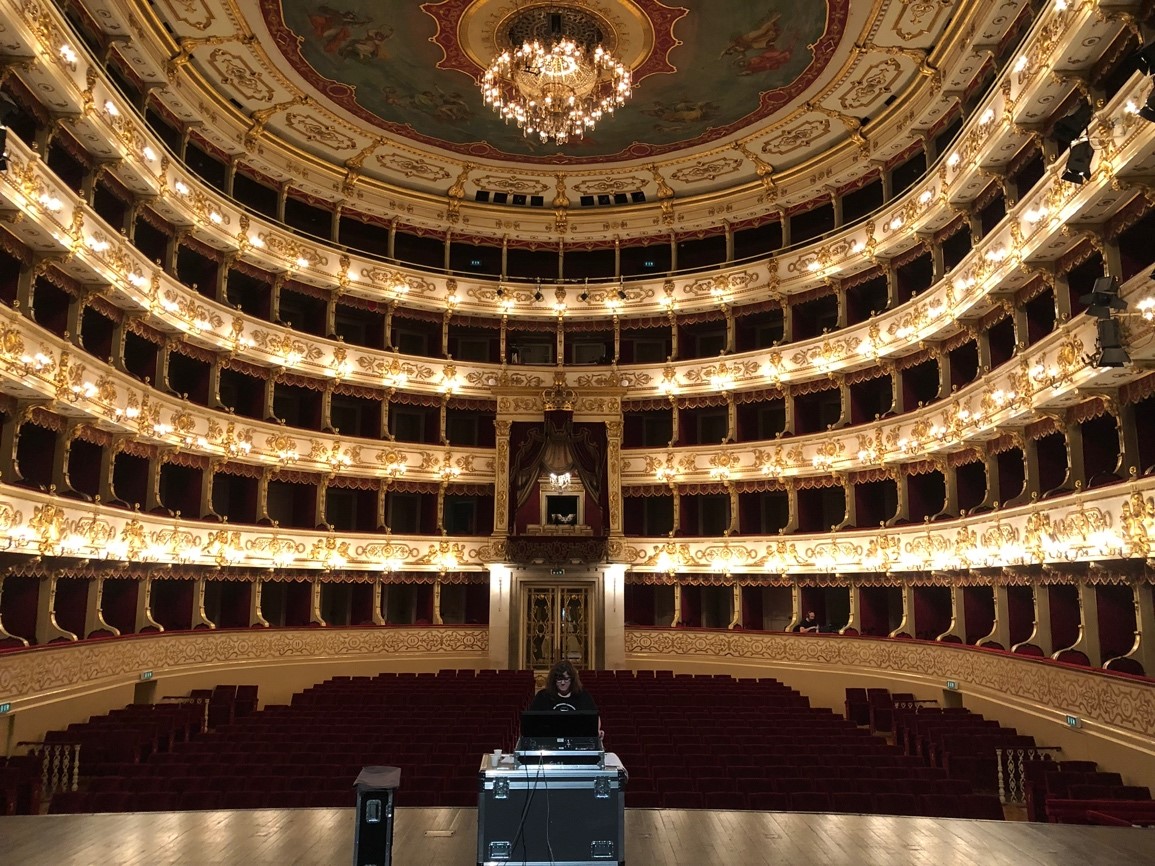 I also swear by the app "Theatre Words." Depending on how many languages you need, it's anywhere from $10-30, and it's invaluable. Because it's theater specific, it does an outstanding job of translating real theater terms. Like…. What is a "full stage curtain" or a "batten" or "legs and borders" in Russian, or Spanish, or French? The app knows! It's pulled me out of a hole many times when my limited language skills couldn't convey what I needed.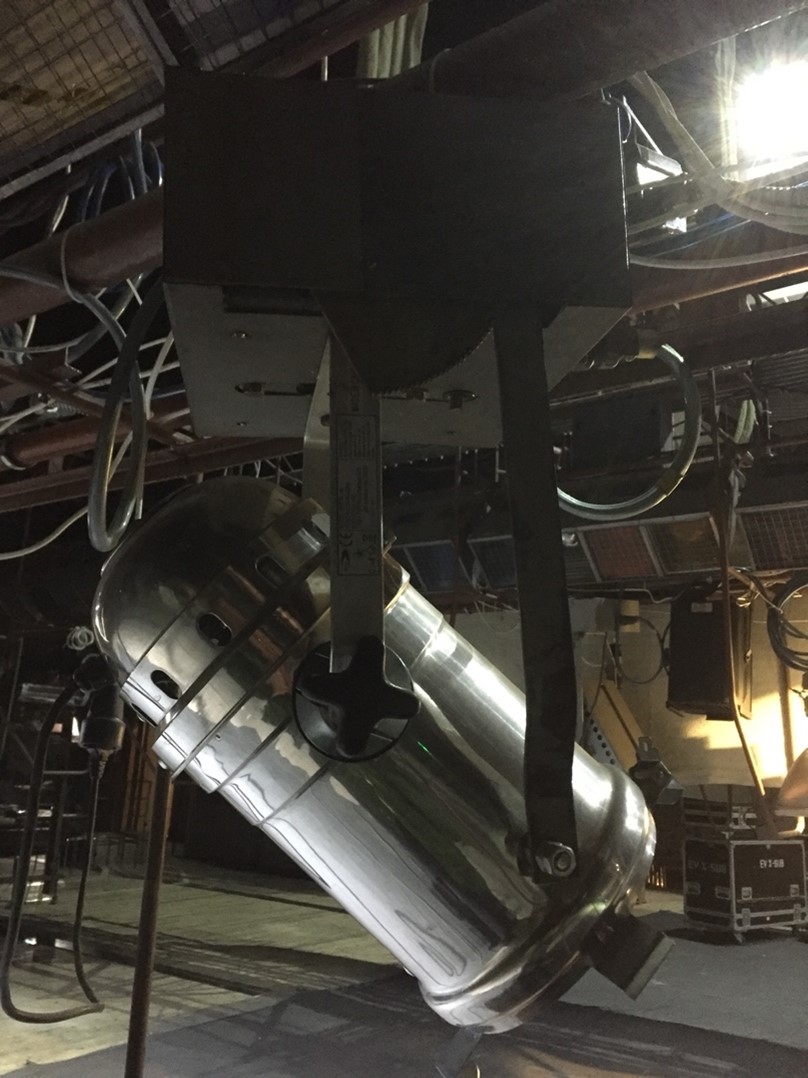 Familiarize yourself with meters and centimeters instead of feet and inches, as they are the standard everywhere except for America!

Things to Pack
I can't emphasize this enough – but less is more! Pack light! I find that traveling in Europe – the tiny elevators (if there are any) multiple flights of stairs, small hotel rooms…. You are going to want to scale down your packing as much as possible. I limit myself to one mid-sized suitcase and a backpack for my laptop.  I take enough clothes to last 6-8 days, and plan to do laundry at least that often. Befriend the wardrobe department so they will allow you to do a load of laundry at the theater!
It's also important to think about how much your luggage can weigh. International airlines in Europe often have lower restrictions than American carriers do. Know the weight allowed in both pounds and Kg, for your trip TO Europe and the internal flights within the continent!
After a three-day stint in rural France where my luggage was lost, I now make sure to keep a plastic bag with clean socks, underwear, toothbrush and a t-shirt. Because at the very least, having fresh underwear makes wearing the same jeans for two or three days straight more bearable.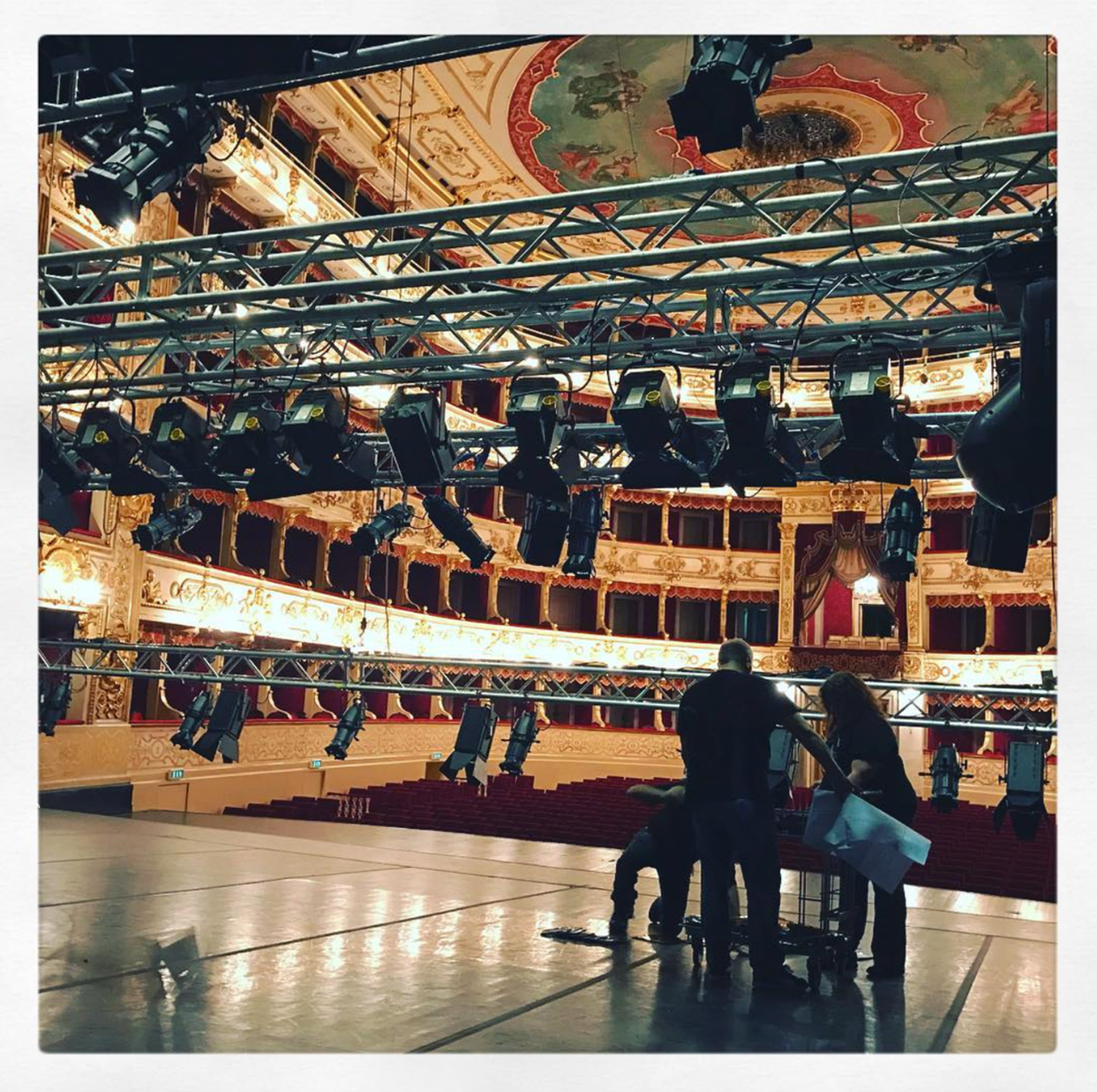 Words of Advice
Money and International credit cards
Before I leave for tour, I always inform my bank and credit cards that I'm leaving the country. I also research what bank partners my American bank has, because learning what bank I can withdraw funds from in Europe and not pay fees on is significant. I make cash withdrawals at ATMs and not at "money changing" locations at the airport or otherwise. It's also a great idea to have a small change purse. I'm so used to paying with plastic everywhere I go in the U.S. that using cash in Europe, I become forgetful that there are large coins worth a lot more than our quarters, dimes and nickels. Keeping a change purse keeps all those valuable coins together.
American Credit cards can be difficult in Europe because they require signatures even though European cards do not. If you can, get a card with TAP. You won't be sorry. They are super easy to use in restaurant, and don't require a pin or a signature since you just have to tap them on the device to pay.
Also, make sure you have an International credit card. The ones you get from Airlines or hotel chains are typically best. This way, you don't get extra international transaction fees. Check out different offers and find the best one.
International Apps, Cell phones, etc:
I make sure I can travel internationally with my phone and its data but try my hardest not to use my plan overseas. It's expensive – like $10 a day, and on a 20-day tour, that's a lot of money. You can certainly get international sim cards if you are staying in only one or two countries, but I mostly just try and rely on wi-fi, which isn't so hard.
Apps I can't live without:
Theatre Words, as I previously mentioned
A global conversion app – they will convert inches to centimeters, dollars to Euro, and every other conversion imaginable
Google translate – download the languages you are going to need so you can use them offline
Whatsapp – This will let you communicate with your team via wifi, and friends back home
 Google Maps – Though more specifically, download LOCAL maps of the places you are going so you have walking directions. You can use these in an offline mode that doesn't require wifi or data.
A postcard app like "Touchnote" that for about $2 a card, I can mail postcards with photos I have taken to my friends at home.
Gadgets and Odds & Ends
Don't forget to bring adapters for your devices!
First, research where you are going. Most of Europe requires one type. The UK and Ireland and much of Africa has a different plug, and Switzerland likes to be different and has its own that doesn't work anywhere else. You can buy these on AMAZON, and I prefer having individual ones to the type that allegedly transform to all of the countries. The cheap ones don't work as well as the good ones! Read all of the labels on your devices (laptops, phone chargers, etc) and make sure the voltage works. Most laptops are rated at 110v-220v, but things like curling irons and hair dryers usually are not compatible in other voltages, so don't bother packing them, or buy a transformer which may or may not be reliable.
Accommodations
I typically negotiate a single room in my contracts. Whether you are in a single or a shared room, know that they will likely be tiny. This is a big part of my pack small mentality. There isn't even a lot of room for a suitcase in many rooms!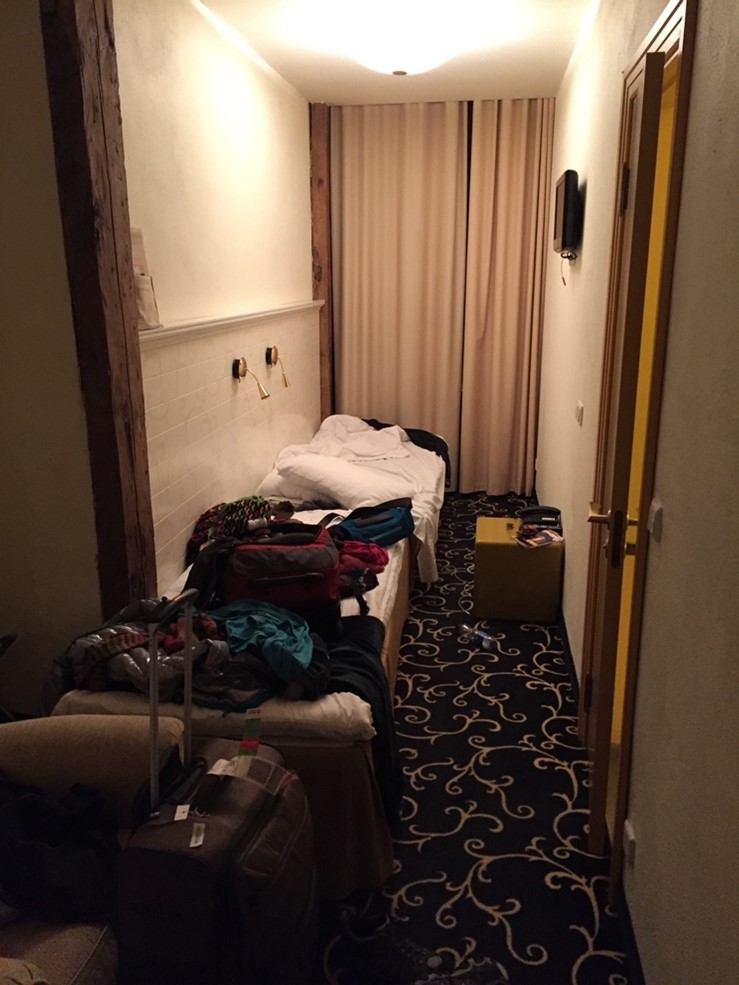 Regardless of what country and language you are traveling in, the term "water closet" or "toilet" are universal term for what we call the bathroom. If you ask for a bathroom in Europe you might get some funny reactions.

Food
Be adventurous. Sure, every city in Europe will likely have a McDonalds, but when you are visiting a place like Kyiv, Ukraine or Tallin, Estonia is a Big Mac what you want to remember it by? Try new things! Borscht is a traditional dish in Ukraine (with other varieties of it in Russia and Poland) and I can assure you, I'm glad I tried it even though I wasn't sure I'd enjoy a bright red soup made of beets. Now, I fix it at home and share it with all of my friends.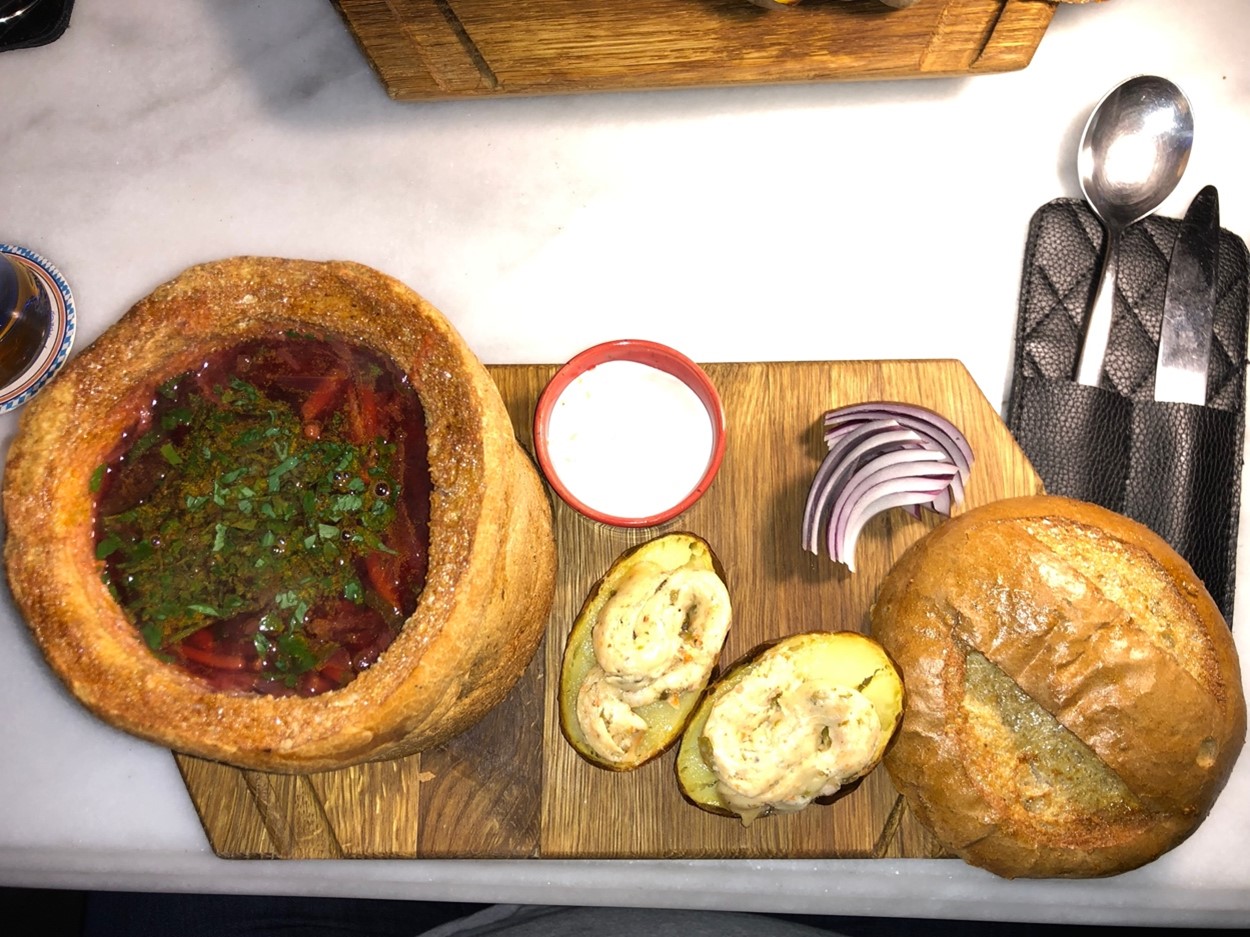 My colleagues and I ended up at a Garlic restaurant in Estonia where every dish – including the ice cream and beer, was infused with garlic. It might not be for everyone, but it was pretty awesome to experience!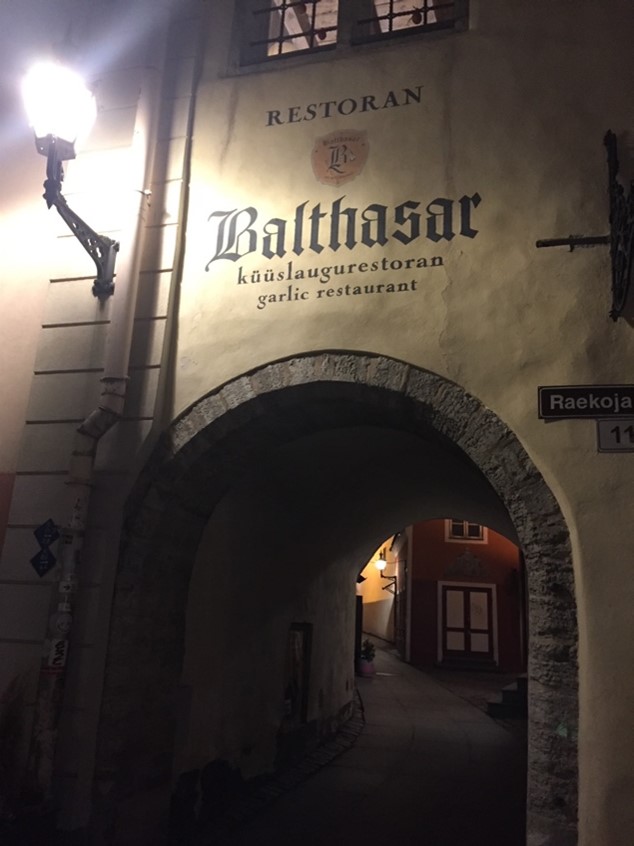 Breakfast is a particularly fascinating meal, especially in Eastern Europe. Don't be surprised to find a vast charcuterie spread before you with cucumbers, meats and cheeses, and even pickles and olives. Cucumbers have become one of my personal favorite breakfast treats after touring in Europe!
Traveling
I've mentioned it before, but between cities I've always got my backpack with laptop, chargers and adapters plus that oh-so-important spare change of clothes.
I keep my passport with me at all times zipped into a safe pocket in my backpack, and also make sure I have a photo of the pertinent information saved in my phone, which I also share with my emergency contacts at home.
Why do I like touring?
I love to travel. Whether it's Europe or to a National Park in the U.S. or Canada, there is always something new to explore. Traveling with ballet companies lets me see the world, and get paid to do it. I love experiencing other cultures. I love doing theatre in new places and learning how different and how alike our art is. Staying home in 2020 was challenging because I know firsthand how much there is out there in the world and I miss exploring.