USITT Welcomes Newest Fellows of the Institute
November 20, 2020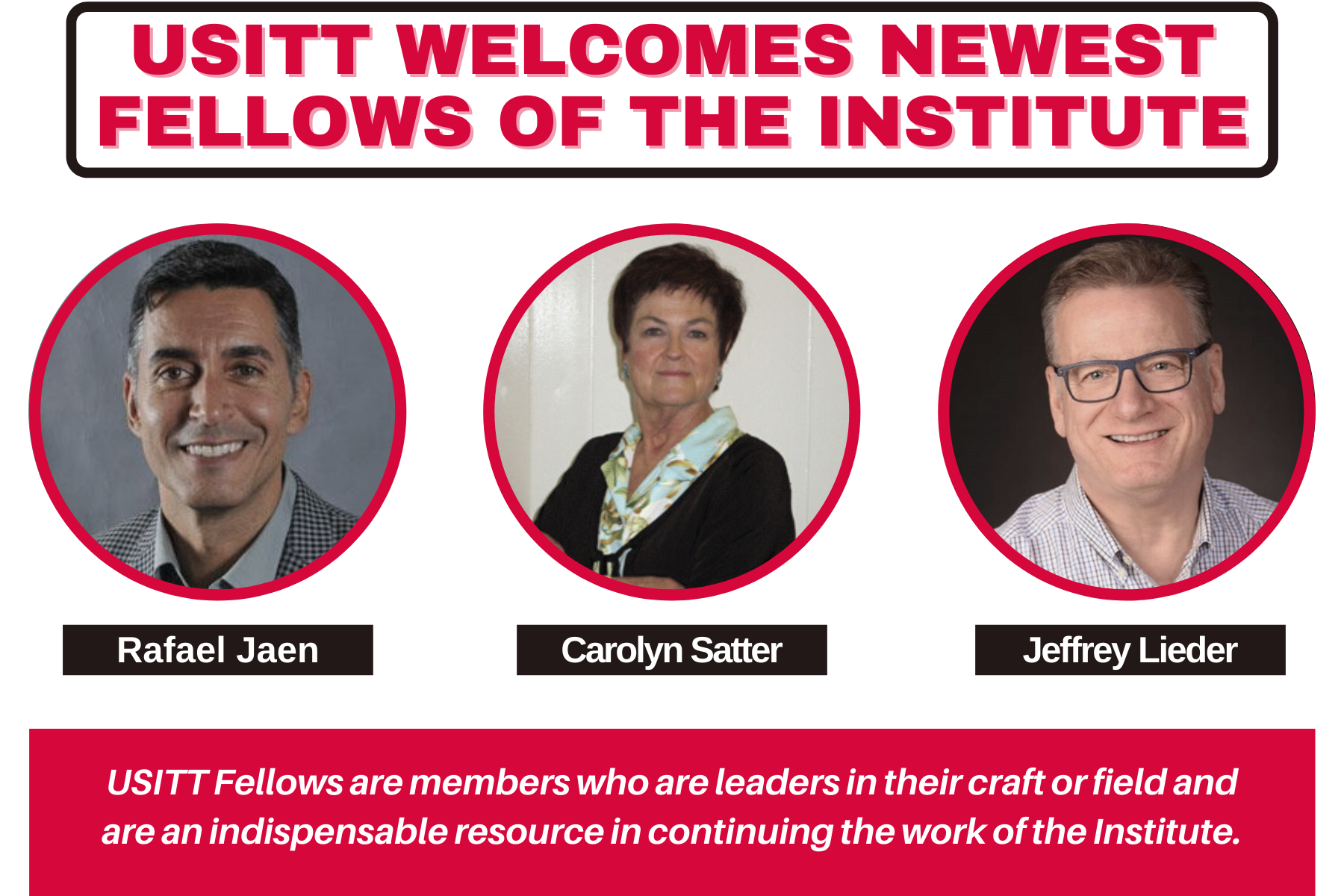 Help us in recognizing our newest Fellows of the Institute costume designer and USITT's VP of Communications, Rafael Jaen; USITT's President-Elect, Carolyn Satter; and costume director, Jeffrey Lieder!
The Fellows of the Institute have achieved their rank through many years of exceptional participation in various aspects of USITT and the entertainment business.
To USITT, the Fellows are members who are leaders in their craft or field and are an indispensable resource in continuing the work of the Institute.
They work together as peers to support the Institute in its advancement, fundraising, and outreach efforts. Fellows are agents of change and ambassadors for USITT and the Industry at large.
Meet our newest Fellows of the Institute:
Rafael Jaen, costume designer and USITT's VP of Communications
By: Mark Shanda; USITT past President and USITT Fellow
Rafael Jaen currently serves the Institute as the Vice-President for Communications as well as recently serving as the Interim National Vice Co-Chair for the Kennedy Center American College Theatre Festival (KCATCF). As a national leader in both USITT and the KC/ACTF, Jaen consistently promotes opportunities for the next generation of theatre artists with a significant passion for mentoring future artists and leaders. Ever conscious of recognizing and giving voice to other perspectives, he successfully builds effective teams of collaborators.  He does this equally well with peers and students, advocating for individuals to improve everyone's overall experience. He approaches his service commitments to USITT with great skill, an affable personality, and a consistent desire to push our organization to become even better a meeting the needs of our members.
One of his students shared his appreciation for Jaen with the following, "Professor Rafael is willing to help you achieve your goal and help you succeed in class.  No matter where you came from, he will always find a way to teach you better and encourage you to embrace your potential."    
With over 30 years of experience, his design work for film, TV, and theatre has received multiple accolades including the prestigious Elliot Norton award and the Independent Reviewers of New England (IRNE) award. His design and construction skill have been seen at the Boston Midsummer Opera, the Lyric Stage Company of Boston, Company One (with the Huntington Theatre Company), Beau Jest Moving Theatre, Bowdoin College, Emerson College, the Charlestown Working Theatre, the Tennessee Williams Provincetown Festival, WGBH, and Disney and Broadway productions.
He is the recipient of the Kennedy Center's Golden Medallion for Excellence in Theatre Education, the Life Achievement in The Arts Award 2016 by the Center for Creative and Performing Arts at Salem State University, and the Manning Prize for Excellence in Teaching 2017 at UMass Boston. He is also the recipient of a Joseph P. Healy Research grant in 2015 titled "Secession, Entrepreneurship and Haute Couture in the USA during the Civil War Years." His costume designs were part of the Costume Design at the Turn of the Century 1990-2015 exhibit that toured Russia and China.
He is the author of SHOWCASE by Focal Press (nominated for a Golden Pen award) and Digital Costume Design and Collaboration also published by Focal Press. As an author he contributed two chapters in the book Fashioning Horror: Dressing to Kill on Screen and in Literature by Bloomsbury and has also contributed articles for Sightlines and Theatre Design & Technology (TD&T) magazine. He was the driving force at negotiating the USITT/Focal Press Routledge partnership that is planned to publish three volumes known as the Backstage Series. He served as the main editor for that series first published work Theater Artisans and Their Craft and is shepherding the second publication in that series which is focusing on stage managers for release in 2021. He is an Associate Professor and Department of Performing Arts Chair at UMASS Boston and is a proud member of USA 829.
In addition to his current Vice-Presidential role for the Institute, Jaen has served as Chair of Portfolio Reviews, Vice-Commissioner for Student Initiatives, and Vice-Commissioner for Diversity, Inclusivity, and Community for the Costume Commission.  He has also served on the USITT Board of Directors, as an active member of the Publications Committee, prior to being elected Vice-President for Communications 2019-21.  He has also served at the Kennedy Center American College Theatre Festival (KCACTF) as the Region 1 Design, Technology and Management (DTM) Chair, the National DTM Chair, and the USITT-KCACTF Communications Liaison.
Before joining the faculty of the University of Massachusetts Boston, Jaen taught at Emerson College, MA, from 1990 to 2013. In addition to teaching numerous workshops at prestigious colleges and conferences in the USA, he has taught Professional Development Workshops (PDW) and a Summer Costume Symposium on costume rendering with Photoshop for USITT.
Carolyn Satter, USITT's President-Elect
By: Lea Asbell-Swanger; USITT past President and USITT Fellow
Carolyn started college as an accounting major, but before she completed that degree, she dropped out and started a family.  Through her family, she discovered theatre – her daughter's elementary school play needed someone who could sew well, so she became the costumer's assistant.
That fun "mom experience" eventually led her back to school to major in theatre arts at San Diego State University.  She soon went from costumes to set design to lighting to stage management – "and at that point, I found my home," she said.
Carolyn graduated from San Diego State University with a Technical Theatre degree and started her career at the Civic Theatre in 1979, at a time when women in the field of Theatre Production Management were rare.  In fact, there were only five female Production Managers running backstage union theatres in the United States.
In 1995, Carolyn was honored by the YWCA of San Diego County with their prestigious TWIN Award for exceptional women leaders, and more recently, by the International Alliance of Theatrical Stage Employees with their Diane Lynn Slater Award for Outstanding Community Support.
In a proclamation read at her retirement celebration, Mayor Kevin Faulconer said, "Satter's unwavering dedication as Director of Production at San Diego Theatres has fostered the San Diego Civic Theatre and the historic Balboa Theatre as venues where great art happens and has established San Diego as a place where artists look forward to returning."
Carolyn attended her first Annual Conference & Stage Expo in Las Vegas in 1995.
In 1996, she became the Management Commission's Vice-Commissioner for Programming and served for six years.  In 2003, she took over as Commissioner for Management and stayed on until 2009.  As the Management Commissioner, she was appointed to the Commission Steering Committee representing four Commissions.  She served on the USITT Board of Directors from 2008 to 2011 and during that time, she also served on the Transition Advisory Team (2008-09).  Elected as a Director again in 2012, Carolyn served in that role until she was elected as Vice President for Commissions in 2014 and completed two terms in that position.  She was elected and became the President-Elect on July 1, 2020.
Interviewed for The Production Manager's Toolkit: Successful Production Management in Theatre and Performing Arts by Cary Gillett and Jay Sheehan, Carolyn declared, "The only thing you have to sell is service."  Throughout her forty-year career at the San Diego Theatres, she not only sold great service on behalf of her organization, she has given her service to a multitude of students, young professionals, and colleagues through her affiliation with USITT.  
Jeffrey Lieder, costume director
By: Bobbi Owen; costume designer and USITT Fellow
Jeffrey Lieder has had a long and successful career in which he has blended theatre academic and professional settings. This duality has made him especially valuable to students, colleagues, and the profession. He was on the faculty at the University of Wisconsin, Milwaukee for more than 30 years and has been the Costume Director at the Utah Shakespeare Festival for nearly 35 years. He is a long-standing member of USITT's Costume Design & Technology Commission for which he has presented at dozens of conferences and has been part of the leadership, serving for many years as chair of the poster session. He is also a familiar presence on the Stage Expo Floor, as a representative of Utah Shakespeare Festival where he is recruiting and hiring for the summer season.
As Costume Director of the Festival, Jeff touches the lives of hundreds of young professionals whether they be budding designers, pattern makers, crafts artisans, wardrobe crew, or wig masters. At any of the major events at the USITT conference, you can spot Jeff in a crowd because he is surrounded by a group of people all wanting to be remembered by him or in need of advice. He is generous with his knowledge and resources and is always willing to offer help and support. Even after retiring from University of Wisconsin, Milwaukee, Jeff continues to present dyeing, fabric modification, corset making and millinery master classes at many universities and colleges around the country.  
Jeff Lieder has extremely high standards for his own work and is a gifted artist and skilled teacher. He inspires those values from those who work with him. He represents the best combination of working professional artist and teacher, having an enormous impact on thousands of audience members, students, and professionals alike.